Archived Arts & Entertainment
The face behind the lens: Longtime journalist to hold photo showcase
Wednesday, December 05, 2018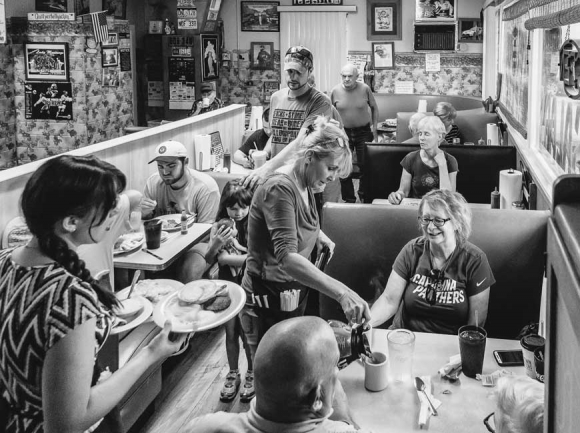 'The Coffee Shop' in downtown Sylva. Quintin Ellison photo
For over 25 years, journalist Quintin Ellison has roamed our region documenting the people, places and things that make up the distinctive history and culture of Western North Carolina. And now, she finds herself on the other side of the conversation.
In an upcoming showcase of her photography, Ellison will be displaying moments of mountain life frozen in time, captured from behind the lens by someone who spreads the urgent nature of what's inside each image. It is a heritage that — for the most part — is rapidly disappearing from our daily lives, whether you realize it or not.
It's the break-of-dawn discussions at the local diner where all the world's problems are solved over endless cups of coffee. It's the independent farmer headed to market or the auction in hopes that their hard-fought labors will result in economic survival. It's the artisan whose precise and articulate hands tell the story of multi-generational talents used to innovate amid a veil of unique creativity.
Currently the general manager of The Sylva Herald, Ellison grew up in Bryson City. The daughter of George and Elizabeth Ellison, Quintin was raised by parents who valued not only creative outlets and pursuits, but also the importance of preserving and perpetuating the history of where you stand. George is a beloved writer and historian, with Elizabeth a well-known painter — both whose works are steeped in the natural beauty of Southern Appalachia.
Originally setting out to be a musician, it wasn't long before Quintin found herself back in Western North Carolina, following in the journalistic footsteps of her father. And as the world of journalism has become a rollercoaster of an industry in the last two decades, Quintin has held on tight — with notepad and camera in hand.
Smoky Mountain News: What did you like about journalism?
Quintin Ellison: I went into newspapers because of dad, stringing for Asheville Citizen Times, and went to [The Franklin Press] in 1992 as a staff writer. It was a natural fit, I think. It's challenging. You're always learning. And then, I grew to believe in the mission, which is to serve as a witness. And I still believe in newspapers. I saw myself as a budding writer.
SMN: Was photography something you enjoyed or was it something you had to learn to do in this business?
QE: I liked it, I knew I liked it. [The Franklin Press] was a pretty small paper, so you would shoot your own photos. But, it was one of the things I had to do in this business. [Franklin] was a small paper, two times a week. It was an expectation. Dad had gotten me a Pentax K-1000. He had one for his stories, too. We shot everything — a lot of ribbon cuttings, a lot of fender benders. I'm really good at fender benders. [Laughs].
'Boys at the Macon County Fair.' Quintin Ellison photo
SMN: What is it about taking a photo that you can't get across in words?
QE: That's a good question. A photograph is just as interpretive as writing. There's an immediacy to it — that moment is frozen as it is, to see something visually, and make that connection with the reader. You make an engagement with somebody. It's very personal engagement when you take somebody's picture. I believe we're recording history, and this is part of that.
SMN: Why is it important that you're preserving this mountain culture?
QE: It's a whole way of life. It's a people's way of life, generations of people that lived in these mountains and loved these mountains. It was a hard existence, and it's going to be gone. Is it important? I don't know, but I feel the engagement.
SMN: What have learned from your parents that you've applied to your career?
QE: To live a creative life, and they validated that growing up — photography, writing, music. I was really fortunate, because it just opened doors for me. It validated to me that what I was putting out there wasn't junk. What sticks out for me is the chance to engage with the community — I think people in the mountains here appreciate there's somebody recording all of this.
Quintin Ellison.
Want to go?
Longtime journalist and photographer Quintin Ellison will hold an artist's reception from 5:30 to 7:30 p.m. Friday, Dec. 7 at Cullowhee Mountain Arts at 598 West Main Street in Sylva.
The next day, at 10 a.m. (Saturday, Dec. 8), also at Cullowhee Mountain Arts, Ellison will talk about the highs and lows of shooting street photography in small, rural towns such as Sylva, Bryson City, Franklin and Waynesville.
She'll also discuss her efforts to record as much of the mountain culture as possible, in fear that one day, the traditional ways of life in Western North Carolina will be lost. The photographs will be shown by appointment only after the Dec. 7 reception and Dec. 8 artist's talk.
For more information, call Ellison at 828.507.8697 or email her at This email address is being protected from spambots. You need JavaScript enabled to view it..