Archived News
Casino profits set records
Wednesday, December 05, 2018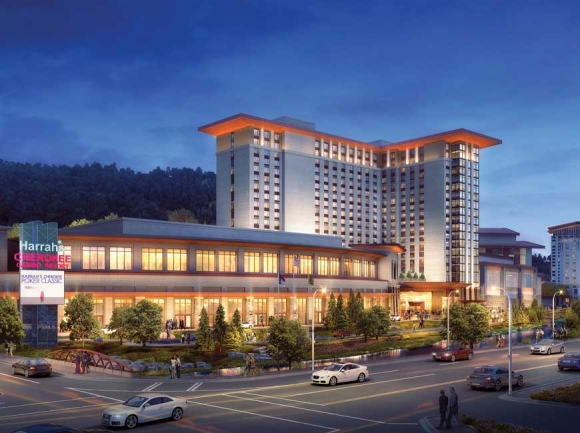 This $250 million expansion, expected to be complete in early 2021, will add 750 hotel rooms, a parking deck and 83,000 square feet for event space to Harrah's Cherokee Casino Resort. Donated rendering
Tribal members received the largest per capita distribution ever released from casino profits when payments of $7,007 were released Monday, Dec. 3, bringing the yearly distribution for 2018 to $12,559 before taxes.
In an Oct. 31 statement announcing the distribution, Principal Chief Richard Sneed called the record-setting payment "a testament to leadership and strong financial and operational management."
The money comes from Harrah's Cherokee Casinos, with locations in Cherokee and Murphy. Harrah's manages the casinos and the tribe receives the profits — half of those profits fund tribal operations and half are distributed between tribal members as per capita payments.
"The way that translates into per capita is extremely impactful to the individual members of this tribe," said Brian Saunooke, regional vice president of marketing for Harrah's. "However, the overall tribal distribution impacts tribal programs, which also impact the well-being of our members through tribal operations. I think the economic impact there is just phenomenal."
Like most things economic, casino profits — and, therefore, per capita payments — took a nosedive following the recession in 2008, but they've been rising steadily since 2013, according to numbers from the tribe's finance office.
In 2007, before the recession hit, per capita payments totaled $9,318, with 13,851 tribal members receiving the June distribution and 13,934 receiving the December distribution. In 2008 that number began to fall, reaching a low point of $7,347 for the year in 2010. It wasn't until 2014 that the annual distribution surpassed 2007 levels, with about 15,000 members receiving $9,809. Numbers have risen every year since, with a 6.08 percent increase in 2015, a 12.45 percent increase in 2016, 0.28 percent in 2017 and 7.04 percent in 2018 — all this despite a parallel increase in tribal members receiving shares. From June 2007 to December 2018, the number of tribal members has risen by 13.9 percent.
The December distribution represents a marked increase over even the June payment, when 15,709 members received $5,552. While December payments are typically larger than June payments — they reflect summer profits from April to September, while the June payments cover profits from October to March — the $1,455 gap between the two payments this year is wider than usual.
According to Saunooke, this year's growth was primarily driven by the Valley River Casino in Murphy. Valley River provided 24 percent of the profits while 76 percent came from Cherokee.
"Most of the big growth we saw came from the Valley River market," said Saunooke. "I think one of the major things that contributes to that is the proximity to some of our major markets, especially Atlanta. Players are able to make more frequent visits, and that really helped us during the year."
Visitation at Valley River has increased from 851,000 visits in fiscal year 2016, the first full year the casino was open, to 862,000 visits in 2018. Most of the increase comes from known customers, said Saunooke — people who have chosen Valley River as their preferred casino over Cherokee or are simply able to make additional trips due to the shorter drive from home.
Recent improvements at Valley River may have also played a role — the casino held a grand opening for an addition offering bowling, dining, a stage and arcade games on July 23. Cherokee, meanwhile, is a case of "same store," said Saunooke. Not much has changed with the resort's offerings over the past year, but that's soon to change. Construction is underway on a $250 million expansion that will add more than 700 hotel rooms, a parking deck and an 83,000-square-foot event center. The expansion is expected to open in 2021.
While Valley River brought most of the growth, both locations are doing well, said Saunooke, with margins improving at both properties. While nothing is ever certain, for now the future is looking good.
"The goal of this business is to set realistic and continued goals for growth," he said. "The way that works out in the future is all signs are positive. Everything looks positive."