Archived News
Sunburst — a short history
Wednesday, December 05, 2018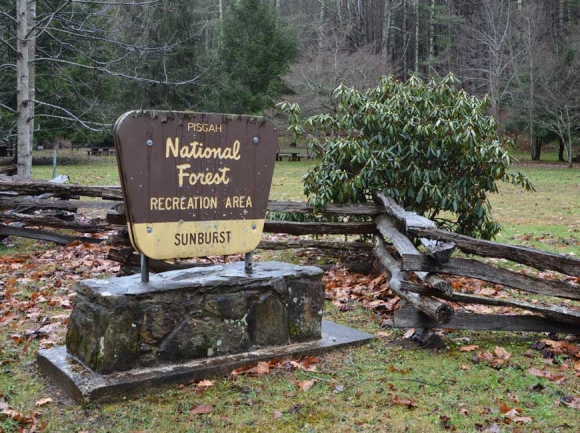 The first sawmill at Sunburst was located not far from where this sign is today. Cory Vaillancourt photo
It was a struggle from the start — getting in, getting people and supplies up and getting the lumber down — but the mostly-forgotten century-old logging camp now hidden beneath the placid waters of Lake Logan in southeastern Haywood County still casts a long shadow on the area and its inhabitants.
Rugged and mountainous Haywood County has long been home to thickly-forested tracts that once stretched as far as the eye could see, which led the area's first European settlers to set up small, family-run sawmills not long after their arrival in the late 1700s.
Among the earliest was that of Jeremiah Reece, who constructed and operated the first hydro-powered sawmill in the state, if not the entire Southeast, off Queen's creek near modern-day Lake Logan.
Then there was Thomas Isaac Lenoir's sawmill in Cruso; the economic devastation in the American South after the Civil War made the going tough for Lenoir, whose daughters sold the logging rights in 1920 to Thomas Broyhill, owner of the still-thriving Broyhill Furniture brand.
Broyhill and partner Dellis Dolliver's Dolliver Lumber Company also had a contract to supply chestnut wood to the Champion Fibre Company, based in Canton some 16 miles to the north.
It was Champion's near-insatiable demand for wood products that led owner Peter G. Thompson to begin purchasing about 40,000 acres of timberland in what would become Sunburst around 1905.
A sawmill sprang up near where the Sunburst campground stands today off N.C. 215, followed by small community of about 500 people, a few dozen homes and a community center of sorts that served as a church, school, store, office, dance hall, skating rink and banquet room.
Bad roads and steep inclines made removing the wood that was harvested a grueling ordeal even under the best of weather conditions, and a planned log flume didn't have the physics behind it to function properly, so in 1906 Thompson founded the Pigeon River Railway Company and began right-of-way acquisition.
At that same time, Champion Fibre was ramping up construction at its Canton pulp mill, but a financial panic in 1907 slowed railroad construction.
Thompson's daughter Hope had by then married a man by the name of Reuben B. Robertson, who Thompson sent from the company's Hamilton, Ohio, headquarters to Canton on a 50-day assignment to whip the whole operation into shape, but he ended up staying 50 years.
Not long after he arrived, he tired of fooling around with the ancillary harvesting and railroad transportation businesses the mill was then operating, so both were sold — along with the village of Sunburst and its mill — to a new entity called the Champion Lumber Company.
Champion Lumber moved the whole operation 4 miles upstream to a new settlement that retained the old Sunburst name. Old Sunburst was from then on known as Spruce.
The new Sunburst, or "bastard Sunburst," as inhabitants of Spruce took to calling it, included a barbershop, boarding house, church, commissary, general store, three schools and 40-room hotel. Many residents had electricity, indoor plumbing and telephones — luxuries for the time.
At its peak, the Sunburst steam-powered double band mill had the capability to produce 160,000 to 180,000 board feet of lumber each day, although few days it exceeded 250,000, especially as the defense industry's demand during World War I — airplanes and smaller naval vessels were still mostly made of light, strong spruce at the time — increased.
African Americans were also lured to the area by the promise of good-paying jobs and relative equality in an unequal world.
Business eventually diminished after WWI, and a 1922 arson all but put an end to industrial-scale logging in the area, which limped along until another fire the day before Thanksgiving in 1925 scorched 25,000 acres and left smoldering stumps that resembled tombstones and resulted in the name Graveyard Fields.
In 1926, the mill was disassembled and moved to where Waynesville Plaza is today. Sunburst's post office closed in 1928, and in 1929, Robertson on behalf of Champion bought the land to create a reservoir. The dam was completed in 1932 and created a lake named after Thompson's son, Logan.
Nestled in a narrow, sparsely-populated valley, Lake Logan became an idyllic retreat for Champion's employees and guests, and even featured a small airstrip to accommodate them.
The entire area was purchased in 2000 by the Episcopal Church, and is home to a camp, a conference center and the annual Cold Mountain Music festival.
Sunburst film to be released on DVD Dec. 12
The Bethel Rural Community Organization's latest historical documentary, Sunburst and Other Logging Operations in the Bethel & Cold Mountain Region, features more than two hours of photos, narration and interviews with area residents, historians and even some who lived at the isolated logging village during its heyday more than a hundred years ago.
Twenty people appear in the film, including Lorna Ashe, Phyllis Barnett, Wayne Carson, Rose Earnest, Horace M. Green, Zac Guy, Cheryl Haney, Danny Heatherly, Harold Heatherly, Carroll Jones, Gerald Ledford, Mike McLean, Susan Merrill, Ann Melton, Lewis Oats, Jr., Bruce Pace, Pat and Sam Powell, and Mark and Maude Rogers. Local Americana group Possum on a Whale provides the 14-track score for the film, which is also available as a standalone album called Sunburst Sessions.
Produced by Evelyn Coltman, the film was shot and edited by Douglas Chambers of Douglas Chambers Productions and sponsored by Carol Litchfield, Evergreen Packaging, Blue Rooster Southern Grill, Lake Logan Conference Center, Peak Dentistry, Nancy Armstrong/Jim Lynn, Evelyn and Richard Coltman and Maria and Carroll Jones.
Sunburst and Other Logging Operations in the Bethel & Cold Mountain Region will be available beginning Wednesday, Dec. 12 at Blue Ridge Books, on the BRCO website at www.bethelrural.org or by phone at 828.648.3226.
Leave a comment
4

comments
5/23/2S2
My Maternal Grandfather (Lawrence Lee Mills) was born in Sunburst.ti parents, John Calvin Mills and Sarah Hester Swanger Miklls.
I was privileged too visit the small campground on Hwy. 215. It is a beautiful; place one e again, and I learned a lot about it from the placards posted there.

Monday, 05/23/2022

My great grandfather, George Craig worked in sunburst and was killed there in 1922 by the logging trains.

Thursday, 04/14/2022

My Wood Family tradition on my mother's side records that my maternal grandfather, Jesse Wood, and maternal grandmother, Cornelia Raines Wood, lived and worked in Sunburst during and after WWI. Jesse had a logging crew and maintained a boarding house for the crew. Grandmother cooked. The place pretty well closed down after WWI. Jesse and Cornelia met at the just built Balsam Inn where cornelia and her mother were working.

Saturday, 06/12/2021

Just found this information. I had been told my dad (Silas Franklin Eckenrod) was born in Sunburst in 1914. Also my grandmother - Ada May Eckenrod was a photographer in a logging camp. I never knew just where Sunburst was located. Would be interested in more information.

Thank you,
Anna M (Eckenrod) Llora

Saturday, 05/29/2021