Archived News
Ghosted: Clock runs out on latest Ghost Town redevelopment plan
Wednesday, December 05, 2018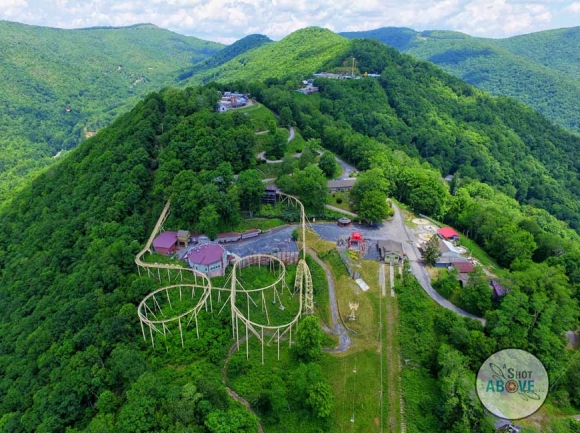 The strange saga of Maggie Valley's Ghost Town amusement park has more twists and turns and more highs and lows than a roller coaster, but now that the latest ride up Buck Mountain is over, two investors say CEO Lamar Berry has thrown them for a loop.
John Kovack said he was part of the new ownership group attempting to strike a deal with park owner Alaska Presley, but as of Friday, Nov. 30, that group had run out of time.
"Lamar's company no longer has any legal relationship with Ghost Town," said Kovack. "His extension to close on the property has expired."
Kovack said he'd been working on a business plan for the long-shuttered amusement park for a number of years when he first contacted Louisiana businessman Lamar Berry for financial support. When Berry couldn't or wouldn't invest in his project, Kovack said Berry duplicated his business plan and presented it to park owner Alaska Pressley as his own.
"He made his business exactly what my business plan stated," said Kovack, who explained that Berry tried to cut him out of the deal, but when Kovack called him on it, Berry promised Kovack a piece of the action.
"But that became a lie too," said Kovack. "Promises didn't come through."
The summer 2018 redevelopment effort at Ghost Town was a string of broken promises and missed deadlines; Berry brought in a number of contractors and partners including retired Disney execs Spencer and Valerie Oberle, who began promoting the new venture sporadically.
Maggie Valley hotelier Allen Alsbrooks started performing landscaping and maintenance work at the park, and even let Berry stay in his Dellwood Road hotel, while a crew began refurbishing the historic A-frame that serves as the park's entrance.
That, Kovack said, was paid for with capital from a small number of investors, including himself and the Oberles, among others.
The cash injection was only meant to "bridge" the gap between the initial work on the property over the summer and the larger investments Berry said he could bring to bear on the park's $6 million purchase price.
"There had been multiple dates that we were supposed to close [on the property]," said Kovack. "We were supposed to close in May, and in June — basically, I want to say we were supposed to close every 30 days, and there was always just an excuse with why that hasn't happened."
Alsbrooks confirms that timeline.
"It wasn't necessarily every 30 days, but he would pick a date [to close] but miraculously something would blow up and cause it to be delayed," he said.
Kovack said the missed deadlines, lack of communication and the excuses became more and more laughable as time went on.
"One week when we were supposed to close, his broker was in the hospital. And then another week we couldn't get ahold of his broker because his wife was in the hospital," he said. "And then another one, his phone fell in the toilet, and we couldn't get a hold of him for a week. So it was like that."
Alsbrooks said he'd been paid for his work, but when the money stopped, so did he. Others, like the Oberles and Kovack, continued through the summer.
"The reason we started construction is because Lamar had promised us that the money was coming, so we all felt comfortable investing and getting things started the way that we did," Kovack said.
In early September, two anonymous letters were mailed to The Smoky Mountain News, urging a deeper investigation into Berry's background.
That investigation turned up a history of failed developments like one in Lake Charles, Louisiana, and allegations of fraud against Berry, former chief marketing officer of Popeye's Fried Chicken during the 1970s and 1980s.
In 2005, Berry was behind a failed effort to develop a chain of sandwich shops called Dagwood's. A lawsuit filed in March 2008 alleged Berry and several others engaged in "repeated, naked and intentional fraud," in the marketing of the Dagwood's enterprise, and a 2010 suit alleged that despite assertions from Berry and his partners to the contrary, "[Dagwood's] was insolvent."
That suit was settled, and not in Berry's favor, according to plaintiff Peter Tamulonis, reached by phone this past September.
"We bought the rights to 33 stores," Tamulonis told SMN at the time. "Fortunately, Dagwood's fell apart financially very quickly before we were able to secure a small business loan ... when you think about the legal position for what we were saying, we were able to prove we were lied to and misled."
Kovack sees eerie similarities in that situation and the current state of affairs at Ghost Town.
"This situation is showing us the exact same pattern of the Dagwood's project that went south," Kovack said. "He put no money in this project whatsoever, and the marketing packages that were given to us were falsified and blown up in numbers."
Alsbrooks echoed Kovcack's comments.
"It's the same marketing gimmicks, the same slick presentations," he said. "It's a lot of hype with no substance."
None of them, apparently, saw it coming until reading a Sept. 19 SMN story detailing the Dagwood's matter.
"We did background checks on all of us and Lamar's background check did not come with up anything alarming," said Kovack of what was likely a criminal background check. "We did not go deeply into anything more than that. Which again, I don't know if we were wrong for that, but we definitely learned a lesson."
Alsbrooks learned a tough lesson too — Berry had been staying at his hotel for free over the summer, but as the Ghost Town deal continued to sour and Alsbrooks demanded more than $3,500 in payment for the room, Berry bolted, according to a suit filed by Alsbrooks Oct. 4.
But Berry didn't go far — right down the road to elderly park owner Alaska Presley's basement.
"Alaska felt bad in the sense that Lamar gave her a sob story about needing a residence, basically again lying and saying the money was coming and he had plenty of money to go somewhere, but he thought it best to stay with her, so out of the kindness of her heart she allowed that to happen," Kovack said. "Lamar conned her. He's a professional."
No good deed, however, goes unpunished.
"She is coherent, but she's just been manipulated and taken advantage of mentally and emotionally by Mr. Berry," Kovack said of Presley, who he called a dear friend.
"That's obvious to the untrained eye," said Alsbrooks. "He drives her around everywhere, takes her breakfast every morning. He's told her that everyone in her circle, her dear friends and family for years, is leaching off her. These are all classical con schemes, classic examples of what people do, and she just doesn't want to see it. This is a classic case of elder abuse, in my opinion."
Another off-the-record source with knowledge of Presley's inner circle confirmed Kovack's assertion, adding that Berry was trying to "alienate" Presley's family, who more or less oppose Berry's involvement in the project.
"He being there was able to consistently be in her ear and hear everything that's going on, and always having the insight and letting her believe that he truly had money and he truly was going to produce, the next day, and it just kept going on and on," said Kovack. "If anyone is the victim, it's probably going to be Alaska. He is trying to come between the family, the friends of Alaska, he says they're lying to Alaska, telling her things that are not true so that way she would believe him and give him the opportunity to buy the mountain, not having any money or things of that nature."
A $52,000 lien alleging non-payment for materials and labor was subsequently filed Oct. 31 by local contractor Clark and Leatherwood against Lula LLC, Presley's company that still owns the park. New Ghost Town LLC, Ghost Town Adventure Park LLC, Lamar Berry and the Oberles are also named in the lien.
As of Monday, Dec. 3, Berry was still residing in Presley's basement, and according to Kovack still trying to swing a deal, but as night fell, Berry was said to have left.
"He split town, so now we are trying to find him, find out where he's going," said Kovack. "He said to Alaska before he left that he and his attorney were going to go see her attorney, Bob Long [as of press time, the morning of Dec. 4]."
Alsbrooks and Kovack are worried that Berry might somehow convince Presley to sign some sort of lease or agreement that would keep Berry in the picture a little longer.
"That would be our worst nightmare, but I do know that nobody will work with Lamar," said Kovack. "Lamar cannot be in the picture for this to be successful or for this project to even happen. From experience, Lamar's not the person we need."
The experience has also left Kovack sorry he'd brought Berry into the project in the first place.
"I made an honest mistake," said Kovack. "I believed in him, we all believed in him. Now the facts come out, he is not the person we would want to be in that role whatsoever. Hopefully he just vacates the valley, moves on with his life and hopefully the lawsuits that are coming against him — there's a large wave heading Lamar's way as we speak — will stop him from doing this to somebody else. That's our biggest concern, to make sure he can't do this again to somebody."
But if there's one thing that's common to the roller-coaster redevelopment efforts at Ghost Town, it's a never-say-die attitude that already has people lining up for the next go-round.
"The only thing I can say right now is we are committed to bringing the park back to life," Alsbrooks said.
Kovack said he's also part of that group, which also includes the Oberles.
"We're asking for support from the public in the valley," he said. "I personally can't apologize enough for the actions that occurred. I wish that would've went in a different direction, but this makes us all stronger. We're not giving up, and we're moving to make this a better place. Plan B is in motion. We're working with Alaska Presley to hopefully come to close here as fast as possible."
Berry did not return a call for comment.
Leave a comment
1

comment
My name is Chris and my Fiance and I have followed this story thoroughly. We have a love for ghost town mountain and a dream of its once greatness. I know I would love to somehow be involved in the rebuilding of something that shows the heartfelt adventure of the wild west.

Friday, 07/23/2021