Archived News
Cherokee loses treasured tribal elder
Wednesday, November 28, 2018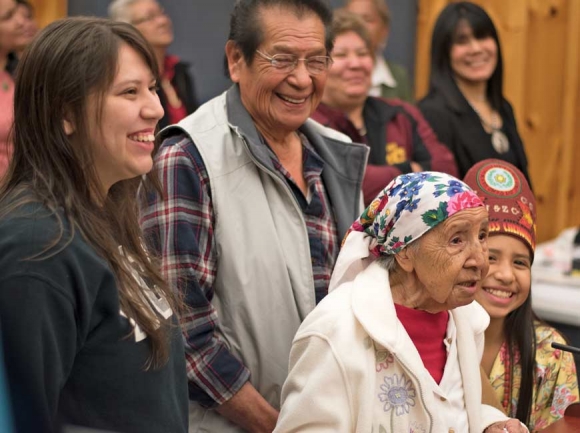 Amanda Swimmer stands surrounded by family after she is named a Beloved Woman in February. Holly Kays photo
Cherokee has lost its second honored member in the space of a month with the Nov. 24 death of Amanda Swimmer, 97.
Swimmer, who was named a Beloved Woman of the Eastern Band of Cherokee Indians in February, was a lifelong potter, storyteller and keeper of Cherokee traditions, a much-loved person in her community of Big Cove and in the tribe as a whole.
"Amanda will be truly missed for her humor, her kindness and her wisdom," said Principal Chief Richard Sneed in a Facebook post. "We have lost a great treasure in the community."
"She was so special," agreed former Principal Chief Patrick Lambert, who also recognized Swimmer's passing in a Facebook post. "I loved her so much. I know there will be so many people who feel the loss and will grieve her leaving us, but I also smile knowing heaven is further enriched with such a soul."
Born Oct. 7, 1921, on the Qualla Boundary, Swimmer was mother to 10 children, grandmother to 22, great-grandmother to 41 and great-great-grandmother to nine at the time Tribal Council bestowed on her the title of Beloved Woman, the highest honor the tribe has to offer. She earned nationwide recognition for her pottery, which was displayed in North Carolina, Washington, D.C., and New Mexico. She demonstrated pottery-making at the Oconaluftee Indian Village for more than 50 years and taught it in schools.
She won the N.C. Heritage Award in 1994, the Mountain Heritage Award in 2009 and received an honorary doctorate from the University of North Carolina Asheville in 2005.
Swimmer was widely recognized as a fountain of cultural knowledge and was one of the tribe's few remaining fluent Cherokee speakers. She was also witty and quick to make a joke, as evidenced by her words in February upon accepting the Beloved Woman title. On that occasion, she thanked Tribal Council for "bringing me up here just to look at my ugly face" and told the crowd that she had a whole bunch of grandchildren, some present and "about 2,000 more somewhere."
"Do the right thing that you should do for the people," she told councilmembers, concluding on a more serious note. "Put the Lord first in everything you do. Don't leave him out. He's going to show you what you have to do. He showed me many times, and he's in my heart."
Swimmer's death follows that of former Principal Chief and Beloved Man Robert Youngdeer, who died Oct. 20 at the age of 96.
Youngdeer served as principal chief from 1983 to 1987 after an already-accomplished life that included 20 years in the military. He enlisted at the age of 18 to fight in World War II, where as a 1st Marine Raider he deployed to the Pacific Theater. He fought in Tulagi and was shot in the face by a sniper during the Battle of Bloody Ridge on Guadalcanal. After months of recovery, he returned to duty on Okinawa and remained there through the end of the war.
Youngdeer was married to his wife Geneva for 73 years before her death, and they had two children together.
"Chief Youngdeer embodied what it means to be a Cherokee leader," Sneed said in an Oct. 21 post. "He selflessly served our country and the EBCI. Our tribe has lost a pillar of our community, and it grieves me that we won't have his wisdom to rely on anymore."
The titles of Beloved Man and Beloved Woman have been worn by only a select few throughout Cherokee history. With Standingdeer's death, there are no living people bearing the title of Beloved Man, and only two Beloved Women remain — Myrtle Driver Johnson and Ella Bird.
A public visitation in Swimmer's honor will be held at 5 p.m. Wednesday, Nov. 28, at Yellowhill Baptist Church, with funeral services planned for 1 p.m. Thursday, Nov. 29, at the same location. Tribal offices will be closed Nov. 29 in her honor.