Archived Opinion
In-hospital hospice just not the same
Wednesday, November 21, 2018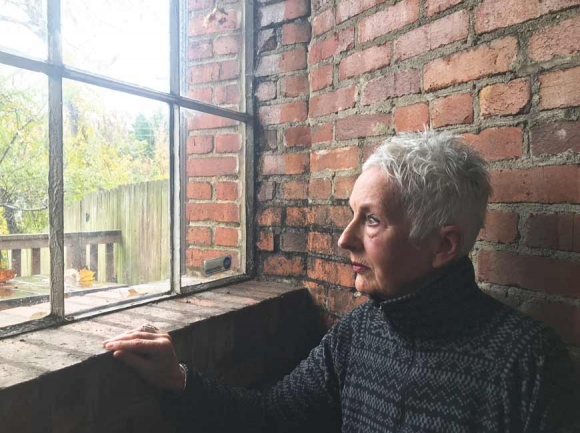 Lorna Sterling's husband benefitted from the in-home hospice services of the Homestead. Cory Vaillancourt photo
By Lorna Sterling • Guest Columnist
Like many in the Haywood County community, I am concerned about the transfer of the in-patient hospice unit into the hospital. Like many, I am convinced that this solution diminishes substantially the quality of services hospice can offer.
The granting of a certificate of need by the state for The Homestead only eight years ago was based on a clear demonstration of need. As the county has continued to age, it is difficult to believe that the need for hospice services has decreased.
I experienced that need in 2016. My husband had Parkinsons disease for years. Peter was in the hospital when it became clear that he might be close to the end of his life. We wanted that end to be on his terms — at home, not in a nursing home, and definitely not in a hospital. Hospice services were suggested and we decided to take that route.
Peter was transferred to The Homestead for a couple of days to be stabilized. We found it to be a lovely, calm and homelike place. And while he was there, I had time to reorganize a place at home to care for him. Hospice helped me sort out where to place and learn to use all the equipment and supplies that would be needed. That time to prepare for this new phase of our lives was critical and The Homestead made it possible.
Over the next weeks, in-home hospice provided essential nursing and other services while I carried out Peter's day-to-day care. We were so thankful to be at home even if it was at times difficult and tiring. Importantly we knew we were not alone as we navigated this challenging time. There was many a night when I called the staff at Homestead with a question or concern, and if I had needed to have a break, Peter could have returned to Homestead at any time for a few days of respite care.
As it turned out, Peter died at home on a sunny summer afternoon with friends nearby and his much loved dog at his side. If, however, he had been unable to stay at home at the very end, we were both comforted by the knowledge that he could have returned to The Homestead. There he would have been in a lovely peaceful room, with a patio door leading out to rocking chairs and gardens. Family and friends would have been gathered in comfortable spots throughout The Homestead. I could have spent time in a small chapel. Peter and I would have spent the last hours of his life in a place fully devoted to our comfort and desire for dignity.
The importance of The Homestead and the in-home hospice services to us was incalculable, both practically and emotionally. It supported us throughout all phases of the last weeks of Peter's life. Our experience is what Jenny Williams, community leaders and donors envisaged when they opened The Homestead in 2012. I believe the in-home services are incomplete without the services The Homestead offers and what it represents — a promise of care for one another. The solution of fitting up rooms in the hospital to mimic it is not what the community needs, wants or expects.
I would urge our hospital leadership to work actively with the community to find ways to keep The Homestead open and to continue to grow the necessary role of hospice in our community. It is remarkable that our rural community came together to create the only in-home hospice facility west of Asheville. It is unthinkable that we would let it fail on our watch.