Archived Outdoors
New trail project announced
Wednesday, November 21, 2018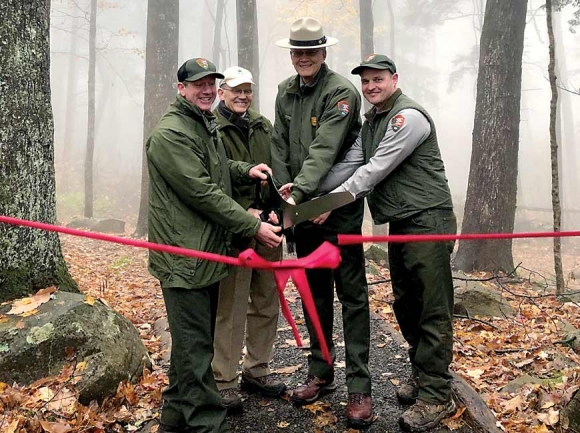 Friends of the Smokies and Great Smoky Mountains National Park representatives cut the ribbon Nov. 14 on the rehabilitated Rainbow Falls Trail. NPS photo
A two-year effort to rehabilitate Rainbow Falls Trail in the Great Smoky Mountains National Park is now complete, and the next Trails Forever project has been announced — Trillium Gap Trail, a 6.6-mile path that intersects with the Rainbow Falls Trail at Mount LeConte.
The rehabilitation of Trillium Gap Trail will take two years, beginning in May 2019, and will be conducted together with other critical work across the park on trails such as the Deep Creek Trail, Rough Fork Trail, Smokemont Trail and Noah Bud Ogle Trail. Trillium Gap Trail and associated parking areas will be closed from May 6, 2019, through Nov. 14 of that year, from 7 a.m. Mondays through 5:30 p.m. Thursdays. It will be open on federal holidays. Work will resume in 2020.
Park officials celebrated completion of the Rainbow Falls project Wednesday, Nov. 14. The trail is on one of the park's most popular trails and leads hikers to Rainbow Falls and Mount LeConte. Crews rehabilitated targeted segments along the trail to improve visitor safety, stabilize eroding sections and repair damage from the November 2016 wildfires. The project included installing more than 350 steps through steep, narrow corridors; creating nearly 600 feet of elevated trail surfaces, installing almost 400 drainage elements, placing more than 1,000 native stones along the trail and eliminating numerous user-created side trails that had caused erosion and wayfinding confusion.
"The craftsmanship exhibited by the park trail crew is extraordinary," said Deputy Superintendent Clay Jordan. "They create durable, functional trail corridors that support the high-volume hiker use of the Smokies in a manner that also reflects and protects the natural landscape."
American Conservation Experience youth interns contributed much of the labor for the project, with 44 interns working 41,360 hours and 162 volunteers contributing 1,576 hours over two years.
The work is possible through Trails Forever, a partnership of Friends of the Smokies and the Great Smoky Mountains National Park. The program funds a highly skilled work crew to reconstruct high-use and high-priority trails in the park and provides a mechanism for volunteers to work side-by-side with professional crews.