Archived Outdoors
Plan proposed to let Cherokee members gather sochan
Wednesday, November 21, 2018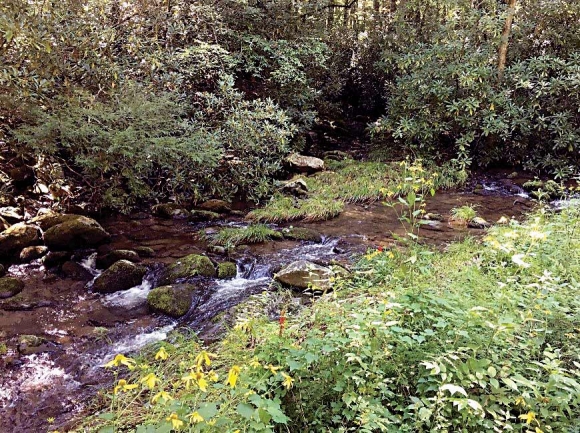 Sochan grows along a river. NPS photo
An environmental assessment for a rule that would allow members of the Eastern Band of Cherokee Indians to gather sochan in the Great Smoky Mountains National Park is out for comment through Thursday, Dec. 13.
The early spring leaves of sochan, also known as the green-headed coneflower, have traditionally been an important food source for Cherokee people, whose large territory used to encompass the area now covered by the park. The Qualla Boundary currently abuts the park boundary, but gathering any type of plant or plant part is uniformly prohibited in the Smokies.
Under the proposed rule, up to 36 tribal members would be able to gather sochan each year, with participants selected through their respective community clubs on an annual basis.
Permitees could be accompanied by up to five other EBCI members during gathering. The "turkey foot" of the perennial sochan plant — consisting of the upper three leaves as it begins to grow from the root in the spring — would be the only part that could be gathered. Permitees could gather a maximum of half a bushel per day and half a bushel per week of the leaves, with an annual limit of 12 bushels. They would be required to use official collection bags provided by the EBCI Department of Natural Resources. The season would be limited from March 1 to May 31, a period that encompasses the time when early spring leaves are available at various park elevations. Gathering would be relegated to areas within 100 meters of official roads, trails or the park boundary, and should be done out of sight of high visitor use areas and research areas.
The proposed rule stems from a 2016 rule that allowed the National Park Service to permit members of federally recognized tribes to gather plants for traditional purposes. The resulting Environmental Assessment analyzes the potential environmental impacts of the proposed action.
The assessment is available at parkplanning.nps.gov/grsm by following the link for sochan gathering and clicking on "document list." Submit comments through the website or mail them to Great Smoky Mountains National Park, ATTN: Environmental Planning and Compliance, 107 Park Headquarters Road, Gatlinburg, Tennessee 37738.