Archived News
ConMet not closed yet in Bryson City
Wednesday, November 21, 2018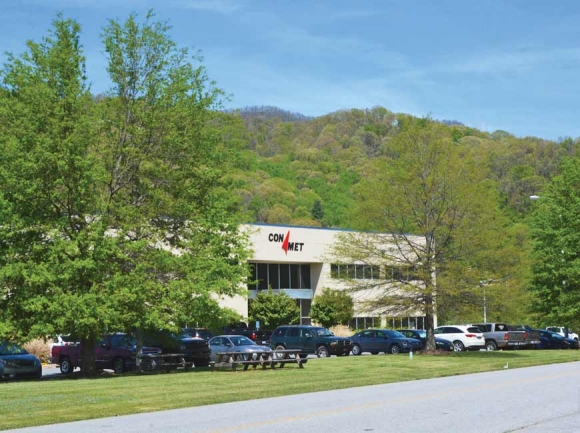 ConMet still has plans to shut down its Bryson City plant and consolidate operations at its Canton plant. File photo
Rumors of Consolidated Metco Inc., staying open in Bryson City have been circulating around the community, but unfortunately the plant still has plans to close operations in the near future.
ConMet, a designer and manufacturer of commercial vehicle truck components, announced in February 2017 that it would be closing the Bryson City plant by February 2018 and consolidating its operations at the plant in Canton where it had more room to expand.
It's nearing the end of 2018 and Bryson City operations are still trudging along, but Swain County Economic Development Director Ken Mills said ConMet corporate told him that their plans to shutdown the plant haven't changed.
"From what I've been told, they're still planning to make the move, but they just didn't foresee the demand staying up this long," Mills said.
In this kind of industry, he said, truck manufacturers tend to stay busy for two years cranking out new parts to fulfill contracts and then the business goes into a lull until the next cycle.
"Then it will pick up again because the mileage on the trucks running on the road," he said. "But, this peak cycle ran longer than ConMet suspected, so they're not at a point where they can shut down without losing business. They still have a number of contracts in the works. Work might go into 2019, but as soon as the cycle starts to roll back they'll make the move to Canton."
As a private business, ConMet doesn't have to keep the county informed about its next move or how many employees are currently on staff. The current manager is an interim and the staff has fluctuated with work demand. Mills some people were let go only to be asked to come back when production picked up again, but many have had to move on to find more stable work.
The 300,000-square-foot Bryson City plant, which began operation in 1995, had about 230 hourly workers and 40 salaried workers when the closure announcement was made in early 2017. Many employees were given the opportunity to transfer to the Canton facility, which is 50 miles east of Bryson City. Mills said some took the transfer though he isn't sure how many. The county even tried to set up free transportation from Bryson City to Canton for employees, but it didn't get enough participation to make it feasible.
"We tried to set up public transport and had interest from people going to Asheville too, but it's one thing to put it together and it's another to get people to actually do it. Most people would still rather drive themselves than take a long bus ride," Mills said.
Not knowing how long ConMet will remain in the Bryson City plant makes it more difficult for Mills to show the property to other potential tenants.
"I've gone ahead and brought other interests over to look at the building, but the details are not solid as to when the business is moving so if (a potential tenant) doesn't know they tend to put the idea on the back burner," he said.
The Canton plant, which is located in the Beaverdam Industrial Park near Exit 33 off Interstate 40, has more than 400 employees and is one of Haywood County's remaining manufacturing industries. ConMet broke ground in 2013 on a $5.9 million expansion to the Canton facility to consolidate some operations out of Arden and add another 80-plus jobs.