Archived Arts & Entertainment
Let the world decide: Travers Brothership release latest album
Tuesday, November 20, 2018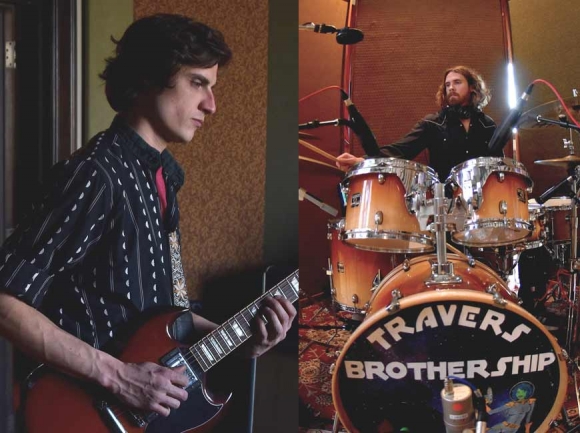 Kyle (left) and Eric (right) Travers of the Travers Brothership at Echo Mountain Recording Studio in Asheville this past winter. Garret K. Woodward
Just about a decade ago, on a school bus somewhere on the back roads of Black Mountain, four teenage boys sat together and conversed excitedly about their mutual love of music.
Two of them were twin brothers, Kyle and Eric Travers. The other two were friends Ian McIsaac and Josh Clark. Though the siblings had been playing music since they were kids, Kyle on guitar and Eric on drums, talk surfaced to start jamming out in their parent's garage.
Those endless hours of tinkering around with sonic tones and musical attitudes led to the formation of the Travers Brothers Band 10 years ago. That initial lineup of the brothers and McIsaac (keyboards) added in Clark (bass) full-time about five years ago, this time under a new moniker — Travers Brothership.
It's soul, blues and funk, but with a thick thread of nitty gritty rock-n-roll running right down the middle. You hear 1960s Motown and early British rock, and yet your ears also pick up on shades of 1970s Steely Dan and 1990s Widespread Panic — it's all over melodic map, as it should be with all truly great and timeless music.
Watching the Travers Brothership live, the chaotic energy levels push in seemingly every direction. It's a multitude of intricate musical talent and sheer passion pouring into their instruments, something music freaks from near and far felt was, perhaps, a lost art in the current rock scene — only to now be displayed in full by one of the most promising acts of the genre in recent memory.
Smoky Mountain News: Real deal rock-n-roll will always be made, somehow and somewhere. But, for the most part, it has greatly disappeared from the mainstream. What would attribute that to?
Kyle Travers: One of the reasons it has disappeared is the issue with mainstream music — who gets to decide who records the best music in some of the studios and labels that put out the best music. That's turned into padding the pockets in the easiest, most inexpensive way, rather than how it used in the old days, just trying to record the most creative and cool product you could search out.
SMN: Asheville and greater Western North Carolina have a rich history of bluegrass and Americana music. What is your place in this area as a rock band?
KT: The people in Asheville, a lot of them have a very eclectic taste in music. And many of them, what they care about is, "How good is it live?" and "If I'm going to go out and pay the ticket price, am I going to get what I think I deserve?" We fit in because we're eclectic as well. Some people in Asheville think we're a funk band, some think we're a soul band, you hear a lot of rock-n-roll elements.
SMN: And all that keeps you from getting pigeonholed…
KT: Right. And we've gotten advice from people that tell us not to do that. They almost say, "I don't feel like you've found your sound yet. You're not playing just one genre." But, for how we write music, for how we grew up all together, listening to music, starting off riding the bus together in middle school — one of was hard into Led Zeppelin, one of us was hard into The Beatles, one of us was into Modest Mouse, and one of us was into Rage Against the Machine. So, we all turned each other on to those different kinds of music. And I feel like as long as we're putting out an earnest, honest creative output, the people in Asheville can usually respect that.
SMN: Well, I would assume that if people say you should be one thing or the other, it doesn't faze you at all, because it's whatever is comfortable where the band is…
KT: And why would we ever want to pigeonhole ourselves? Why would we want to end up playing just one style of music? It just gets so mundane, in my opinion. I would never want to do that. And that's one thing we want to do on this record — it's going to be all over the place.
SMN: What do you think about that, where the four of you 10 years ago were jamming in a garage, and now you're in Echo Mountain putting together a professional album?
KT: It's overwhelming sometimes. It wasn't an immediate success story, by any means. We have worked hard — through blood, sweat and tears — to get to where we are. And we'll keep doing that. Every year, more people find out about us and give us support. It's crazy to look back at it, coming up with the idea of starting a band in the garage at 13 or 14 years old. And now, we're playing these bigger festivals. [We learned early] how to get along and all those kinds of things bands struggle with. As far as my brother and I, even in elementary school, we decided this is probably what we want to do. And [after Ian and Josh] got onboard, that became the conversation. The advice we got was to "always stick with it." We take it very seriously. We live by the principle that if we all stick together, it will eventually be successful. I think what motivates us to keep going as a unit is that we'll be able make whatever kind of music we want.
Want to go?
The Travers Brothership album release party for "Let The World Decide" will be held at 9 p.m. Friday, Nov. 23, at Pisgah Brewing in Black Mountain.
Tickets are $12 in advance, $15 day of show. For tickets, visit www.pisgahbrewing.com. For more information on the Travers Brothership and to purchase the latest album, go to www.traversbrothership.com.