Archived Outdoors
Judge blocks wolf protection rollback
Wednesday, November 14, 2018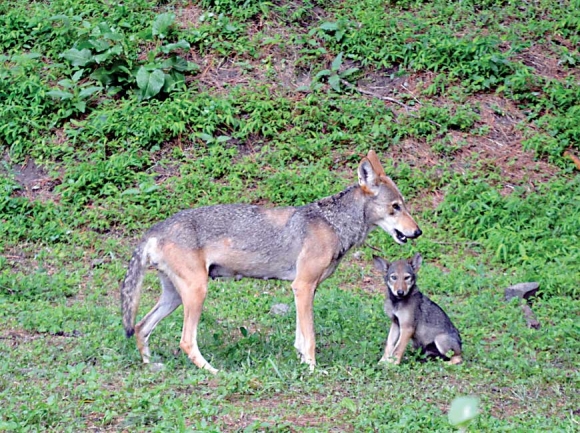 A captive red wolf stands with her pup. Wildlands Network photo
A federal judge found that the U.S. Fish and Wildlife Service violated the Endangered Species Act and the National Environmental Protection Act when it rolled back protections for the world's only wild population of red wolves.
U.S. District Court Chief Judge Terrence W. Boyle, in the Eastern District of North Carolina, found that, "taken together, these actions (of the USFWS) go beyond the agency's discretion and operate to violate [the USFWS'] mandate to recover this species in the wild." He made permanent a Sept. 29, 2016, order preventing the Fish and Wildlife Service from capturing and killing red wolves and authorizing private landowners to do the same.
In September 2016, the USFWS announced that red wolves would be removed from the majority of the five-county area of eastern North Carolina where they'd been reintroduced. The move followed nearly two years of evaluating the feasibility of reintroduction efforts, and a lawsuit in which environmental groups claimed the USFWS was not doing enough to protect the wolves. Reintroduction was once attempted in the Smokies, but failed.
A five-year red wolf status review, released April 24, showed that only about 40 red wolves are left in the wild with only three known breeding pairs remaining. In June, the Fish and Wildlife Service proposed a new rule that would restrict the protected red wolf population to one national wildlife refuge and a bombing range in eastern North Carolina, repealing any restrictions on killing red wolves wandering outside that area.
"Support for red wolf protection has been overwhelming," said Jason Rylander, senior staff attorney for Defenders of Wildlife. "But the U.S. Fish and Wildlife Service has ignored public support and moved forward with a proposal that will doom the species to extinction. Today's decision by the court to protect red wolves from being shot and killed offers a glimmer of hope for species recovery and new energy to make this program successful once again."
The Fish and Wildlife Service's June proposal drew 108,124 written comments, with nearly all of them — 99.9 percent — favoring strong federal protections for the animals. That figure comes from an analysis by the Wildlands Network, Wolf Conservation Center, Center for Biological Diversity, Defenders of Wildlife and Animal Welfare Institute, all of which have strongly favored additional protections.
Of the 2,923 comments submitted by North Carolinians, 2,898 were in favor of red wolf protections, the analysis said. In the current five-county red wolf recovery areas in eastern North Carolina, 75 out of 95 submitted comments — 78.9 percent — were pro-wolf.
— By Holly Kays, staff writer