Archived Reading Room
A fine novel about a fascinating literary era
Wednesday, November 14, 2018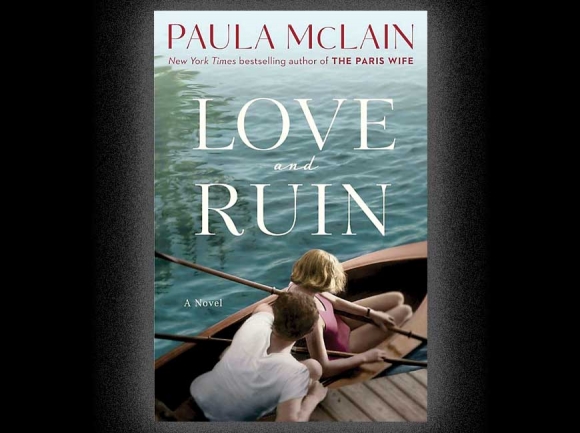 The writers who lived and practiced their art between the two world wars of the twentieth century continue to exert a powerful pull on today's imagination. Woody Allen's film "Midnight In Paris," which include a dozen or more celebrities of 1920s Paris; "Genius," the movie about Thomas Wolfe, reviewed earlier this year in The Smoky Mountain News; the biographies devoted to such figures as Edna St. Vincent Millay, Ernest Hemingway, William Faulkner, and F. Scott Fitzgerald all reveal a continued infatuation with that era.
Novelist Paula McLain is one of those — as am I — entranced by this unique time in American letters. In The Paris Wife, she gave us the story of Hadley, Ernest Hemingway's first wife. In Circling The Sun, she took as her narrator Beryl Markham, the aviation pioneer who wrote a remarkable account of growing up in Kenya and of her adventures in the air in West With The Night.
In Love and Ruin (Ballantine Books, 2018, 376 pages), McLain returns to the life of Ernest Hemingway. Here our narrator is Martha Gellhorn, the journalist and war correspondent who became Ernest Hemingway's third wife.
When we first meet Gellhorn, her beloved father is dying, her mother is deeply depressed by her husband's death, and Gellhorn herself is coming off a failed love affair. To console her mother and for lack of a better option, she spends the winter of 1936 in her mother's home in Saint Louis, "smoking too much and staying up late, and sleeping some days until one or two." In June, she makes a trip to Europe, begins her fascination with Spain and its civil war, and returns home to find her account of the Depression, four novellas titled The Trouble I've Seen, receiving rave reviews in the papers.
A year after her father's death, Gellhorn travels with her mother and brother to Florida, looking for sunshine and a balm for their sadness. In Key West, they take a stroll and wind up at Sloppy Joe's, a Conch bar and home away from home for Ernest Hemingway. "He wore a ragged T-shirt and shorts that seemed to have come from the bottom of a fish barrel — both of which weren't doing him any favors. But it was him."
As their friendship grows into love — Hemingway is still married to Pauline — he convinces Gellhorn to go to Spain with him as a correspondent. In that war-torn they become lovers, a romance they continue on their return to the United States, an often-wrenching affair as they tried to conceal their love from Pauline.
Eventually, of course, Hemingway divorces Pauline and marries Martha. Though she became close to Hemingway's three sons — one the result of his marriage to Hadley, the other two with Pauline — Gellhorn's marriage to Hemingway suffers from several strains: his domineering personality, her inability to compete with him as a writer, and their separations because of journalistic commitments. The end to their union comes during World War II, when they work for so long away from each other. It is then that Hemingway begins a relationship with another journalist, Mary Walsh, who becomes his fourth wife.
In Love and Ruin, McLain treats both Gellhorn and Hemingway even-handedly. We have here the Hemingway we know from so many biographies and reminiscences, a great writer plagued by alcoholism and an ego the size of Everest. McLain gives us that man, but also shows him as a loving father and as a husband who probably loved Gellhorn more than she could love him, in large part because of her ambitions and her jealousy in regard to his success.
McLain's portrait of Martha Gellhorn is equally fair. We have here a woman who bravely faces privation and danger on the battlefront, a woman still highly regarded today as a war correspondent, a woman without children who nonetheless takes three young men into her heart. But McLain also shows us that Gellhorn could be willful, sometimes almost cruelly so, in the pursuit of her own goals, and was envious of Hemingway's greater accomplishments as a writer. (At one point, near the beginning of Love and Ruin, Gellhorn laments the fact that even though she worked hard and poured herself into her first novel, the book failed. I wanted to take her aside and say, "Look here, Marty, no one cares how hard you tried. They care about what you delivered. So cowgirl up and get with the program.")
Even those familiar with the lives of Hemingway and Gellhorn will find Love and Ruin an excellent read. We readers may only hope that Paula McLain continues to explore the fascinating period in which she has become so expert.
•••
Sometimes a single line from a book deserves mention.
In this case, the book is Rodney Stark's Bearing False Witness: Debunking Centuries of Anti-Catholic History (Templeton Press, 2016, 268 pages.) Because I had previously read, enjoyed, and reviewed Stark's How The West Won, I picked the book from the library shelves and flipped through its pages. It struck me as a bit of a strange endeavor, as I knew Stark was no Catholic. I wondered how he had come to write a book with such a title.
The last two sentences of Stark's "Introduction" gave me my answer.
"Finally, I am not a Roman Catholic, and I did not write this book in defense of the Church. I wrote it in defense of history."
Noble words, Professor Stark, in an often-ignoble time. Thank you.
(Jeff Minick is a writer and teacher. This email address is being protected from spambots. You need JavaScript enabled to view it.)