Archived News
Susan Belcher receives WCU service award
Wednesday, November 14, 2018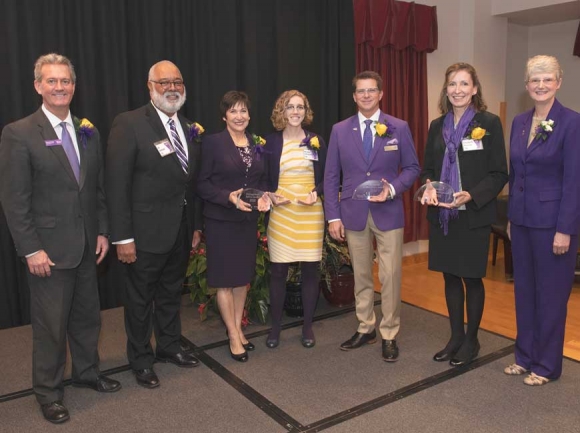 Pictured are Marty Ramsey, director of Alumni Engagement; (from left) Ed Holland, president of the Alumni Association; Susan Brummell Belcher, recipient of the Distinguished Service Award; Mary Beth Fallin Hunzaker, recipient of the Young Alumni Award; Kenny Messer, recipient of the Professional Achievement Award; Elizabeth Ransom, recipient of the Academic Achievement Award; and Alison Morrison-Shetlar, interim chancellor.
Susan Brummell Belcher, wife of late Western Carolina University Chancellor David O. Belcher, received one of the top honors bestowed by the university, the Distinguished Service Award, and three alumni were recognized for their achievements Nov. 3 as part of Homecoming activities on campus.
During the annual Chancellor's Brunch and Alumni Awards Ceremony, Interim Chancellor Alison Morrison-Shetlar presented the service award to Susan Belcher, who took on the role of ambassador for the university when her husband became WCU's leader in 2011.
Belcher earned her master's degree in vocal performance at Northwestern University and gained professional opera training with the Chicago Lyric Opera Center in Chicago. After retiring from her operatic career, she worked 16 years at the United Nations before moving to Springfield, Missouri, where she was education director, and later, executive director of the Springfield Regional Opera. It was in Springfield that she also met and married her husband, David O. Belcher. After the couple moved to Little Rock, Arkansas, in 2001, Susan Belcher taught as an adjunct vocal professor at the University of Arkansas, Little Rock, and continued to perform and to direct opera productions for young people.
"And then the Belchers arrived in Cullowhee," Morrison-Shetlar said to the audience during the awards ceremony at A.K. Hinds University Center. "I hesitate now, wondering if a list exists somewhere of all the activities that Susan participated in for the next seven years as a full-time partner to David. If I had such a list, I wouldn't be able to read it to you because we would all miss the 3:30 (p.m. Homecoming football) game."
As the chancellor's full-time partner, Susan Belcher "proved herself to be a passionate advocate for Western Carolina University and a true ambassador for the institution" while also playing "a hugely important role in enhancing relationships between the university and the communities and the region that it serves," Morrison-Shetlar said. "The Belchers have been role models for all of us, and their enthusiasm for the transformative power of higher education and their desire to help future students in Cullowhee was visibly demonstrated by their very generous gift pledge of $1.23 million for student scholarships that jump-started our current (Lead the Way) fundraising campaign one year ago."
After receiving the Distinguished Service Award from Morrison-Shetlar, Susan Belcher began her comments with raised arms and a vigorous shout of "Go Catamounts!" — as her husband did so often at WCU's leader.
"I just had to do that. That one's for you, David," she said.
Chancellor Belcher died in June after a more than two-year battle with brain cancer. She also commended Morrison-Shetlar for stepping forward "to take on the great responsibility of this university since David's passing."
Reflecting back on the arrival of her and her husband in Cullowhee, Belcher said the university community built the foundation for her service to the institution in three ways, including giving her "permission to serve." Some higher education institutions prefer that the top leader's spouse not be too involved, but that wasn't the case at WCU.
"From the very beginning, Western Carolina University embraced the idea of two-for-one, and Western allowed me to be a full-time partner in the shaping of this university, and that sentiment and that environment allowed me to thrive. And, I had the time of my life," she said. "My home for the last seven years has been Western Carolina University, and that uniquely good-hearted and wonderful institution gave me permission to serve, gave me the resources to serve, and gave me the support I needed to serve in my own way."
Mary Beth Fallin Hunzaker, recipient of the Young Alumni Award, enrolled at WCU as a sociology major in 2008 and graduated in 2010. The native of Madison went on to earn a doctorate in sociology at Duke University, where she spent a year as a graduate fellow at its Kenan Institute for Ethics. Last year, she joined the Sociology Department at New York University as an assistant professor, teaching statistics and social psychology. She was co-recipient of a highly competitive Russell Sage Foundation grant to study political polarization and public opinion concerning inequality, race and immigration in social media echo chambers. This past summer, she left academia to join Facebook's News Feed team. In her new role, she conducts research aimed at understanding patterns of information sharing on that platform.
Hunzaker said that when she came to WCU in 2008 she couldn't have imagined her current career path, but she doesn't believe it would have been possible if she had not decided to attend the university.
"My experiences at the university and the mentorship and support that I received from professors here were really foundational for setting me on this pathway," she said.
Elizabeth Ransom, who received the Academic Achievement Award, is originally from Smyrna, Georgia, and double-majored in sociology and political science at WCU in addition to being a decorated athlete on the track and cross-country teams. Following her graduation in 1994, she went on to graduate study at Michigan State University, focusing on agriculture and food systems in sub-Saharan Africa for her research. After earning her doctorate, Ransom joined the faculty at the University of Richmond, where she expanded her research to focus on the global trade in beef and the impact on local farmers in Botswana and Namibia. This past summer, she joined the faculty at Penn State University, where she expects to expand on her research in sub-Saharan Africa.
"I was fortunate enough to have faculty who saw in me things I didn't see in myself. They became my mentors," she said. "I hope that I have inspired a few students in the same way that I was inspired by faculty here at WCU."
Kenny Messer, recipient of the Professional Achievement Award, said he was raised on Hemphill Mountain in rural Haywood County, where he spent his boyhood plowing tobacco behind a mule and cooking on a wood stove. He said that was a "great life," but he had a dream of going to college. His academic credentials would have allowed him to attend larger schools, but Messer's guidance counselor at Tuscola High School, WCU alumnus Tom Dowell, steered him toward Cullowhee.
"(Dowell) knew that Western Carolina was a special place and the place for a first-generation college-bound country boy like myself," Messer said.
After his graduation with an undergraduate degree in chemistry in 1986, Messer progressed through the ranks of the chemical industry to become president of Sartomer Americas, which is located in the greater Philadelphia area. Over the years, his involvement with WCU has been extensive, with Messer providing financial support for many university programs and activities, and filling the role of president of the Catamount Club and Alumni Association. He is currently serving his second term on the WCU Board of Trustees.