Archived Arts & Entertainment
'Any old road will take you there': Balsam Range reflects on successful past, a bright future
Wednesday, November 14, 2018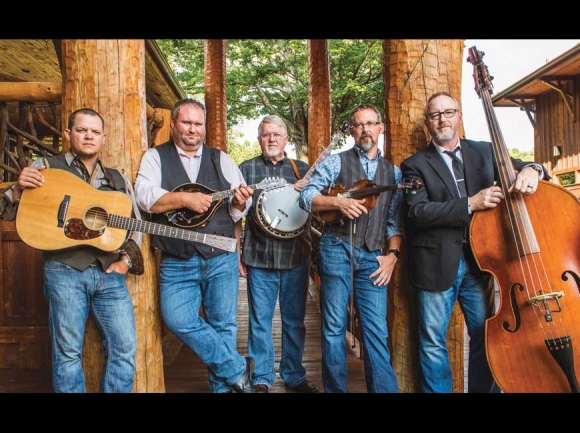 Balsam Range. David Simchock photo
In 12 years together, Haywood County-based Balsam Range have played some of the biggest stages in the music industry, and have also taken home some of the highest awards in the bluegrass world.
In recent years, the quintet received the International Bluegrass Music Association award for "Album of the Year" (twice), "Song of the Year," Vocal Group of the Year" (twice), "Male Vocalist of the Year" (Buddy Melton, twice) and "Bass Player of the Year" (Tim Surrett), among other honors.
What started out from humble beginnings as a simple basement jam session between longtime friends has now molded itself into a well-oiled melodic machine, one which crisscrosses the country each and every single weekend — spreading the word of that "high, lonesome sound" to any within earshot.
SEE ALSO: Art of Music Festival
This past September, Balsam Range once again received the industry's highest honor — IBMA "Entertainer of the Year." It was a moment that ideally complements not only the hard work and genuine talent of the group, but also seals the legacy of the band as one of the finest, ever-evolving bluegrass acts of the modern era — perhaps even in the entire history of the genre.
Smoky Mountain News: Where is the band right now? Because now you're on the backside of 10 years together…
Buddy Melton: It's a huge milestone. I think the fact we never intended to be at this place makes it that much more special. It's a rarity for a band to stay together as the same five guys primarily. Some bands, the names make it that long, but the individual members are totally different. For us to be the same, original members is rewarding.
We're coming up on our twelfth year as the same group, and we're still pushing each other to grow it. I don't feel like we've plateaued yet, and I think that's a great place to be. I really don't want to plateau anytime soon. It's about always pushing the envelope a little bit — for new and exciting territories and frontiers. It's something we've always strived to do. Everything we do this year impacts the next year. So, what do we want to be doing in 2020? That's how far out you have to plan in this industry.
SMN: I feel the band is at a place where it can do what it wants to do...
BM: Well, I'll be the first to admit that there's a degree of burnout that happens every year for everybody in this band. But, we're blessed to be able to sit down, five guys in the same town, and talk about it, what our family needs are, and recognize when we need to slow down a little bit, to give each other some space, maybe even some time to do some other things.
These days, more and more we can pick and choose what we want to do. And with that, we want to do quality things. But, we also recognize we need to stay out there, because if you cherry-pick too much, people might forget you.
SMN: It's almost like plate-spinning...
BM: It is. It's a balancing act all the time — meeting what the need for our music is, seeing what our energy level is. We always set our goals every year, a bucket list of what we want to do, and we also leave room for unexpected things we're always trying for. And lo-and-behold, some of those bucket list things come through, like when we wanted to play Telluride Bluegrass Festival.
We're at a place right now with a new project, which is a new album we're planning to preview at the "Art of Music Festival." And, at the same time, we're figuring out the schedule for that album coming into the next year. What do we realistically think we can achieve? What have we not done that we want to do? How can we be innovative? That mindset led to our collaborations with John Driskell Hopkins (of Zac Brown Band), the Atlanta Pops Orchestra, and Chloe Agnew (formerly of Celtic Woman). These things are not only good for us, but also for the bluegrass industry, too.