Archived Arts & Entertainment
This must be the place: 'The air was just electric. The air was quivering.'
Wednesday, November 14, 2018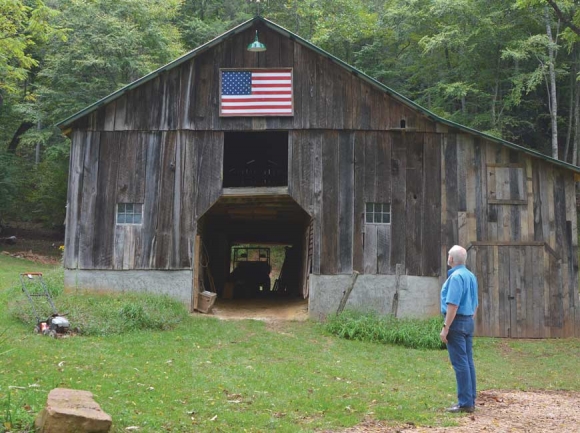 Tom McNish at his Franklin farmhouse. Garret K. Woodward
I was handed a telephone number and told good luck.
In the fall of 2007, I was 22 years old. Once graduate school didn't pan out, I found myself scrambling to find a gig in the journalism world. Based out of Upstate New York at the time, I applied for a position at The Williston Observer, a small newspaper just across Lake Champlain in Vermont.
I had never been in a real newsroom before. The publisher sat me down in a small booth and handed me a telephone number.
"Here, this is a number of a World War II veteran," the publisher said. "He's head of the local American Legion Post 45, and they're struggling to stay afloat. Call him, get the story, and submit it to me by 2 o'clock. If it's good, then we can talk about if you're the person for the job here."
Staring at the number, I thought of some quick questions in my head to ask. Soon, the landline phone on the other end of the conversation rang. A few moments later, 83-year-old Walter Trepanier picked up. We talked for the better part 15 minutes, discussing the Legion and its issues — not having a meeting house, a lack of membership and lack of funding.
Eventually, we got to his military service: A South Pacific Army Engineer during World War II, Trepanier enlisted shortly after the invasion of Pearl Harbor. Stationed in the Philippines, Australia, New Guinea and eventually Japan, he witnessed the carnage brought upon Nagasaki just weeks after the hydrogen bomb decimated the city. "It was an awful sight to see, we knew it was somewhat radioactive but we had a job to do," he said.
I wrote the article, submitted it by 2 p.m. and was offered a job at the newspaper by 2:30 p.m. I took a few days to think about it, only to turn it down, seeing as I was also offered a gig at a small newspaper in the Grand Teton Mountains of Eastern Idaho.
But, I never forgot about my chat with Walter Trepanier. Nor have I forgotten any interaction I've had with veterans, and I've talked with countless vets. Ever since I was a kid, I would always talk up veterans, whether seeing one in a World War II or Korea hat at a diner, on a street corner or in a grocery store.
Sadly, nowadays one rarely sees a WWII or Korean War hat in public. Mostly, I come across ones that say Vietnam, Desert Storm or Iraq/Afghanistan. And I talk all those folks up, too, for every single veteran deserves the time of day, where I want to thank them for their service and maybe get to know them, if just but for a moment in passing.
Truth-be-told, as a journalist, the stories and subjects that were, and remain, most meaningful to cover, are the veterans. While out in Eastern Idaho, I tracked down some Korean War veterans as American Legion Post 95 was getting ready to celebrate the organization's 89th birthday.
And that day, in March 2008, I spent the afternoon with Gary Henrie and Dale Breckenridge of Post 95: With an older brother serving in the Korean War and a younger brother in Vietnam, Henrie is proud of the service he and his brothers gave for the country. "I'm proud we served," he said. "There are two things I hold dear to my heart while I'm above the grass and that's having a military funeral when the time comes and honoring those who served until that time."
In my time at The Smoky Mountain News, I've again had the honor of interviewing and befriending several veterans who reside in Western North Carolina. Vets from World War II and Vietnam for feature articles, Iraq/Afghanistan soldiers in conversation at a bar or porch pickin' session.
And of my time in these parts, two subjects stick out — Paul Willis and Tom McNish.
Willis, who recently passed away, was 95 when we first shook hands at his Canton home: An Army vet, he faced combat in the hedgerows of Normandy and was involved in skirmishes in Brittany, Luxembourg, the Hurtgen Forest, the Battle of the Bulge and the Rhine River. And it was during the Battle of the Bulge where he received the Purple Heart for injuries sustained (he also was awarded the Bronze Star).
"I remember seeing the old British Lancaster planes. And every once in a while you'd see one get hit by the Germans and explode. The air was just electric. The air was quivering," Willis said of his time in Normandy.
And it was this past September when I found myself at McNish's farmhouse in Franklin. As an Air Force Fighter Pilot during Vietnam, McNish's plane was shot down across enemy lines, to which he spent six-and-a-half years in the infamous "Hanoi Hilton" prisoner-of-war (POW) camp.
"[Living through that, you know] not only the value of life and time, but you develop an appreciation for the little things you just kind of thought were to be accepted in the past. You learn those. You learn a real solid understanding of what your true personal values are, and what you think is important in life," McNish said.
To all the veterans out there, thank you for your service.
Life is beautiful, grasp for it, y'all.
Hot picks
1 The Bellamy Brothers will hit the stage at 7:30 p.m. Friday, Nov. 16, at the Smoky Mountain Center for the Performing Arts in Franklin.
2 Boojum Brewing Company (Waynesville) will host Gold Rose (Americana) 9 p.m. Saturday, Nov. 17.
3 The Classic Wineseller (Waynesville) will host The Russ Wilson Duo (jazz/swing) at 7:15 p.m. Saturday, Nov. 17.
4 The Macon County Public Library (Franklin) will host the "Songwriters in the Round" showcase with Brian Sanders, Gary Allen, Scott Crowley, Robert Shook and Dave Stewart at 7 p.m. Saturday, Nov. 17.
5 Kids at Hart will present its production of "Elf the Musical JR." at 2 p.m. Nov. 17-18 at the Haywood Arts Regional Theatre in Waynesville.