Archived News
Mediation valuable service in criminal justice system
Wednesday, November 07, 2018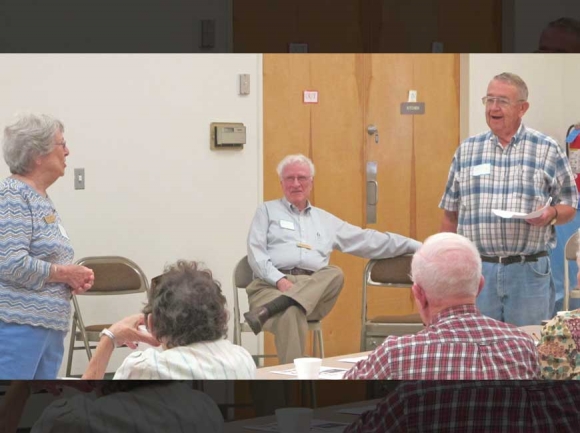 Mountain Mediation volunteers Peggy Smith, (from left) Arnold Howell, and John Scroggs speak about communication skills. Donated photo
Mountain Mediation Services has been providing an invaluable service to Western North Carolina's criminal justice system for more than 20 years.
With the District Court system facing an overloaded docket of civil, criminal and juvenile matters, judges and the District Attorney's Office are able to utilize mediation services to keep certain legal matters from eating up valuable court time. When it comes to certain cases — property disputes, landlord-tenant disputes, family disputes, first offense shoplifting or incidents involving students — volunteer mediators are able to resolve most issues outside of the courtroom.
"For taxpayers, it saves them money and unburdens the court system, but the greater benefit is helping people and community members get along better," said Lorraine Williams, executive director of Mountain Mediation Services. "Mediation keeps cases out of court because if we can give people a chance to work through what led to the dispute in the first place, then the solutions they come to are theirs. It's not arbitration where the arbitrator hears both sides and makes a decision for them. Mediators are there for the process and they have more time to get them to talk about what brought them there in the first place so the solutions can be longer lasting."
Mountain Mediation Services is a nonprofit organization serving the seven most western counties in the region and the Qualla Boundary. It started 24 years ago serving Swain County and has slowly expanded to offer private mediation services for families and businesses but also to offer services for District Court in the 30th Judicial District.
Finding funding
While Mountain Mediation receives payments for private services, the organization operates the District Court program at a loss because it's such a valuable service to the community. Williams said they do receive a small portion of a fee that is paid to the clerk of court, which ended up providing $7,000 last year, but it's not enough to break even. The organization also relies on private donations from community and the state funding it receives in exchange for providing mediation services on Medicaid appeals.
"Because we work so closely with the court system I think people assume we're funded by the court system, but we're not," Williams said. "That's one of the challenges in North Carolina — in 2011 the legislature cut the funding for mediation services. The mood in the General Assembly lately isn't one to look at providing those services even though it saves taxpayers and helps the court system."
Mountain Mediation employs seven people spread out among the western counties and Qualla Boundary. Including some board members who also mediate, Mountain Mediation has about 30 volunteers, but is always looking for new recruits. The more volunteer mediators they get trained, the more cases the nonprofit can take on.
"In Haywood County we've had months with 30 mediations scheduled but usually it's 15 to 20 in Haywood," Williams said. "In Jackson we have about 20 a month, six to eight a month in Macon County and maybe one a month in Swain. We could take on more if we had more volunteers — the need is definitely there."
How it works
In North Carolina, people can press charges on each other for any number of civil matters, whether it's a noise complaint or a property dispute with a neighbor, going through a divorce, or dealing with a child custody dispute. An assistant district attorney can request certain cases for mediation and the judge has to make the final call on court-appointed mediation.
The mediation process starts with a simple intake questionnaire followed by an appointment with two trained mediators who have undergone a 21-hour training program and have observed at least five mediations led by seasoned volunteers.
Typically, a resolution can be reached after just one meeting, but sometimes the parties need a follow-up mediation if more information is needed or to ensure the agreed-upon resolution is kept by both parties. If the parties don't work out a compromise, they always have the option to bring it back to court.
When people voluntarily go through mediation, Williams said, the success rate of being able to settle the issue out of court is close to 90 percent. If it's court-mandated mediation, it has a 75-percent success rate.
So what qualifications do you need to be a good mediator? As long as you can listen to both sides of a story in an objective manner, Williams said, you have the makings of a successful mediator. The three-day training process teaches on all the other tools one needs to go through the process.
"We give you lots of practice and training — three days of hands-on training where we take you through the process and do mediation role play so you get used to it," she said. "Part of it is just learning the skills, but part of it is being able to listen to others and coming in to it with the understanding there are at least two sides to every story."
Reframing is one of the most important tools mediators have to use. Because two conflicting parties have a hard time listening to one another when they're upset, reframing allows a third party to restate how each person is feeling about the matter in a neutral way.
"You state back what you've heard and you take out the negative or emotional content," Williams said. "The beauty of it is both people are there hearing each other for the first time uninterrupted with neutral parties in a safe setting."
Once everyone has had their say, then the mediators shift to what they call "polishing the gems" by trying to reiterate the commonalities between the two parties. For example, during a custody battle, parents may have varying opinions about what's happened, but they can agree on the fact they both care about the child's best interest. And that's where you'll begin to find the right solution.
"You're pulling them toward the pieces they both want — it's called position versus interest. We get stuck with our position instead of what's in the best interest of everyone is somewhere in the middle," Williams said. "We try to figure what the interests are instead of them being stuck on their positions."
Restoring relationships
Another program Mountain Mediation has really been working to grow in the last few years has been its Restorative Justice program. Williams said it's similar to resolving a conflict through mediation, except with restorative justice someone has to accept responsibility for whatever harm they caused to the other person or people involved.
"Oftentimes a school or the juvenile court system refers cases to us when a youth has done something — committed an offense whether it was a fight or destruction of property, or sometimes it's been caused through bullying that started on social media," Williams said.
During these sessions, the victim is asked questions so they have to think about their actions and the harm it caused to others. The complainant — the victim, the victim's family or school officials — also has an opportunity to tell the offender how their actions impacted their lives.
"It lets them understand the consequences of their actions and the effects it's had on the other students," she said. "It's also a community process that restores relationships. Usually people focus so much on the punishment rather than understanding and reconciliation so that person can be brought back into the community."
Most often with disputes between family or friends, there tends to be an underlying issue that's been festering below the surface for years that eventually leads to one party filing a lawsuit against the other. While a court judgment may bring them resolution on the surface, oftentimes that underlying issue will remain without the help of mediation.
"With family disagreements — maybe they haven't talked about past conflict for a long time and things keep building and then something culminates to the point someone goes to the magistrate to take out charges," Williams explained. "When a woman says, 'My daughter hasn't said she loves me in the last 10 years and, you've given me my daughter back,' — those are the most rewarding cases."
When people are wronged — especially by people they love or care about — they want the person punished. They want justice because they think it will ease their pain or frustration, but Williams has found that punishment alone doesn't always help the victim heal. Restorative justice helps both the victim and the offender find closure so they can move forward.
"The rate of victims being satisfied with the court system is not that high, which is why the restorative process is so helpful," she said. "Victims want to know the why but often there's no why. The person just wasn't thinking. As we look around and see the political climate lately, being able to reach resolutions and make compromises is so important. We don't get anything done otherwise."
Learn How to
Navigate Conflict

Mountain Mediation Services is offering a three-day training opportunity to those wanting to become a volunteer mediator in Western North Carolina. The 21-hour training will be held Nov. 13-15 in Franklin. The cost of the course is $250, though volunteers may also request a tuition refund in exchange for their services. Call 828.631.5252 or register at www.mountainmediation.org.