Archived News
WCU to commemorate WWI
Wednesday, November 07, 2018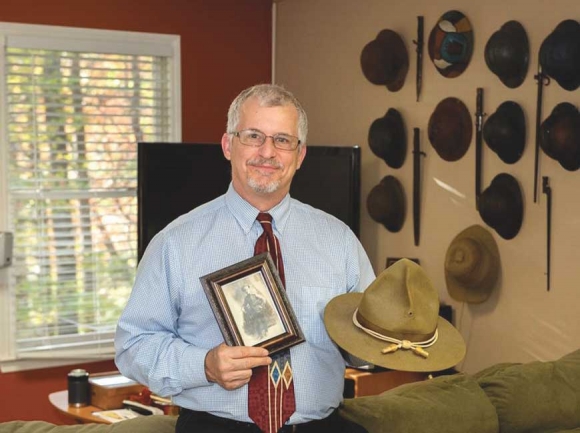 WCU music instructor Brad Ulrich poses with some items from his collection of WWI memorabilia. WCU photo
Back before incessant war became a hallmark of American foreign policy, U.S. involvement in global affairs was but a shadow of what it is today.
But, then a complex political war broke out in Europe — the first of its kind, really — pitting empires and kingdoms against states and nations. Multiple belligerents spread across almost all corners of the globe killed 20 million people, 10 million of whom were civilians. Another 20 million were wounded.
So unprecedented was the conflagration that it was at the time called "The Great War," or "The war to end all wars." It wasn't referred to as World War I, because it wasn't imagined that there would be any sequels once the guns fell silent at 11:11 p.m. local time on Nov. 11, 1918.
In commemoration of that moment, a professor at Western Carolina University has put together a multidisciplinary event designed to give insight into an oft-overlooked, poorly understood event that still shapes geopolitics more than a hundred years after it began.
"This is a project I've been working on for an entire year," said Brad Ulrich. "I've been into WWI for four years. I just started watching documentaries and got sucked in. I didn't know a lot of about it. Most Americans don't. Most of the issues in the world today come from how that war ended."
Ulrich's event is the result of a near-fanatical lust for knowledge of history; he said when his wife leaves town he hops on eBay and buys WWI relics. What's unusual, though, is that Ulrich isn't a history professor — he's been a trumpet teacher at WCU for nearly 30 years.
Accordingly, the event will feature classical, jazz and period pop tune performances by the WCU Concert Choir, as well as instrumental work on piano, trombone, guitar, clarinet and even banjo. Ulrich, however, has his own special contribution to make.
"Two weeks ago, I was at the battlefields in Belgium and in France," he said. "Since 1928, they've played 'The Last Post' bugle call at Ypres every night at 8. So I'm going to play it."
Ypres is a city in Belgium where a series of five engagements were fought between 1914 and 1918, resulting in more than a million casualties. Today, there are still more than 60,000 unidentified Britons resting beneath its soil.
"The Last Post bugle call originated in the late 1600s when Britain was campaigning in the Netherlands," said Ulrich. "Every night they would go to each of the camps, and make sure the outposts were set up so they wouldn't be attacked. They would have drummers play to signal their movements from camp to camp. At the very last one, 'The Last Post' was played, and that meant that it was time to return. It signaled the end of a soldier's day, but now it commemorates the end of a soldier's life."
Ulrich's collection of relics will also be on display, along with those of others; rounding out the event will be members of the school's English department, who'll read poetry and other works, as well as history professor David Dorondo, who'll be on hand to answer questions about the war.
One of them might be on the historical perspective of Post-Traumatic Stress Disorder, or PTSD; Ulrich said that although PTSD has been recognized since antiquity, it's evolved from being called "shell shock" during WWI and "battle fatigue" during WWII.
It's also much better understood than it once was, and treatment options are far more readily available than they've ever been; although Ulrich's event is free, donations will be accepted on behalf of Equinox Ranch, a Cullowhee retreat that offers veterans of all wars resources to aid in mitigating the effects of combat trauma.
WWI commemoration
• Time: 7:30 p.m.
• Date: Friday, Nov. 9
• Location: Recital hall of WCU's Coulter Building, 239 Memorial Drive, Cullowhee
• Cost: Free