Archived News
Legal troubles mount for Ghost Town, developers
Wednesday, November 07, 2018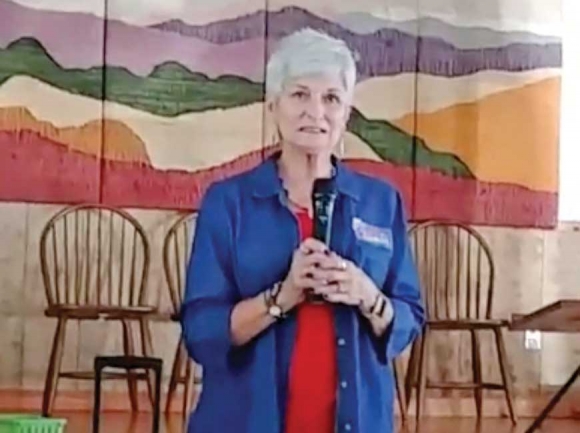 Valerie Oberle speaks to a group in Maggie Valley earlier this fall. Donated photo
A pair of legal actions filed in Haywood courts during the month of October suggest efforts to redevelop Maggie Valley's Ghost Town amusement park may be in jeopardy.
The first, filed by Maggie Valley innkeeper Allen Alsbrooks, alleges that one of the developers, Lamar Berry, "unlawfully and willfully did with the intent to defraud obtain lodging" at Alsbrooks' Hearth and Home Inn, 3376 Dellwood Rd., "by leaving the inn without paying his lodging bill."
Alsbrooks declined to comment, citing a court date on the matter next week, but in an affidavit filed Oct. 4 he stated that "Berry, CEO of New Ghost Town LLC took lodging on 1 August 2018 with invoices due each month-end."
Per Alsbrooks' affidavit, Berry was presented with invoices each month and on Sept. 20 was presented with a demand for payment.
"Within a few hours, he left the property with his belongings and did not pay," it reads. "He is now staying in the basement of Alaska Presley."
The documents don't say how much Berry allegedly owes Alsbrooks, but it's estimated to be in excess of $3,000. General statutes say the crime is a class 2 misdemeanor, which can carry a maximum penalty of 60 days in jail and a $1,000 fine.
The other filing also includes Berry, but is for a lot more money.
On Oct. 31, Clark and Leatherwood, Inc., filed what's known as a claim of lien on real property against Lula, LLC, Presley's corporation that owns the 98-acre, $3.2 million parcel of land upon which Ghost Town sits.
In general, such a lien means that the property can't be sold or transferred until the outstanding debt that resulted in the lien is satisfied; commonly called "mechanic's liens," they are a long-held legal protection for tradespeople who can't in effect "repossess" the labor and materials they contribute to a job from those who won't pay.
In this case, that's $52,551 in labor and materials furnished for the rehabilitation of the park's A-frame building from June 4 through Aug. 31, 2018, "including flooring, windows, roofing; building inspections and reports on conditions of existing structures, inspection and advice on chairlift tower foundations," according to the lien.
Named in the lien as the entities with which Clark and Leatherwood contracted for the furnishing of labor and materials are New Ghost Town LLC, Ghost Town Adventure Park LLC, Lamar Berry and former Disney executive Spencer Oberle, husband of Valerie Oberle, who's been the public face of the redevelopment since it was announced this past spring.
The Oberles promised a spring 2019 opening for the park.