2018 Midterm Elections
Close race in Swain County commission race
Wednesday, November 07, 2018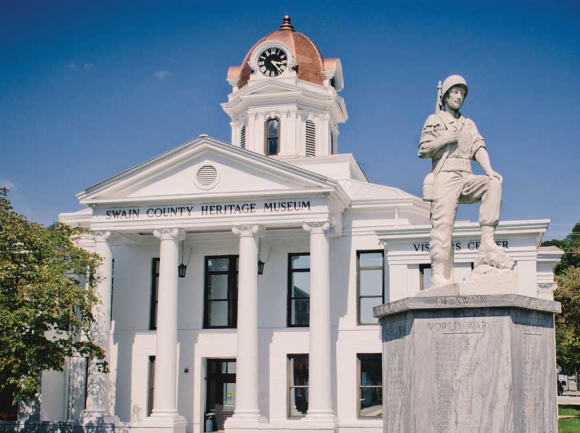 With six candidates running for three seats on the Swain County Board of Commissioners, it was a close call Tuesday night as election results began to roll in.
Incumbent Democrat Danny Burns was the top vote-getter with 27 percent of the vote and will serve a second term on the board.
Republican challenger Kevin Seagle will also claim a four-year term on the board with 25.5 percent of the vote. Seagle is the former director of building inspections for Swain County and now still works part time for the department while also operating his own Christian ministry and retail store in Bryson City. He said his main goals if elected are to focus on infrastructure needs like broadband services and school infrastructure as well as providing more services for youth and the elderly.
Republican Holly Bowick was a mere 40 votes behind Seagle as of press time Tuesday night. It is unknown how many provisional ballots were left to be counted. Despite the presumed loss, Bowick, a victim services coordinator with the District Attorney's Office, is still enthusiastic about the future of the county.
"I want to thank everyone for all their support. Now we get behind all the commissioners," she said.
Democrat John S. Parton wasn't too far behind with 22 percent of the vote.
Two other candidates were seeking to fill a two-year unexpired term left vacant by the late commissioner David Monteith. Democrat Roger Parsons, who was appointed to fill the vacant seat in April 2017, will keep the seat for another two years after securing 57 percent of the vote. His Republican opponent Carolyn Bair received 42 percent of the vote, losing her third run for county commissioner.
Current Swain County Commissioner Ben Bushyhead (Democrat) will now be the commission chairman after defeating current chairman Phil Carson (Democrat) in the primary election. Bushyhead also garnered 70 percent of the vote in the general election even though there was a strong write-in campaign from Republican Mitchell Jenkins.
After a strong push from education supporters, Swain County voters also approved a referendum to increase the sales tax rate from 6.75 percent to 7 percent with 54 percent of the vote. The additional revenue from the quarter-cent increase — about $300,000 a year — has been earmarked by commissioners to support school infrastructure needs. The same referendum appeared on the 2016 ballot but failed with 57 percent against the increase, but local officials campaigned harder for the increase this time around.
Looking at the overall voter turnout in Swain, about 51 percent of registered voters cast a ballot, which is was slightly down compared to the 2016 Presidential election (59 percent), but up from the 2014 midterm elections (43 percent).
Board of commissioners
Chairman
Ben Bushyhead (D) (unopposed) 3,250 votes, 80 percent
Four-year term Danny Burns* (D) 2,540 27.2
Kevin Seagle (R) 2,384 25.5
Holly Bowick (R) 2,344 25.12
John S. Parton (D) 2,064 22.12
Unexpired two-year term
Roger Parsons* (D) 2,893 58
Carolyn Bair (R) 2,124 42