Archived Arts & Entertainment
Tapping into the past, present of Appalachia
Tuesday, November 06, 2018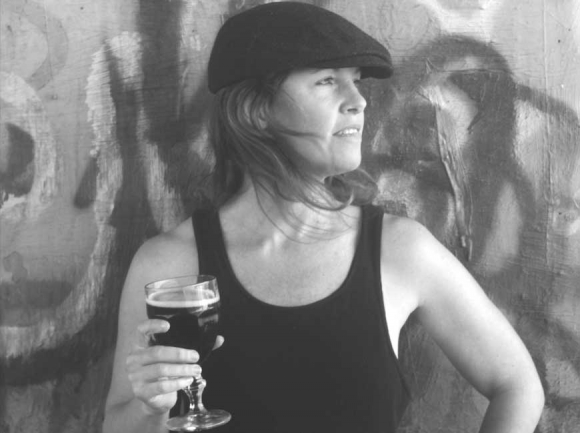 Anne Fitten Glenn.
In the six or so years I've lived and worked in Western North Carolina, the amount of craft breweries in our region has literally quadrupled. And as someone who has written extensively about craft beer, industry trends and so forth, it's pretty impossible to keep up with it all.
Luckily, we have folks like Anne Fitten Glenn. A longtime craft beer writer and industry insider, Glenn has spent several years wrangling in these feral cat breweries that seemingly pop-up overnight, each now a cornerstone of the local business sector and a regional economic driver — a return of blue-collar jobs in a booming tourism market.
Glenn's latest book, Western North Carolina Beer: A Mountain Brew History, is a labor of love. Pulling together dozens of brewery profiles (74 breweries in 18 counties), Glenn also puts this rapidly growing industry into historical context.
Glenn points to Western North Carolina's storied past of pre-Prohibition breweries, legendary moonshiners and notorious bootleggers. And she bridges that rich history to our current landscape, one filled to the brim with craft breweries and the numerous side industries that have resulted — all of which will play into the economic, political and social future of our own backyard.
Smoky Mountain News: Coming into this project, what was your initial intent as to what you wanted to put across to the reader and folks in the craft beer industry?
Anne Fitten Glenn: I wanted to explore what's happened in the beer industry in this region since my first book was published in 2012, as there has been huge growth in the business in these six years. I also wanted to revisit Western North Carolina's beer and alcoholic beverage history, as the digitization of many newspapers in recent years has made historic research so much easier. This volume contains all new material, and it works best as a companion volume to my first beer book, Asheville Beer: An Intoxicating History of Mountain Brewing. I also really enjoyed delving into the stories of many of the small towns outside of Asheville.
SMN: What do you say to folks that feel the craft beer market here is too saturated. I know per capita we're pretty high, but is there room for growth beyond what's already here?
AFG: There has been tremendous change and growth recently in the beer business. In my introduction, I note that my first book covered 19 breweries in six Western North Carolina counties, while this volume tells the stories of 74 breweries in 18 counties. Thus, the number of breweries here has quadrupled in only six years.
Per capita, Asheville currently has 30 breweries inside the city limits for around 90,000 residents, which is one of the highest brewery to population rates in the country. That's not including breweries in unincorporated nearby areas or small adjacent towns such as Fairview, Fletcher and Woodfin.
In truth, it depends on who you talk to and where the growth is taking place. Already, more small batch breweries have closed or sold in Western North Carolina than many folks realize. I do think there is room for at least one small brewery in every town, and I believe that's where we will continue to see these businesses popping up. As long as beer tourists continue to swarm Asheville, I believe a few more breweries there will do just fine.
SMN: What are some of the trends you're currently seeing, and also are predicting will come to fruition, in not only the breweries in our backyard, but also the craft beer industry in general?
AFG: There will continue to be more mergers and acquisitions as the beer business continues to mature. AB-InBev's purchase of Wicked Weed Brewing, while shocking to many beer geeks, hasn't hurt that brewery. In fact, it seems to be the opposite.
Big beer continues to sniff around, especially in "Beer City, USA," which continues to make a splash nationally in the beer scene. This is happening across the country. As craft beer continues to gain percentage of overall beer sales volume, the breweries with the money and resources will continue trying to control their competition.
Also, as grocery shelves get more and more crowded, expect small-town breweries to focus more on driving taproom sales and less on packaging and distribution.
SMN: However all of this shakes out, it appears craft beer and the scene itself is here to stay. It's part of our American culture, this return to quality, independent beer. What's Asheville's place in all this — right now, and moving forward?
AFG: Western North Carolina reflects the national trend of hometown breweries that become community-gathering spots and help revitalize and reinvigorate small towns. Asheville will continue to a mecca for beer lovers looking for high quality brews.
However, both citizens and tourists are beginning to explore further afield. People love finding a brewery with beers that they can only drink there. And, as we all know, to get the freshest beer, you have to go to the source.
That said, today's new breweries need to make great product right out of the starting gate. As beer drinkers' palates have become more sophisticated and competition has increased, it's imperative to focus on quality.
Craft beer
book readings

Award-winning author Anne Fitten Glenn will hold a signing of her new book, Western North Carolina Beer: A Mountain Brew History, from 5 to 7 p.m. Friday, Nov. 9, at Satulah Mountain Brewing in Highlands, and also a presentation at 3 p.m. Saturday, Nov. 10, at the Jackson County Public Library in Sylva.

Glenn has been writing about and working in the beer business on and off since the 1990s. Aside from Western North Carolina: A Mountain Brew History (2018), she also wrote Asheville Beer: An Intoxicating History of Mountain Brewing (2012), both published by Arcadia/The History Press.

She served on the Asheville Brewers Alliance Board of Directors for almost five years and was a founding organizer of Asheville Beer Week.

The book will be sold via Amazon, Barnes & Noble, as well as from independent bookstores, retailers, and bottle shops. For more information, visit www.annefittenglenn.com.