Archived Reading Room
Book explores Trump's election victory
Wednesday, October 31, 2018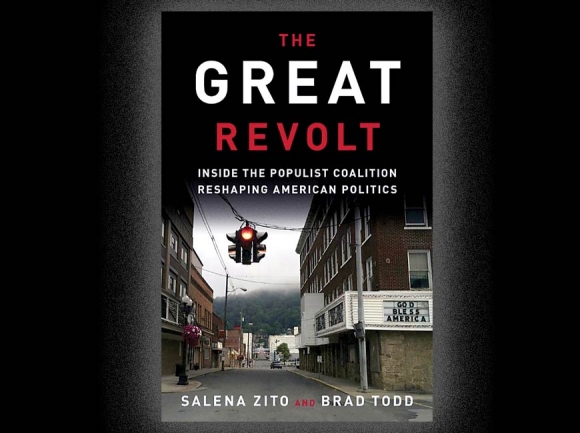 Want to know why Donald Trump won the 2016 election in one of the most stunning upsets in American history?
Some blame Russian meddling. Some blame Hilary Clinton for running a bad campaign. Some may blame the increasingly radical politics and tactics of certain Democrats.
Naw.
If you want to know the real reason Donald Trump is now our president, I would suggest reading The Great Revolt: Inside The Populist Coalition Reshaping American Politics (Crown Forum, 2018, 310 pages).
In compiling data for The Great Revolt, writer Salena Zito and research analysis Brad Todd traveled thousands of miles and interviewed more than 300 Trump voters, many of them living in states once considered solidly Blue. Here are ex-labor union workers, town officials, mothers and wives, and professionals, many of whom had voted Democrat in previous elections. In these pages, Zito and Todd introduce us to woman who teaches marksmanship, a woman who raises her large family and helps with the farm work, a tavern owner who loves his small town, and many others, all of whom shared one common complaint with their interviewers:
No one in Washington listens to them.
This key point pops up again and again in The Great Revolt. And who hasn't heard similar complaints from their neighbors and friends? Millions upon millions of Americans have grown tired of being ignored or forgotten, of frequent ridicule — by both the left and the right, incidentally — and of watching their jobs disappear and their communities become impoverished, often because of the policies of the federal government.
And these same millions — men, women, middle-class, poor, Catholic, Protestant, agnostic, Republicans, Democrats — listened to Hilary Clinton and to Donald Trump, and made up their minds to vote for Trump.
Here's a comment from suburbanite Patty Bloomstine of Erie County, Pennsylvania: "We need a new mindset in Washington … I think that the one thing that Trump will always get credit for is that he proved that our votes matter. No matter what party we were from, our votes matter. And I haven't felt that way in a very long time."
Lifelong Democrat and Trump supporter Renee Dibble, Ashtabula County, Ohio, had this to say about some commentators calling Trump voters "racist." "Let's see, our daughter that we've adopted is biracial. I got two hundred-percent black sons. I've got a half-Japanese grandson, a biracial daughter-in-law, and a daughter-in-law that is half Puerto Rican and half Mexican. I'm racist?"
Here is store owner Cindy Hutchens of Lake County, Michigan: "You know, one of the things I really don't get about the Democratic party or the news media is the lack of respect they give to people who work hard all of their lives to get themselves out of the hole. It's as though they want to punish us for the very things we hold dear: hard work, no dependence on the government, no debt, and so on."
Another line of inquiry: Why was Trump's victory such a shock? Why did so many pundits and pollsters predict Hilary Clinton as the winner? What happened?
It's pretty simple.
Since the day of his nomination, Trump has received overwhelmingly negative press coverage. Just this past year, that coverage was 92 percent negative toward the president. The anti-Trump crew doesn't just dislike the president. They revile him. They hate him. And many of them hate anyone who supports him.
Hence, the silence of his pre-election supporters. Many Trump voters undoubtedly concealed their opinions during the polling because they suspected declaring their support for the man would be viewed as evil or stupid. Many still feel this way even now.
Near the end of The Great Revolt, Zito and Todd write "The same group of voters in the swing states of the Great Lakes region swept both the Democrats in 2008 and the Republicans in 2016 to complete control of both branches of the federal government. The migration of these voters — first in the congressional elections of 2010 and 2014, and then ultimately to Trump's side in 2016 — has fundamentally altered the American political landscape for the foreseeable future."
Whether their prediction is accurate remains to be seen. Nonetheless, Zito and Todd have given us insights into why Trump defeated Clinton, observations radically different from the conjectures made inside the Washington Beltway. In future elections, politicians, their aides, journalists, and writers from liberal and conservative think tanks might want to abandon their laptops and cappuccinos and head to places like Pennsylvania, Michigan, and Kansas.
In The Death Of Truth: Notes On Falsehood In The Age Of Trump (Tim Duggan Books, 2018, 208 pages), Michiko Kakutani, former chief book critic for The New York Times, misleads readers by the very title of her book as to the nature of truth. I picked up the book believing that Kakutani was actually going to address the subject of truth, but instead found that the book was simply an attack on Trump rather than an even-handed look at how both the media and politicians of all strips mangle the truth. I read the first 20 pages, skimmed some other pages, and then gave up. I was happy to see Kakutani frequently quoting Neil Postman — I have read Postman's Amusing Ourselves to Death and The Disappearance of Childhood — but think Postman, were he living, would take umbrage with Kakutani's selective approach to "truth." Unlike The Death of Truth, Postman's critique of society and culture was broad and might apply to either political party.
However the mid-term elections turn out, I encourage readers to pick up The Great Revolt. It's a fascinating study of Main Street America.
(Minick is a writer and teacher. This email address is being protected from spambots. You need JavaScript enabled to view it.)