Archived Arts & Entertainment
Don't judge the book, read the book: 'Liberal Redneck' brings wellRED tour to WCU
Wednesday, October 31, 2018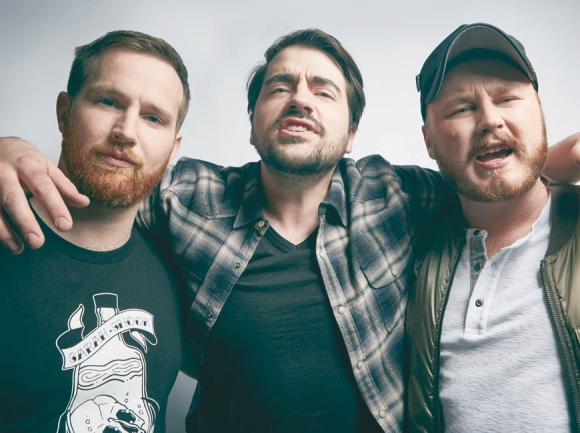 Drew Morgan, Trae Crowder and Corey Ryan Forrester. Nicol Biesek Photography
What Trae Crowder, Drew Morgan and Corey Ryan Forrester are doing is artistically and politically groundbreaking in the world of comedy.
Known worldwide as the "Liberal Redneck," Crowder and his touring/writing partners on their "wellRED" tour rolled into the Bardo Arts Center at Western Carolina University on Oct. 29. Performing to a packed audience, the comedians presented their completely unique — and increasingly popular — brand of southern comedy.
Unlike "Larry the Cable Guy," who tends to perpetuate southern/redneck stereotypes in a sort of diluted attempt at comedy, Crowder & Co. approach the microphone with something a lot of us have forgotten in recent years — facts, and a keen, perceptive sense of humor.
Raised in "abject poverty" in rural East Tennessee, Crowder saw for himself the depths of where millions of lost and disenfranchised Americans had fallen on hard times or were simply forgotten by 21st century society and politics. He was living it day-in-day-out. And yet, instead of sitting back and getting angry, Crowder decided to take action. Cultivating his personal experiences into rollicking stand-up comedy and trending YouTube videos, Crowder has gained an international following.
During the almost two-hour comedy showcase at WCU, Crowder & Co. aimed to hold up a mirror to their native South, and also to themselves in the process, seeing eye-to-eye with the audience and not to demean from up on high, all with one message in mind — to tear down stereotypes and build bridges between humanity.
Smoky Mountain News: Rock band Drive-By Truckers have always sung about the idea of the "duality of the southern thing," where for every artistic masterpiece or artist there was a counterbalance of darkness with racism, Jim Crow laws, and so on. What's your take on the "duality of the southern thing" and how it applies to the South of then and now?
Trae Crowder: DBT was probably the most influential band I ever discovered as a young man, and this is exactly why. They were singing about something that I had felt my entire life and had never been able to put into words before. That dichotomy of pride and shame, and trying to figure out how to strike the right balance there, is such a huge part of being from the South, and those guys just understood it, and still do.
SMN: You travel the country extensively, and also meet such a variety of folks in your work. What are you seeing and hearing out there? Do we as Americans have more in common than what we're told? Is bridging the gap between societal politics a lost cause?
TC: Yes, of course we do. We do shows all over the country, and all the time people will come up to us in Minnesota or Colorado or Oregon or wherever and they'll start telling us stories about how "redneck" their uncle is or that type of thing. It's really a rural-urban divide more than a geographic or red-blue thing. But, look, the gap between the country folks and the city folks, yeah, I feel like it's always going to be there to some extent. But, I don't think that automatically has to be a bad thing though. I'm from the country. I love country people. Being country doesn't have to mean being racist or backward or whatever. Hate and bigotry and all that shit are the real problems, and, all the bullshit of the past couple years aside, I still believe that on a grand scale we're moving in the right direction as far as all that goes. So, I think we'll be OK, ultimately, whether that cultural divide is ever closed or not.
SMN: I live in rural Western North Carolina. I also was raised in rural Upstate New York. For me, rural is rural, in terms of personal needs and viewpoints of country folks. It's something I've come to realize in living on both sides of the Mason-Dixon Line. Why is it both sides of that invisible line seem so distant, more so nowadays, in trying to get people to see eye-to-eye?
TC: I completely agree with you, and as far as why people seem further apart now than they ever have, I mean if you're from a rural area like I am, then you know that rural Americans have had a rough couple of decades now. You don't have to sympathize or give a shit about that if you don't want to, but they really have. And that puts a strain on people and makes them desperate, and mad. And I completely get where a lot of that comes from, I just so wish it would manifest itself a little differently than it tends to.
SMN: Are you optimistic about the future? Honestly, I come from a mindset that the societal pendulum, historically speaking, swings left, swings right, swings left again, and so on. And if you are optimistic, do you see this current bottom-of-the-barrel mudslinging attitude in politics now as needed to expose, well, "the bottom," and finally push upwards, where the chaos is now bringing people off the sidelines to participate in the process?
TC: You said it. I am ultimately an optimist. Maybe because I'm a dad, I don't know, but I am. And I agree things come and go and it's a pendulum. I mean as bad as things are now, we still ain't reached Civil War levels, and even when it comes to political mudslinging, buddy, go and look up some of Thomas Jefferson's campaign ads and tell me that shit is anything new. Things are bad, don't get me wrong, but we've been through worse, and we'll come out the other side of this thing better than we were before, and it's in large part because of what you said, activating the people from the sidelines, the young people. I really believe that.
SMN: What do you think of the adage, "nothing's the same, everything's the same," when applied to where we are today and where we've come from in American history?
TC: I fully believe in that whole "the more things change, the more they stay the same" deal. And, on a grand scale, the March of Progress moves ever forward, and that ain't about to change because we put a reality star in the White House. Weather the storm — we'll be alright.
Want to know more?
Trae Crowder, Drew Morgan and Corey Ryan Forrester recently released a book, The Liberal Redneck Manifesto: Draggin' Dixie Outta The Dark. For more information and/or to purchase the book, and also about the "wellRed" comedy tour, click on www.wellredcomedy.com.