Archived Arts & Entertainment
This must be the place: Sweet Caroline, good times never seemed so good
Wednesday, October 31, 2018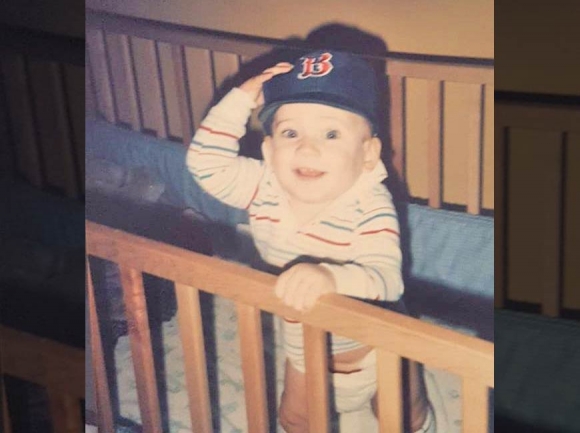 Garret, circa 1985.
Let's go Sox.
Standing and shouting at the large television at a pub around the corner from my apartment in Waynesville this past Sunday evening, I kept pounding the wooden bar counter in hopes it would echo through the bright, high-definition screen and rattle the Dodgers out in Los Angeles, in hopes of another Boston Red Sox World Series Championship.
Well, apparently it worked, seeing as my beloved Sox took home its ninth title that night. Though they were — on paper and on the field — the best team in baseball this year, they've been the best team — in my eyes — no matter the outcome, as far back as I can remember, to the earliest memories of my childhood.
I'm a born-and-bred Boston Red Sox fan. Though my father, now 76, grew up in a fiercely loyal New York Yankees household in the depths of the North Country, he was a BoSox fan. My parents also have a special place in their hearts, as do I, for the city of Boston itself, a place of countless road trips and visits to friends and family who call Beantown home.
From the mid-1970s through the late 1990s, my father ran the Boston Marathon a total of 14 times, many of which I was in attendance as a kid, cheering him along at the finish line in Copley Square. Truth-be-told, my first trip ever as a human being was to Boston for the marathon, when I was two months old in April 1985. That city, the people and my love for the Sox is deep in my DNA.
Every summer, my family vacations on the coast of Maine. To this day, it ain't a trip to Maine without WEEI (the sports radio station out of Boston) blaring from the car stereo, broadcasting the Sox live, the reception fuzzy (then clear, then fuzzy again) while winding along the Atlantic Ocean and into deep harbor coves. And all of those nights watching the team play on TV via the NESN channel, a crisp maritime breeze wafting into our rental cottage.
During one of our Maine trips when I was in elementary school, we had befriended another family from suburban Boston. These days, they're considered an extension of our family. And whenever we'd roll into Boston, we would — and still do — stay at their home, the Sox always on the TV in the background.
Throughout his life, my father had seen a handful of games at the sacred palace that is Fenway Park. I didn't get a chance to sit and immerse myself in the energy of that surreal stadium until I was in middle school.
Back then, in the late 1990s, the Montreal Expos were still a National League team, and to get folks into the enormous (usually empty) stadium (an hour north of my Canadian Border hometown), the interleague games would fill the seats whenever the Red Sox or Yankees came to town. And I saw a handful of Sox games, up close on the first base line, in all the awe and splendor that is baseball. But, I'd yet to see the action within Fenway.
While in high school, my father and I motored down to Boston and went searching for tickets on Lansdowne Street. We scalped two third base line seats for about $40. There I was, in friggen Fenway. Sheesh. I have chills to this day even thinking about what that first time there meant to me, especially being there side-by-side with my old man.
And I've been able to see some great games at Fenway since then. I remember one where Carl Everett hit a bottom of the ninth inning home run to win the game, sending the crowd into absolute chaos. I remember watching Pedro Martinez pitch, and a young Johnny Damon hustling in the outfield.
In the fall of 2004, I was a sophomore at college in Connecticut. A good friend of mine down the hall in the dorm wanted to go to her hometown of Wayland (just outside Boston) for the weekend. Her little sister was a freshman who also went to our school. I had no plans, so the three of us piled into my single cab bench seat pickup truck and hauled up the highway towards Boston.
Crossing the Massachusetts state line, my friend's dad called. He had just won $500 on a scratch-off ticket. "Do you three want to go see the Sox tonight? I want to surprise your mom," he said. Yep. He bought tickets for his whole family and myself. Third base line. Red Sox versus the Baltimore Orioles. The Sox won that night, and went on that season to win their first World Series title in 86 years.
That night in October 2004, when the Sox finally won the championship and broke "The Curse," I was jumping up and down in my dorm room. Our campus, in the heart of New England, erupted. All of us bolted out of our dorm rooms and headed for "The Quad," which resulted in a celebration of victory chants and spilled cheap beer into the wee hours of the morning: "Let's Go Red Sox! Let's Go Red Sox!"
That excitement for the Sox has never left my heart and soul. It was there growing up. It was there in 2004, and in 2007 and 2013 when they won two more World Series titles. And it was there this week in 2018, my voice hoarse the following morning from overzealous victory howls.
Life is beautiful, grasp for it, y'all.
Hot picks
1 Singer-songwriter/storyteller Lee Knight will perform at 7 p.m. Thursday, Nov. 1, in the Mountain Heritage Center at Western Carolina University.
2 WNC Pottery Festival will be held from 10 a.m. to 4 p.m. Saturday, Nov. 3, in downtown Dillsboro.
3 The Haywood County Arts Council will join the Town of Canton to celebrate Veterans Day with live music during the second annual "Sunday at the Opry" at 4 p.m. Sunday, Nov. 11, at the Colonial Theater in Canton.
4 There will be a DVD release party for acclaimed writer Gary Carden's play Birdell at 3 p.m. Friday, Nov. 2, at City Lights Bookstore in Sylva.
5 Tuscola High School's premiere choral group, "Summit," will perform "The Greatest Show: An Evening of Movie Magic" at 7 p.m. Nov. 3 and 2:30 p.m. Nov. 4 at the THS Auditorium in Waynesville.