Archived News
Cherokee considers abolishing Qualla Housing
Wednesday, October 31, 2018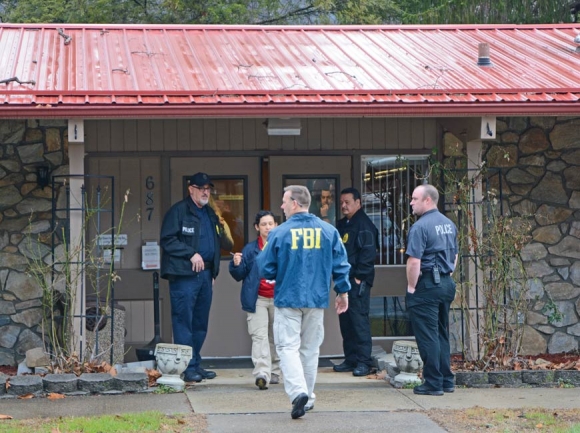 FBI agents take documents from the Qualla Housing Authority headquarters during a February 2017 raid. Holly Kays photo
The Cherokee Tribal Council is considering disbanding the Qualla Housing Authority, an organization that was formed in 1993 to create and maintain housing for low-income tribal members.
"I don't know how many meetings we've had on this so far, but one thing hasn't changed — the math," said Principal Chief Richard Sneed during an Oct. 15 Tribal Council meeting. "The math hasn't changed and it's not going to change."
Sneed said the tribe has outgrown the need for QHA as its members have become wealthier. While it used to build many houses each year, in 2017 it built only two homes; in 2016, three, said Housing Secretary Travis Smith. Grants from the U.S. Department of Housing and Urban Development make up the bulk of Qualla Housing's funding — about half — bringing in $2.9 million in fiscal year 2015.
"Qualla Housing is not the answer to our housing program," said Smith. "Our people are above that. They don't qualify for that. The rental side, that's what Qualla Housing is to them. They're a property management company, that's what it comes down to."
Getting rid of Qualla Housing and putting all housing functions under the tribal Division of Housing would avoid duplication of services and save $2.5 million in program costs, said Sneed.
"At some point what will happen is the funding won't be there. I do want to go on the record so the general public understands what is happening right now," he said. "Right now Qualla Housing is spending the payments and the interest that comes in from mortgages to operate that program."
That's not how the tribe is supposed to use those dollars, he said. The revenue from paid-back mortgages is supposed to go in a revolving loan fund to provide future mortgages, not to operate the program.
Issues at Qualla Housing are nothing new. In October 2016, the program's director Charlene Owle received a letter from the FBI informing her that the program was under investigation for "possible criminal conduct related to certain loans and loan applications, among other matters." Agents raided Qualla Housing offices in February 2017, removing two U-Hauls full of documents.
And in May 2017, days before the impeachment proceedings that would culminate in his removal from office commenced, then-Principal Chief Patrick Lambert released a forensic audit his administration had commissioned from RGL Forensics to look into alleged wrongdoing at QHA.
The 210-page document contains a multitude of data and listing of ways in which Qualla Housing — the authority is overseen by a six-member board composed of Tribal Council members — had allegedly bent the rules, broken the law and failed to keep proper records.
For instance, in Owle's case, the audit noted "frequent business trips that include overnight stays, golf, etc., for training and other purposes." Several of the trips were approved in QHA board minutes, but auditors could not find any limitations in place on the number of trips per year, types of accommodations and other factors. There's a laundry list of accounts bearing charges that the audit labels as "suspicious," "extremely high" for the purported purpose or otherwise questionable; loans that substantially exceed the $150,000 limit; poor internal controls that "place the organization at risk for skimming of cash or other cash misappropriation schemes" and many other red flags as well.
No charges have been filed related to activities at QHA, but the FBI has not finished its investigation in Cherokee.
During the Oct. 15 meeting, councilmembers were reticent to commit to eliminating Qualla Housing, at least right away.
"Qualla Housing made a huge difference in the lives and the wellbeing of our people through all these years," said Councilmember Perry Shell, of Big Cove, who currently chairs the Qualla Housing Board. "Anything that affects this, it has an effect down to the root of everyone here."
"I think we need to take our time," agreed Vice Chief Alan "B" Ensley. "We've got the overall budgets approved for this year. I think we need to take our time in doing this and take it out to the community clubs."
Councilmember Tommye Saunooke, of Painttown, concurred that a work session would be a good idea, allowing Tribal Council to hear employee input on the matter. She then moved to table the resolution for a work session.
Smith asked that council reconsider that move.
"Tabling it is not going to help anything," he said. "If we're not going to do it, kill it. That would give me a better understanding of where we are today and how to move forward."
Chairman Adam Wachacha, of Snowbird, who is on the QHA Board, said that it might make sense to table, since getting rid of Qualla Housing would be a big change. It's important to make sure everyone understands the reasons why, he said.
"I'm willing to do the work session to allow everybody the same information," he said. "I don't totally disagree that it needs to merge because one (housing entity) was going to cannibalize the other eventually, and that's basically the point we're at now."
The vote was a close one, but the majority ultimately voted to table the resolution for a work session. Council will take up the issue once more at its November or December meeting.
Voting to table were Councilmembers Richard French, of Big Cove; Bucky Brown, of Snowbird; Bo Crowe, of Wolfetown, Vice Chair David Wolfe, of Yellowhill, Wachacha, Saunooke and Shell. Voting against tabling were Councilmembers Jeremy Wilson, of Wolfetown, Albert Rose, of Birdtown, Boyd Owl, of Birdtown and Tom Wahnetah, of Yellowhill. Councilmember Lisa Taylor, of Painttown, was absent.