Archived Opinion
Finding inspiration in banned books
Wednesday, October 24, 2018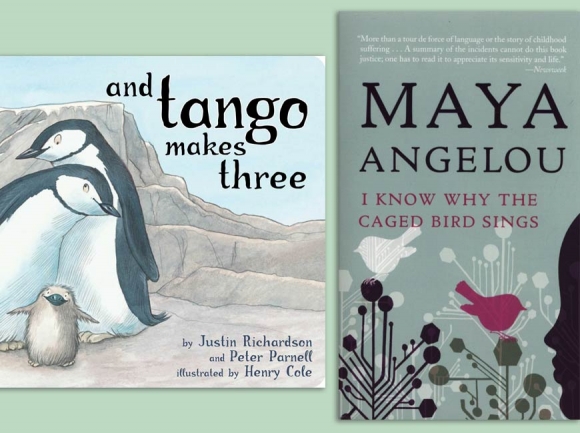 My mom was a librarian and my dad an English teacher so books were always stacked on the dining room table or tossed on the floor beside recliners. As a young girl, I carried a novel with me all the time.
My very favorite book was The Little Princess by Frances Hodgson Burnett. I remember hiding it on the shelf at my elementary school library so no one else could check it out. I think I read it at least 10 times in a three-year span. It's funny I didn't ask my parents to just buy it for me, but these were the days before Amazon and there was something magical about holding it in my possession for only a short period of time.
As a teenager, I connected with To Kill a Mockingbird, The Great Gatsby and Night. In recent memory, some impactful books have been Unbroken, Middlesex, Love Warrior and The Glass Castle. Books are powerful. For me, diving into a book is a true escape. I enjoy shutting out the noise of the world and falling into a story.
When I go too long without engaging in a book, I feel restless. It's a practice of mine to find at least 10 to 15 minutes a day to turn off my mind and read. And I rarely read on my tablet or phone. I'm a fan of good old-fashioned books.
My 9-year old recently read A Wrinkle in Time by Madeleine L'Engle for his school's Battle of the Books team. I decided to read it along with him. Somehow, I'd never completed the book, even as a language arts teacher. I'd finished pieces of it or helped my students find it in the Waynesville Middle library, but I had never actually read the book in its entirety.
Last week as I turned the final page of that novel, I sat for a minute in the quiet and soaked in the magnitude of the metaphors and themes L'Engle so effortlessly wove in and out of the story. After much darkness and strife in the book, the only thing to ultimately defeat evil was love. It struck a deep emotional chord with me. I think God and the universe knew I needed the book more at age 38 than 13.
Later, I was looking up quotes by L'Engle and stumbled upon an online article about the book being one of the most commonly banned books in school systems and libraries. This furrowed my brow.
The article said, "The novel possesses a lot of fantastical elements — including the Happy Medium and their crystal ball, along with the mysticism of the three Mrs. W's — making it a popular target among conservative Christians, who often campaign against content containing magical elements from being taught in schools or libraries. Additionally, conservative Christians have been critical of L'Engle's depiction of religion — specifically the implication of Jesus not being a supremely divine individual. Controversially, a passage in the middle of the novel seemingly equates Jesus with figures like Einstein, Buddha, Gandhi and Da Vinci."
It was rather ironic because I thought that exact section could be helpful (not hurtful) for people struggling to understand religion. I thought it was brilliant to list Jesus along with the aforementioned scientists, artists and spiritual leaders. But then again, my own faith is very personal and raw and is not based on following all the rules laid out by conservative Christians.
This experience with A Wrinkle in Time sparked my curiosity about banned books in general, so I took to Google and searched the top 10 banned books of all time. There are many lists out there, but one comprehensive Newsweek list for the adolescent age group is below. These were the most commonly banned books between 2000 and 2009.
1. Harry Potter (series) by J.K. Rowling
2. Alice series by Phyllis Reynolds Naylor
3. The Chocolate War by Robert Cormier
4. And Tango Makes Three by Justin Richardson/Peter Parnell
5. Of Mice and Men by John Steinbeck
6. I Know Why the Caged Bird Sings by Maya Angelou
7. Scary Stories to Tell in the Dark (series) by Alvin Schwartz
8. His Dark Materials (series) by Philip Pullman
9. ttyl; ttfn; l8r, g8r (series) by Lauren Myracle
10. The Perks of Being a Wallflower by Stephen Chbosky
The reasons for these books being banned are all over the place. From witchcraft and magic to homosexuality and adult language, there are all sorts of reasons these books have been deemed too dangerous or inappropriate to be read in certain school systems and libraries in America.
As soon as I read this list, I went to the Haywood County Public Library and checked out And Tango Makes Three along with I Know Why the Caged Bird Sings.
My boys and I sat down on the couch that night and read And Tango Makes Three. It's a true story about two male penguins at the Central Park Zoo who are "in love." After watching the other couples nurture their eggs and infants, the two males try to mimic them by nurturing a large rock in hopes it will become a baby. The zookeeper watches them with curiosity and compassion. He then gives them their own egg, an egg that would probably not hatch had it been left where it was found. The two protect and care for the egg day and night, and they raise the baby penguin into a flourishing adult. It's a beautiful story and a true one at that. I'm sad it's banned from schools and libraries, preventing young minds from enjoying it. This would be an especially good book for children with same-gender parents.
I am reading I Know Why the Caged Bird Sings. It's been banned due to sexually explicit material (the story of Angelou being raped as a young girl) and anti-white messaging (she was raised just before and during the Civil Rights movement). It's disturbing that we even ban autobiographical novels. It's like we're telling these folks their life story is disturbing and no one should read it.
Storytelling is everything to me. Whether it's from reading a book or writing my own stories, I wouldn't be who I am without the written word. We can't ban books for silly or ignorant reasons. We can't shelter our children from other people's voices and stories. What kind of future generations are we raising if we do that?
As Phillip Pullman puts it, "After nourishment, shelter and companionship, stories are the thing we need most in the world."
(Susanna Barbee is a sales associate, a columnist and an associate editor for Smoky Mountain News, Smoky Mountain Living and Mountain South Media. This email address is being protected from spambots. You need JavaScript enabled to view it.)