Archived News
Walking in Her Steps: Macon County to unveil Women's History Trail
Wednesday, October 24, 2018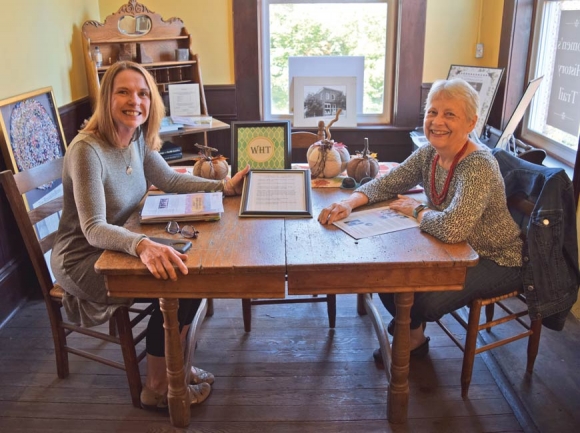 Mary Polaski (left) and Barbara McRae serve as co-chairs for the Women's History Trail leadership team in Macon County. Jessi Stone photo
The multifaceted roles women have played in society are often overlooking in the history books, but if you dig deep enough you'll find their behind-the-scenes work was meaningful and ahead of its time — even here in Western North Carolina.
Barbara McRae of Franklin, former editor of The Franklin Press newspaper and current town councilmember, has been working to uncover the history of women in Macon County since she moved here in the 1970s.
"I found a lot of information in Franklin Press and with digital press you can search by names now. I subscribe to Ancestry.com and they have lot of primary sources," she said. "But it's a lot of reading between the lines."
It's between those lines she's found a handful of women whose names continued to surface in her research. McRae's research started with her personal effort to get her house included on the National Register of Historic Places. Her Franklin home was once owned by Arrah Belle Wilson Johnson — the first female publisher and editor of The Franklin Press.
"There were almost no women in journalism in the U.S. at that time (1930s) and even in 1987 only 5 percent were publishers so she was way ahead of her time," McRae said. "They turned me down for the National Register because Arrah Belle was not in the Women in North Carolina book. Actually no women west of Asheville are in the book. Someone needs to write a WNC Women's History book, but that's another project."
During that process, McRae discovered the concept of a women's history trail as a way to start putting forth the history of women of WNC and give them the recognition they deserve. That's when she approached the chairwoman of the Folk Heritage Association of Macon County, Ann Hyder, about starting a Women's History Trail project. She got the go-ahead and a project team was formed to start the work.
Mary Polanski and McRae serve as co-leaders of the group.
"The interest from the community was impressive and so we moved forward as a working group trying to see how to carve out the work to be done. We worked on the concept of uncovering some of these stories of women that have been buried in history," Polanski said. "As a retired nurse practitioner this was all new to me, but the history and these women's lives is incredible. I've come to love this and I'm passionate about what this can mean to young girls and young female professionals in Macon County."
Since the project began last fall, the group has gathered the research, marked the significant trail points around town and secured enough donations to get the trail marker signs in place so that the Women's History Trail can be unveiled this Saturday.
The story on Arrah Belle Wilson Johnson is perhaps at the center of the Women's History Trail.
According to research, Arrah Belle was born in 1876 in Rock Hill, South Carolina, to a prominent family. During a time when fewer than 3 percent of American women attended college, she graduated from Converse College in 1896 before marrying Rev. James Willis Cantey Johnson.
After her husband died in 1929, she moved to Franklin to have her dream house built. In 1931, she used her life savings to purchase The Franklin Press and the Highlands Maconian at the age of 55. She named her son Blackburn as the editor but he returned to Asheville after a few years. She then put her other son in the position but he was called away for military service when war broke out.
Arrah Belle then took over leadership of the paper in addition to her serving as manager at the Trimont Inn — "The Hotel of Southern Charm."
Between the war and The Great Depression, many newspapers folded, but the Press never missed publishing an issue during her tenure. Franklin Press archives show that she used the paper to offer intelligent coverage and commentary during those difficult times. She organized a scrap drive in 1942 for the war effort among other efforts to boost community morale.
McRae discerned from her research that Arrah Belle was at the center of a larger group of intelligent women in Franklin. In 1940, there were 97 Franklin residents with four or more years of college — 40 of them were women.
"During the '20s and '30s there was a large group of educated women here, which was unheard of at the time. They obviously all bonded and you see their names popping up everywhere together so you can tell they we're helping each other," she said. "Arrah Belle promoted the work of these women in her articles — you could really tell she cared about them."
Some of these women included Eloise Franks, the superintendent of public welfare and the first female mayor of Franklin, Blanche Willis, director of the Red Cross, an Lassie Kelly, who had been one of the first women admitted to the North Carolina Bar. Lassie and her sister Elizabeth also ran a popular inn.
Other stops on the Women's History Trail highlight the Western Electric Mica Workers, Main Street Milliners, Women in the Hospitality Industry, Women in Social Work among others.
Leading up to the unveiling this weekend in downtown Franklin, the group has done side projects to begin introducing their efforts to the community, including a Living History event at the First United Methodist Church Cemetery. Women dressed up and read monologues written by McRae that interpreted their lives.
"It really created an interesting way to bring them to life," Polanski said. "We've also gone to small groups to talk to them about women's history and to the high school history classes with the living characters."
Lazy Hiker Brewing has also gotten involved in the project by allowing the history trail group to come to the brewery and create their own beer that will be tapped on the opening day of the trail. The women had a fun day brewing a honey ginger saison for everyone to enjoy.
The Women's History Trail leadership team awards Margaret Ramsey with the first Macon Matriarch Award in March. Donated photo
Honoring Macon's matriarchs
Then to honor National Women's History Month in March, the group presented their first Macon Matriarch award to Margaret Ramsey — just a few months before she passed away.
"She was very influential," McRae said. "She was the kind of person that just made things happen. When she called you to do something, you wouldn't say no."
Ramsey was a seamstress and quilter and served as the manager of MaCo Crafts Co-op for many years. She had previously worked as an outreach supervisor for Macon Program for Progress.
"She helped people — mountain women — to learn to improve their skills and make money with their crafts so they could make money," McRae said. "She even took them to Washington, D.C., to be honored at the Smithsonian. She put money into the community foundation so it would keep giving back when the MaCo Crafts building sold. She also started the heritage association."
Without Ramsey, McRae said she wouldn't have had her career at The Franklin Press. When McRae moved to Franklin she wanted to be a freelance writer and Ramsey gave her a chance by letting her write MaCo's newsletters and other promotional material. And just like Arrah Belle used her sources and network to help the women she loved, Ramsey did the same thing for McRae.
"Margaret told me to apply for a reporter position at The Franklin Press — Bob Sloan (former owner of the paper) was her brother-in-law and she told him to hire me," she recalled.
Public art project
As the history trail project moves along, the group is also working a parallel track toward installing Franklin's first piece of public art honoring women in the region's history.
The artwork will be a 7-foot bronze sculpture depicting Cherokee woman Timoxena Siler Sloan, an African American woman Sally (last name unknown) and a white settler Rebecca Morris to represent the three different cultures of women that make up the history of the region.
"There's a powerful story based on these three real women that knew each other and have connections to the Nikwasi Mound in Franklin," McRae said.
More than anything it's a story of the land surrounding Nikwasi Mound and how it was taken away from the Cherokee people despite a treaty being in place and a woman's courage to sue the federal government to reclaim the land.
Cashiers sculptor Wesley Wofford has been commissioned to complete the statue in different phases as the group works toward raising the money to pay for it. The project will cost $340,000 and will take two and a half years to complete.
Polanski said $80,000 is needed for the first phase and they're getting closer to accomplishing that goal before moving on to the next. The sculpture will be placed somewhere near the mound and the new bridge being completed over the Little Tennessee River.
"We've submitted a letter of interest to be able to apply for a grant through the Z. Smith Reynolds Foundation — we should know by the second week of November if we're one of the few asked to apply for grant — they only pick 20 to apply," Polanski said. "Any amount people in the community can contribute would be great."
Macon unveils Women's History Trail
A new Women's History Trail Project, part of the nonprofit Folk Heritage Association of Macon County, will soon be unveiled.
A trail opening ceremony will be held at 1 p.m. Saturday, Oct. 27, at the Gazebo in downtown Franklin with opening remarks. Then "Walk in her Steps" visiting nine stops along the trail and learn about Macon County women who have contributed much to the local history.
This project aims to weave together the disparate elements of our history: Native American, White, Black; those of all levels of society; those of pioneer stock and those more recently arrived, telling their stories through various art mediums/exhibits and markers along a designated path.
Trail booklets, light refreshments and music will be provided.
To find out more about the project, visit www.folkheritageassociation.org.
Donations can be made toward the public art project by sending a check to P.O. Box 1416, Franklin, NC 28744.