Archived Arts & Entertainment
It ain't over yet: Rodney Crowell reflects on life, role of the songwriter
Wednesday, October 17, 2018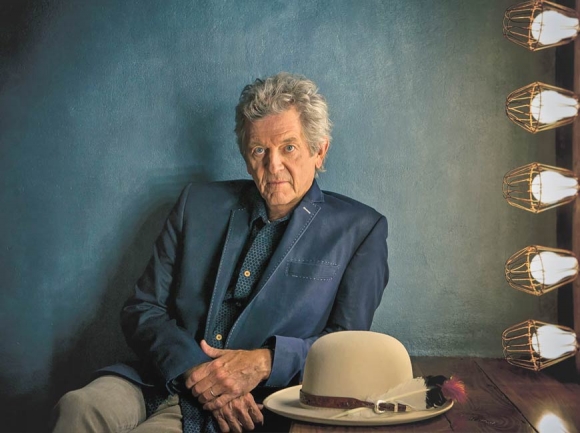 Rodney Crowell.
Like a tumbleweed from his native Texas, Rodney Crowell has bounced and rolled along through life to wherever the four winds of the cosmos push him.
In his 68 years on this earth, the singer-songwriter remains the fiery epitome of a troubadour, where truth is stranger than fiction, and the only way to make it through the day is to make sense of it through song and dance — with or without company, no matter.
Finding his way to the bright lights and lore of Nashville in the early 1970s, Crowell befriended the likes of Guy Clark and Townes Van Zandt, two cornerstones of American songwriting. He stood at the source, and let the tricks of the trade unmercifully wash over him.
Between rollicking late-night shenanigans and hard-earned miles on the endless pavement of the circulatory system that is the Eisenhower Interstate System, Crowell has spent the passing decades doing exactly what he has chased and dreamt of all along — a life worth living.
With Van Zandt long gone and Clark passing in recent years, Crowell is left standing at the crossroads, gazing around his current situation amid a sense of curiosity and zest. He knows damn well that times flies when you're having fun, and yet there's so much more left to say. Thus, Crowell continues to mine the landscape of creativity, friendship, and what it means to be a voice of reason in trying, uncertain times.
Smoky Mountain News: I was curious if you subscribe to the idea of "the now." And if you do, how do you embrace that mentality?
Rodney Crowell: I was forced into a [recent] work stoppage by some health issues. So, dealing with it, has really demanded that I remain firmly planted in "right now," which has been a good lesson for me. I've always subscribed to ["the now"], and I've taken more of a Zen approach to how I get through the day. But, this has been like, "OK, time to put your money where your mouth is, pal." I certainly subscribe to "right now," and I'm consciously trying to live more in "the now."
SMN: How do you measure success these days, in terms of your art and your day-to-day life?
RC: These days, I measure success by how well I accomplish a very simple thing, which is to live this day innocently. And by innocently, what I mean is, what the freedom of a child is — playing, which doesn't preclude the adult responsibilities I have, but just to live. To get up, work on something I'm writing prose-wise, and to enjoy that, and not get into any kind of huff with how well it's going. And to work on songs and play, to rehearse with my trio, to have dinner with my wife, talk to my friends. Do whatever I do with the least amount of self-consciousness, which I'm referring to the fear of how I'm going to look or how I'm going to come across, what somebody thinks of me — what does that really serve? Being in this moment, and being fully in it.
SMN: Was there a moment when you knew a song could be whatever you wanted it to be?
RC: Pretty early. I was lucky in my development as a songwriter. Probably the most vulnerable chapter in my development, as luck would have it, I happened to be in pretty close daily contact with Guy Clark and often Townes Van Zandt. I was 10 years younger than them. So, all I had to do was be quiet, pay attention. And I realized if you're patient enough, and will allow it, the song will tell you what it wants to be, what it should be. To me, [if you force it], the cart is definitely before the horse.
SMN: When was the last time you saw or spoke with Guy [Clark] before he passed?
RC: The day he passed. The last thing he said to me was, "I'm tired." I mean, he said it cosmically. Guy was always a great sleeper. He could sleep anywhere, and he'd sleep warm. He could stay up longer than anybody. But, when he finally went to sleep, he'd sleep longer than anybody. It was the last day of his life. It was a roomful of people. I leaned in close and he said, "I'm tired." That was the last thing he ever said to me. I always had Guy perfectly framed as an artist. I could separate the friend from the artist, and understood the supreme value he brought as a self-editor and his unflinching adherence to the truth, or as close to the truth as you could get it. And then, there's the other side of it, I lost my friend. I was at my daughter's house last night. She has a picture of Guy and I when we were younger, and to see that, it was, "Ah, shit, man. Well, that's over."
SMN: What is the place of the songwriter in our modern world?
RC: Depends on your own sensibilities. If you're [only exposed to] music in the background of a restaurant or music in the background at a party, if you have that kind of loose relationship with language and song — I have no idea. But, if you're like me, and you listen to music a lot, the role of the songwriter is more pointed and more centered than ever. In our culture and in the world, it has never been more important, never more prevalent — as is the poet, as is screenwriting, as is news reporting.
Want to go?
Singer-songwriter Rodney Crowell will hit the stage at 8 p.m. Friday, Oct. 19, at the Diana Wortham Theatre in Asheville. Tickets start at $34.50. For more information and/or to purchase tickets, click on www.dwtheatre.com or call 828.257.4530.