Archived Arts & Entertainment
This must be the place: The only way to remember is to forget in a rhyme
Wednesday, October 17, 2018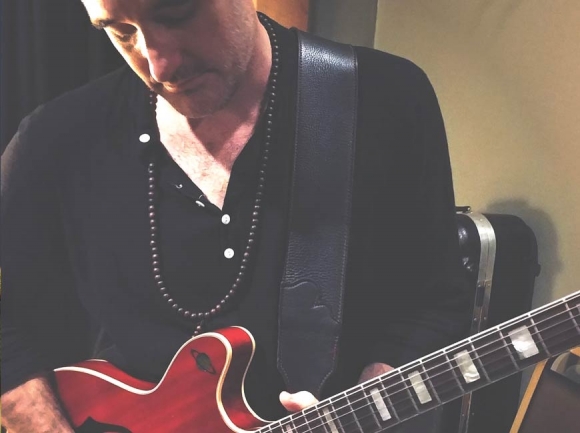 Scott Tournet backstage at Ambrose West. Garret K. Woodward photo
There was a slight ringing in my ears leaving the show last Sunday evening at Ambrose West on Haywood Road in Asheville. The small, intimate venue had just busted at the seams with the heavy vibrations of San Diego-based Elektric Voodoo.
Not only was the septet a staggering presence of sound and purpose, it was also an opportunity to cross paths with my old friend, band leader/guitarist Scott Tournet. Though we've kept in touch via emails and Facebook, I hadn't shaken his hand in around eight years, perhaps more, truth-be-told.
Founder and former guitarist of Grace Potter & The Nocturnals, Tournet was actually the first piece I ever wrote that got published in a real deal magazine. Back in the spring of 2006, I was a junior in college at Quinnipiac University (Connecticut). I hadn't landed an internship, and spring break was rapidly approaching. I needed something or else I wouldn't meet a crucial requirement in order to graduate.
While home for spring break, I ended up at a rock show where an old friend introduced me to the publisher of a music magazine, headquartered in Burlington, Vermont. Now defunct, State of Mind Music Magazine was a beloved product in New England. Multiple page spreads filled with intellectual and emotional perspectives on music that could fill the deepest, darkest corners of our hearts with joyful songs and poignant lyrics.
As an intern that summer for the magazine, I dropped off boxes of issues at businesses and music venues and transcribed interviews for other writers.
And I also was taken under the wing of my publisher. At that time, I was 21, he had just turned 30. He'd bring me around Burlington, introducing me to legendary musicians and others in the rich, vibrant scene. It was a rollercoaster for someone like myself so used to simply just being in the audience at a show. And there were those times we'd sit in a booth at a bar, sipping some suds and discussing our favorite phases of Miles Davis or what year of the Grateful Dead produced the finest fruits of live performance.
When it finally came time to let me get my first by-line, I browsed a stack of albums recently mailed to State of Mind for review. I eventually came across "Everyone You Meet Is Fighting A Hard Battle" by Scott Tournet. Clocking in at 07:27, the tune "Sitting Here (Too Long)" jumped out of the stereo, this kind of earthy tone where the rawness of Neil Young meets the bittersweet blues of Junior Kimbrough. I asked my publisher who Tournet was. "He's the guitarist for Grace Potter & The Nocturnals," he replied.
At that time, mid-2006, The Nocturnals were blowing up on the national scene. To many, the band was the "Second Coming" of true rock-n-roll sound and swagger. And it was something I truly agreed with, having seen them live earlier in the year at the raucous Paradise Rock Club in Boston. The group was something to behold, a presence of sonic truth, with Potter front-and-center orchestrating the melodic whirlwind.
And yet, Tournet's solo record found itself in my possession. I took it home and wrote up the short blurb, only to see my name in print above it in the next issue. It was a feeling of joy and pride that hasn't ever wavered in my 12 or so years in this industry.
Following the album review, Tournet and I became friends, to which I would cover several of The Nocturnals gigs for State of Mind and other publications, dive bars and night clubs around the northeast and out west when I found myself living in Idaho, seeing them onstage in the frozen depths of Jackson Hole, Wyoming, or at the inaugural Outside Lands festival at Golden Gate Park in San Francisco.
Through it all, Tournet always made me feel welcomed, even if I was some kid trying to find footing in the music industry. They were a rock act riding its way to the top, eventually playing vast NFL stadiums, Letterman & Leno, Red Rocks and so forth. And there I was, backstage or side stage, taking it all in, watching a band chase its destiny right before my eyes and ears.
Tournet and I remained in contact through all the band shakeups, and even when he left the group himself, with The Nocturnals eventually dissolving after over a decade together when Potter went solo. For several years now, Tournet has resided in sunny California with his wife and child, with Elektric Voodoo his current focus, a rebirth back into a business he walked away from, disenchanted with the whole process.
Beyond the fact that Elektric Voodoo is a juggernaut of sound — where world fusion meets Motown soul meets hard rock — what really stuck out to me was seeing the ear-to-ear grin on the face of my old friend. He's where he's supposed to be, no doubt about it. And there's something so damn special about witnessing that, especially to those in pursuit of their creative aspirations.
After the show, Tournet and I caught up backstage, reminiscing about some old times, but mostly talking about the "here and now," and what wild, wondrous things the future holds in both of our respective lives. With a handshake and hug goodbye, I ventured back out into the cold air of a fall night in the mountains of Western North Carolina. But, this time, there was a little more of a kick in my step, my head gazing slightly, happily into the heavens above.
Life is beautiful, grasp for it, y'all.