Archived Reading Room
A book for those who wonder what ails them
Wednesday, October 17, 2018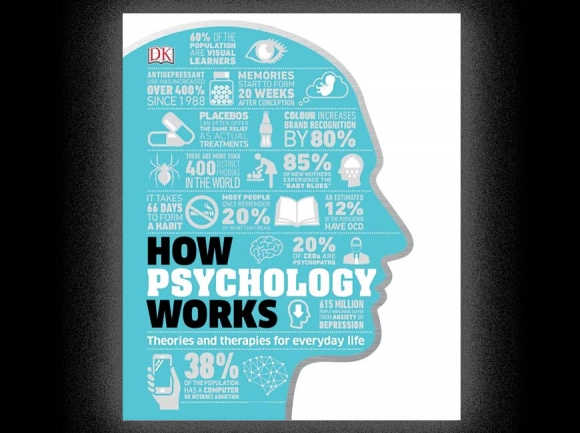 Time to move away from novels and histories, and look inside some general gift books.
First up is How Psychology Works: Applied Psychology Visually Explained (Penguin Random House, 2018, 256 pages). Here is a compendium of various disorders, advice, and information about such topics as forensic psychology, safety in the community, nationalism, and performance anxiety. Illustrations on every page, the use of statistics, clear talk about such topics as binge-eating, tics, and sleep disorders, explanations regarding the symptoms and treatments of dozens of afflictions: this is a marvelous collection.
Unfortunately, having read parts of How Psychology Works — I readily confess having skipped many chapters and pages — I realized I might develop psychological problems simply by reading about them.
Have you ever known people who browse medical books or research various diseases online, and so become convinced they are suffering some horrific illness? A woman whose child has the sniffles reads an article and diagnoses pneumonia. A tired man investigates causes for his weariness and concludes the grim reaper is gearing up for a visit.
Well, if I learned anything from reading random chapters of How Psychology Works, I discovered I may be one of those people. The chapter on "Dementia" just reinforced my horror of that "degenerative disorder" and caused me to wonder if I was becoming more and more forgetful. It took me a full minute, for example, to remember what I had eaten for supper two nights earlier. Delusional disorder is "marked by an individual's inability to distinguish what is real from what is imagined." This morning's sunrise brought me great pleasure, but then I asked myself: What if I am deluding myself? What if my pleasure isn't real? What if the sun isn't real? What if I am imagining myself imagining the sunrise and then imagining myself taking pleasure in it?
Yikes.
Then I thought of how the insights of this book might affect my impressions of the people around me. Was that guy outside the coffee shop lighting up a cigarette a pyromaniac? Was that friend who always misplaces his car keys suffering from dissociative amnesia? Is it possible that ASR (acute stress reaction) accounts for the kooky mental state of all those politicians who work — or whatever it is they do — in our nation's capitol? Did I really wish that politicos from Donald Trump to Nancy Pelosi suffered from "selective mutism," an anxiety disorder in which people are unable to talk in certain social situation? (OK, that last one seemed a plus rather than a minus.)
How Psychology Works is a great gift for 1.) someone interested in psychology as a subject for study; 2.) an amateur less neurotic than I; 3.) an enemy whose mind and confidence you wish to poison; or 4.) any politician you dislike.
How Psychology Works obviously deserves a large audience. It just isn't for me. I'll allow loved ones and close friends entrance into the distant rooms of my psyche, but the thought of some professional knocking on those doors brings on a severe case of GAD (generalized anxiety disorder).
Only slightly more soothing to the nerves was the Guinness World Records 2019. Because of the layout of this book with its hundreds of gaudy illustrations, I could not immediately find the name of the publisher to record in this review. (It's apparently Guinness World Records, Limited.) As a result, I developed a minor case of RIDD (reviewer in distress disorder).
Nonetheless, I again flipped through this huge collection. When I first opened the pages, I found myself staring at Rolf Buchholz of Germany. Here is a man sporting the greatest number of body modifications in the world: 481 piercings, 111 around his mouth alone, horn implants, a split tongue, and 90% of his flesh covered in tattoos. He looked like a creature from one of the Star Wars movies. Admit him to any kindergarten in the world, and we'd have to add another dozen disorders to How Psychology Works.
It was a relief to turn to the French-built ship Harmony of the Seas, which is the largest passenger liner in the world, accommodating 2,100 crewmembers and 6,780 passengers. Most impressive was the ship's "living park," with 52 trees and 10, 600 plants.
As a parent and grandparent, I found one Guinness World record guaranteed to cause more nightmares to parents than the pricked and painted Buchholz. Frank Smoes and his family, who live in Australia, own 1.2 million Lego pieces. Put my younger grandchildren among that collection unattended for an hour or so, and I would spend the rest of my days sorting out Legos and drinking heavily.
Guinness World Records 2019 would make a fine gift for adults or teens who enjoy dipping into such things. Children will need a guiding hand through some of the entries.
Harry and Zanna Goldhawk's The Creature Garden: An Illustrator's Guide to Beautiful Beasts & Fictional Fauna (Rock Point, 2018, 160 pages) is a gorgeous guide for drawing and illustration. (The lines and dots on page 10 brought to mind a Rorschach test, but I quickly skipped onward.) A family friend whom my daughter's children call "Aunt Terry" gave them this book, and the twins in particular have derived pleasure from it.
Employing all sorts of animals, both mythic and real, the Goldhawks of Great Britain offer step-by-step drawing instructions for reproducing these beasts on paper. The book also includes advice on tools and materials.
The Goldhawks founded Papio Press in 2014, an online business centered on art and aimed at "making every day life a little bit more magical" through the greeting cards and illustrations they sell. Both that expertise and sense of magic may be seen here.
For those amateurs who enjoy drawing or for those who wish to begin, The Creature Garden offers a delightful introduction to illustrating animals.
(Jeff Minick is a writer and teacher. This email address is being protected from spambots. You need JavaScript enabled to view it.)