Archived News
'The band that changes people's lives': WCU marching band a motivator for enrollment
Wednesday, October 17, 2018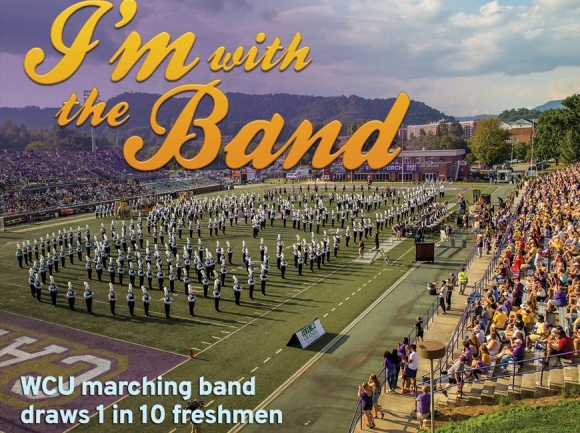 The calendar had declared the start of fall two weeks prior, but that didn't stop the sun from shining hot and high over Cullowhee Oct. 5, the last day of classes before fall break. For much of Western Carolina University's student body, the heat probably didn't matter — they'd already finished their last class and hit the road for a weeklong respite from academics.
But for the 490 students in WCU's Pride of the Mountains Marching Band, break would have to wait, because practice started at 4 p.m. It was hot and it was Friday, but the next hour would be dedicated to sweating it out in the E.J. Whitmire Stadium.
A cacophony of sound rang through the field in the minutes before 4 p.m., the percussionists beating out rhythm under a shaded portion of parking lot, the flutes, trumpets and saxes making circles across the field to warm up their lips or perhaps run through a difficult passage from the show. But when Director David Starnes gave the word, the extraneous sound dissipated, the circles broke up, and the band reformed as a single unit centered on the 50-yard line.
"I think the kids know what they're getting into when they come here," said Starnes in the moments before giving that direction. "It's an experience that some of them wait all through their high school years to be part of. Everybody is invested and everybody cares, and we want it to be great."
Even if making it great means marching to the fastest of tempos in 85-degree heat on a Friday afternoon when everyone else is already busy getting a jumpstart on fall break shenanigans.
'No one in the ballpark'
At Western, band is serious business.
Most obviously, there's its size — this year, Pride of the Mountains boasts 490 members, with numbers having stayed solidly between 450 and 500 since 2014. By any standard, that's a huge band; schools far larger than Western have far fewer members in their marching bands. N.C. State lists its band at about 345 members, the University of Alabama at 400 members, the University of Florida at 360.
"Bands of our size are very few and far between," said Starnes. "Across the country there may be two or three that are that size."
The 2014 Pride of the Mountains Marching Band (top) performs in the Macy's Thanksgiving Day Parade in New York City.
Of those two or three, certainly none are mid-size regional universities like WCU. In that category, Starnes said, "there's no one in the ballpark." When WCU performed in the 2014 Macy's Thanksgiving Day Parade, it became the largest marching band to have done so, and it stands a chance of breaking its own record when it returns for the 2019 parade.
Pride of the Mountains members account for 4.2 percent of all undergraduates, and when looking at freshmen alone the proportion is even higher. This year, more than 9 percent of all first-time, full-time freshmen joined the band. Typically, WCU sees 10 to 12 percent participation from incoming freshmen — an extreme departure from the national average of 0.8 percent, a number pegged through a College Band Directors National Association study.
"We have kids from all over the country," said Starnes. "We have them from Massachusetts, we have them from Florida, Virginia, South Carolina, Tennessee, Georgia, and they're coming from all over now. It's a pretty cool thing that they see us at a national event like a competition or the Macy's Parade and say, 'I want to do that someday.'"
Anna Waters (left) wields her mallets Oct. 5 during band practice. Holly Kays photo
For many Pride of the Mountains members, that's pretty much how it went. They saw Western on YouTube, or at the Macy's Day Parade in 2014, or in exhibition at their high school band competition, and they decided that they were going to college at WCU. They could figure out what to major in later, as long as they could be assured a place with the band.
Madison Miller, a freshman trumpet player from Cherryville, is one such student.
"I applied to Western because of the band," she said. "Five years ago I went to Enka (for the Land of Sky Marching Contest) with my high school and I watched them and it gave me chills. I started crying and I saw how the crowd reacted. I wanted to be in a band that made people react like that."
Her fellow brass player Austin Ross, a freshman mellophone player, had a similar experience.
"I saw the YouTube videos and how amazing it was and how much it blows people away," he said. "Watching the videos gave me serious goosebumps, and I was like, 'I have to be a part of that. I have to be a part of that.'"
Starnes doesn't turn anyone away, except percussionists and color guard if there are more applicants than equipment. But making it into the band as a full member isn't a given. The band includes mostly gold members, who play the whole show, but also purple members, about 35 people who still need some more training to meet Pride of the Mountains standards. They join their gold counterparts only for the last movement of the show and also perform the pregame portion.
"It's competitive for a spot every year, and once you get that post you want to be the band that changes people's lives when we're performing," said senior trumpet player John Sims II, from Mooresville.
'I wanted to march with the baddest band in the land'
Of eight students who stopped to chat after Friday practice adjourned at 5 p.m., only one said that the band wasn't a part of her decision to enroll at WCU. That student found the band afterward, and became just as swept up as the most avid of her fellow members. For the rest, the band was the reason or a significant part of the reason that they wanted to come to Cullowhee.
That's a fact that's recently caught the eye of university leadership.
Back in fall 2017, WCU Marketing Director Robin Oliver put together a freshman survey to get a better bead on why freshmen students were deciding to come to Western. It wasn't intended to be a scientific survey, but rather an indicator of what kinds of factors are driving admission and what high schoolers care about when deciding where to go for college. She received 672 responses, a little over one-third of the 1,980-member freshman class.
Results showed that academic program availability, academic quality, affordability and location were the biggest drivers. But it also revealed that many students give activities heavy weight when making their decision — and, in particular, band. Twelve percent of respondents said student activities were a deciding factor in coming to Western, and the marching band was by far the most heavily mentioned program on the survey responses.
Holly Kays photo
Of the 79 respondents who said that student activities were a deciding factor, 32 included a sentence describing other factors in their decision. Fifteen of those responses — "I wanted to march with the baddest band in the land;" "the band for obvious reasons;" "band was the biggest factor out of it all" — pointed to the marching band as a motivating reason to attend.
"I think the biggest takeaway for us in marketing after this survey is that programs are really important to students, particularly undergraduate students," Oliver told the Board of Trustees in September, when she presented the survey results.
Oliver followed up her remarks by unveiling WCU's new marketing video, a 30-second spot that gives programs a heavy presence, including drama, athletics and — 9 seconds into the video — marching band, in the form of a purple-shirted percussionist tapping his drum as a voiceover says, "This is what I want to do every day, for as long as I can."
Always pushing
Size isn't the only way Western's band differs from the more typical college model.
Most college bands function mainly as a support for the football team, providing entertainment for the fans that come to watch their team (hopefully) win. Members perform a new show every week, and since there's only a limited number of hours to learn each one, it has to be relatively simple.
Western, on the other hand, works all season long to perfect one very difficult show.
"(Starnes) is not going to give us an easy show. Never," Sims said. "He's always pushing us to do things on a college marching band field that other colleges aren't even thinking about."
"The moment he tells you that Part Three is the fastest movement you'll ever march in your life, it's very hard to grasp that," said senior trumpet player Austin Page, from Greenville, South Carolina.
"But you do it and you get it under your feet after so many runs and it's, 'How can we make this harder?'" Sims added.
There's a satisfaction in that, and a power that comes from knowing that just because something looks impossible at first blush doesn't mean that it is. Usually the band isn't even doing the whole show by the time the first football game rolls around — they'll perform the traditional pregame show with the National Anthem and all that, but when halftime comes they'll only do about four minutes of the nine-and-a-half-minute show, whatever portion they've completed thus far, and then march away.
This year, the Oct. 13 game against Chattanooga was the first time that Western fans got to hear the entire show. From here on out, it's all about perfecting and tweaking, adding bells here and whistles there until the show is as close to flawless as humanly possible.
A color guard member (above) performs the band's 2018 show 'Now is the Time.' Mark Haskett photo
That will happen at football games, and it will happen at exhibition performances at various high-profile high school marching band competitions — the 18th annual Tournament of Champions on Oct. 20, which WCU will host, and the Oct. 27 St. Louis Band of America Regional Championships, which will draw 93 bands from across the Midwest. The groundwork for all that will happen during the 10 or so hours of practice the students put in each and every week.
"They're being asked to commit an entire season to a nine-and-a-half-minute production, and on top of that three days of rehearsal a week plus weekends, travel," said Starnes. "They sacrifice a lot to be a part of it. It's important to me that they know I'm aware of that. I don't take that for granted."
A culture of family
When talking to Starnes, or to members of his band, the word "family" comes up again and again. Students compared the band to a family 500-strong, Starnes' reaction to a poor performance something akin to criticism from a "disappointed dad."
"It's kind of like you walk in and you're automatically greeted with family," said freshman trumpet player C.J. Carideo, of Cary. "You're automatically part of a family."
"I didn't know a single soul when I got here, so it was interesting basically meeting all new faces for the first time," said freshman saxophone player Sydney Beasley, of Atlanta. "The first half of the week I was just trying to remember faces and names and figure out who I was going to be friends with. But I clicked with almost every single person instantly. I feel like I have 500 new best friends right now."
That's exactly the kind of culture Starnes has been working to create in his eight years as director, and he hopes that culture will also continue to set the WCU band apart from the masses. College marching band has had some bad press in recent years, with Ohio State University firing its band director in 2014 after an internal investigation into hazing and sexual harassment in the marching band and a Florida A&M University drum major dying in a 2011 hazing incident.
"I learned something from that," said Starnes. "I know that it can be anything we want it to be and kids will follow any lead that you give them, but if it's negative nobody wins. That's one of the things that I'm most proud of at my program is our kids know what that line is. They always ask before they do if they think it might be questionable. I'm really proud of the culture and I'm proud of the students' morals and ethics."
That pride continues after graduation. Starnes said he'll get six to eight calls a year from prospective employers when former students put him down as a reference. Band is heavy on teamwork, responsibility and time management — and those are skills that employers find highly desirable.
"They're getting to work inside an organization that is very active, and at the same time if they drop the ball the organization fails. That's a huge learning opportunity for students and for them to look in the mirror and see what they're made of," said Starnes. "Am I capable of community? Am I capable of organization? Can I get a large number of people to trust me? That's a large number of personal traits that I think are so important past graduation."
Catamount tears
College is about looking to the future, to the many ways students will build careers and earn money and fall in love and start families and see the world and change the world in the decades to come.
Band has implications for all that, but it's also about the now — about this moment, and its unique combination of sun and cloud and relative perfection of performance as lips press against brass and reed, the drum major sets the beat and feet begin to move in carefully studied and painstakingly practiced patterns.
The show is diverse, wide-ranging in tempo and genre. The band wonders whether anybody really knows what time it is (and if anybody really cares) as it plays its way through the classic Chicago song, and it ponders the rise and fall of power through Coldplay's "Viva la Vida." Fleeting themes from various corners of music weave through and between the songs, and a rotating array of flags add color to the notes, the final movement bringing with it spinning white banners calling for peace and love.
Director David Starnes speaks to his band Oct. 5 after practice. Holly Kays photo
The band freezes as it finishes the final note, instruments raised and motionless, then snapped down in unison as the drum major lowers her hands. There's a collective drawing of breath, a smattering of applause from the few spectators perched on the stadium bleachers.
"Fifty-yard line, bring it in!" Starnes yells.
His band gathers around him, sitting down in a giant half-moon on the artificial turf.
"Great job!" he said. "That might have been one of the top runs in rehearsal all year long. I know there's still things that need fixing, and I love the fact that you're not ever satisfied with anything. That means you're my band."
There's no doubt that the students appreciated the praise. But they didn't need to hear it to know they'd done well.
"We get teared up down here at the end of full runs sometimes," Sims said afterward. "This last one, I was crying at the end of this last one partly because being a senior and all, you have a run that good it's not one you're going to forget."
"Shoot, I'm a freshman and I still cry," said Miller.
But they're good tears. They're the tears of a Catamount, making its mountains proud.