Archived Arts & Entertainment
This great life we wish to attend
Wednesday, October 10, 2018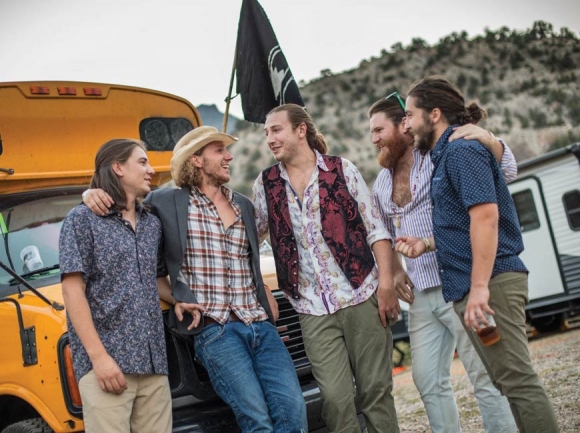 Tenth Mountain Division.
When one is in pursuit of their dreams, once-feared obstacles become golden opportunities, where you see what it will take to achieve what you need to do, in your own time, and you simply chip away until you overcome and overtake what it is you ultimately want, and need, to accomplish.
Boulder, Colorado-based Americana/jam-rock act Tenth Mountain Division is proof positive of seeing life — and a career in the topsy-turvy music industry — for what it is, which is whatever you want it to be.
The quintet is part East Coast cosmopolitan improvisation, part Rocky Mountain acoustic Zen, an ideal blend of technique and in-the-moment shenanigans. Like a band of 21st century pirates, sailing the high seas of chance, luck and destiny, they're plundering the depths of not only their talents, but also that of whatever it is they cross paths with — come hell or high water.
Smoky Mountain News: The name "Tenth Mountain Division" represents an elite military group with mountain capabilities. How did y'all come across that name for your band, and what about your group's philosophy or message, in all honesty, applies to the symbolism of that name?
Bassist Andrew Cooney: I actually learned after I joined the band that my great uncle was a member of the 10th Mountain Division. They were a volunteer based tactical ski unit that was first deployed in World War II. When they returned home, a handful of the soldiers saw an opportunity to spread their love of skiing across the country and founded many of today's most well-known ski areas, including Vail Mountain. These soldiers were the first "ski bums," traveling from mountain to mountain, carving the first tracks in uncharted territories. They became the first ski instructors and lift operators. The free spirit ideals of the ski bum and appreciation for simplicity and doing what makes you happy goes hand-in-hand with what we do as musicians and we try our best to display and pass these traits wherever we go.
SMN: It's an interesting time in our country, let alone to be able to travel the states and see things for yourself. What are you seeing out there on the road, especially in your interactions with other people and places, perhaps even from different political or cultural backgrounds and ideologies?
Drummer Tyler Gwynn: We hear so much on the news about how divided of a country we live in, but what we see time and time again on that road is that these differences only go so deep. Cultural differences or political ideologies are not holding people back from being good to one another. In places where you would think five long-haired musicians traveling in a school bus would be met with stares, more often than not we're met with friendly greetings and encouragement on our journey. In a time where you can be so down on the state of the world, our time on the road shows that it's really not as bad as you see on the TV.
One of the best memories I have is when we broke down on the side of Interstate 80 and we were able to get our bus to a gas station in the middle of nowhere. The owners of the gas station, after hearing our story, worked on our bus for four hours to get it going again. When we asked about payment, not only did they say the work was free, they even offered to install an air-conditioning unit for us. We wouldn't be able to be as successful as we have been on the road if it wasn't for the help and support given from people we meet.
SMN: You played the Summer Camp festival in 2016 when Tom Petty & Mudcrutch also performed. What's Petty's impact on you as a musician, and what's his legacy? Are there things about his attitude, career and vision that have rubbed off on you in how you want to not only pursue creativity and sound, but also long-term survival in this sometimes haphazard industry?
Guitarist MJ Ouimette: Tom Petty has been a huge influence on me, and I'm glad I had the opportunity to see him. He always struck me as one of the humble rock stars whose music was so good there was no need for attitude — except that which he brought to the stage. That humbleness is something we want to maintain and plays a role in the longevity of an artist like Petty. If we can be tenacious in our creative endeavors, I think the rest falls into place. Being good to the people we meet on the road and venues and artists we work with has resulted in friends and colleagues that we've grown to cherish.
SMN: What has surprised you the most about this journey — the travel, the music, the shows, the randomness of it all — and its culmination thus far?
Mandolinist Winston Heuga: The thing that has continued to surprise me the most is how simple it is. We were constantly told how rough the road is, but the more experience we get on the road, the less we make itineraries. The people we meet along the way are incredibly encouraging and willing to help in any way they can. In the long run, we're just getting started, and I'm sure that there will be many more pleasant surprises along the way.
Want to go?
Colorado Americana/jam-rock act Tenth Mountain Division will hit the stage at 8 p.m. Friday, Oct. 12, at Nantahala Brewing in Bryson City. The show is free and open to the public. For more information about the band and its new album, "In Good Company," click on www.tmdtunes.com.