2018 Midterm Elections
Schandevel challenges Presnell for state rep
Wednesday, October 10, 2018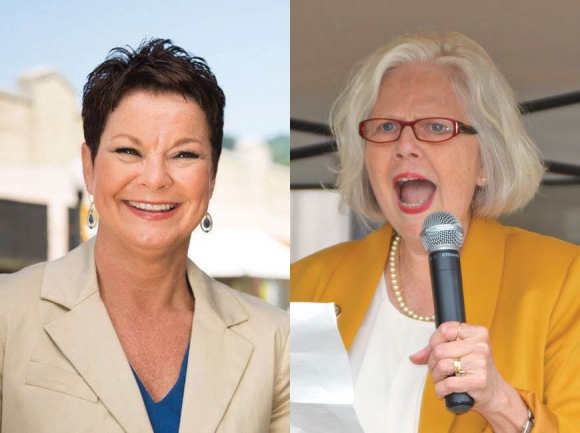 Rhonda Schandevel (left) and Michelle Presnell (right).
Ask Canton native Rhonda Cole Schandevel why she's running for House district 118 again after a disappointing yet decisive loss in 2016 and she'll tell you, in not so many words.
"The short of it is, I got beat the last time," Schandevel said. "The only way I can serve and help the district that I love and grew up in is to run again, and hopefully be successful in my bid for the seat."
The long of it is a bit more complicated. Rep. Michele Presnell, R-Burnsville, has since 2012 represented a perplexingly odd district, ideologically speaking. President Donald Trump won here by 32 percentage points in 2016, and former North Carolina Gov. Pat McCrory won by 17 in his unsuccessful re-election bid that same year.
Presnell, though, won her first two terms by 2.6 points and in 2016, with the aid of what Haywood County Democratic Party Chair Myrna Campbell called a "tsunami" of Trump voters, beat Schandevel by more than 10 points.
Many were surprised by the margin; Schandevel was relatively well-financed for a Democrat, and had run an aggressive and professionally-managed campaign.
One might think that's why she was again pushed by party Dems to give it another go, but Schandevel says it's actually because Presnell's pre-2016 problems persist.
"Unfortunately, I think we're in for more of the same," said Schandevel of the prospect of a fourth Presnell term. "When I say more of the same, the thing that bothers me the most is her not working with her colleagues in the House, and most importantly, with her constituents in district 118."
Presnell's lauded by conservatives for her small-government values and staunch Second Amendment support, but she's regularly harangued in Haywood government circles for opposition to requests that have overwhelming local bipartisan multijurisdictional support.
"Because of her ideological approach, for instance with taxes, she has not been on board with the Tourism Development Authority," Schandevel said.
Haywood County's Tourism Development Authority has twice made the rounds to local governments with a petition asking for a 2-point increase in the county's 4 percent room occupancy tax. TDA's requests have both times met with overwhelming approval. The money collected is spent by the TDA on marketing Haywood County as a destination.
"That is the only tax that the citizens of Haywood County would not have to endure," said Schandevel. "Those are the people who are coming to vacation here. We would benefit from that, but because it's an increased tax she will not support it."
For better or for worse, Schandevel's characterization of Presnell's position is accurate. Presnell has repeatedly told The Smoky Mountain News she wouldn't support such an increase, no matter who pays it.
Many so-called "local issues" work this way; county-level legislative issues must have unanimous support from their local delegations in the General Assembly; Sen. Jim Davis, R-Franklin, is the dean of Haywood's, and Rep. Mike Clampitt, R-Bryson City, is the newest member. As Haywood is a split county with portions represented by different representatives, Presnell is part of that group as well. A single defection amongst the three can derail any county prerogative.
"When Joe Sam Queen [Clampitt's predecessor and current opponent] was in office, he supported it. Jim Davis supported it," Schandevel said. "But Michele would not."
Along those same lines, Schandevel said, Presnell blocked a recent annexation attempt that seemed to have solid support from both Lake Junaluska and the Town of Waynesville.
"She blocked even having a referendum on the ballot to allow the people of Lake Junaluska to decide," she said. "That's just blocking the democratic process."
Ditto for a more recent and unanimous referendum request by Haywood County commissioners to change the elected nature of the county tax collector position. Davis and Clampitt are on record as supporting a countywide ballot referendum to let voters decide. Presnell is not.
"She adamantly opposes our tax collector being appointed, but she opposes even putting it on the ballot and letting the people decide," said Schandevel. "She feels like she knows better, instead of letting people in Haywood County decide that."
Like other Western North Carolina Democrats [see Davis, page 10 and Clampitt, page 4] Schandevel has laser-focus on two main issues — health care and education.
North Carolina's refusal to expand Medicaid like 33 other states have done costs 1,700 Haywood County residents health care coverage, according to Schandevel, and also costs everyone else, anyway — federal taxes paid by residents of North Carolina go to the federal government for Medicaid, but don't come back.
"The Medicaid expansion also helps provide treatment options for the opioid epidemic," Schandevel said. "This is tearing our families apart. We have got to get a handle on this. We can expand Medicaid, but it's not going to solve this problem — it is going to help provide treatment options that will help our law enforcement agencies deal with this problem more effectively. And, it will help these rural hospitals because they depend so much on Medicaid funding."
The state's education spending remains a contentious issue, despite a series of teacher pay increases that have lifted the state from 47th in the U.S. in 2013 to 39th last year. And while both Democrats and Republicans seem to agree that money doesn't exactly produce performance, it does help retain experienced teachers.
"We can't compete with other counties such as Buncombe County, which is right next door, on supplements," Schandevel said.
Haywood schools' overall rank slipped three places this year to 14th out of 115 school districts across the state, down three spots from 11th in 2017 and 2016.
"Our teachers have to put food on their tables too, and they can go to Buncombe County and get a much higher supplement," she said. "We just don't have the tax base to do that."
Despite dissatisfaction with the incumbent and priorities of her own, Schandevel, like other Democrats running this fall, still seems reluctant to address the elephant in the room — President Donald Trump.
"I think it still will play some, but what I want people to understand is that I'm not running for president. I'm running to be representative in district 118, and I'm going to hit the ground running, to make sure that our public education system is properly funded, and that our students are getting the things that they need," she said.
But, Trump's 2016 ascendency carried with it electoral reverberations heard even on a local level; Republican upsurge attributable to Trump decided several state races, and influenced countless others. More than money or media or maybe anything else, this election is a referendum on Trump's maintenance of the Republican brand.
"This year is different because of the excitement I see in the community," said Schandevel. "They know there's got to be a change. We deserve better health care. We deserve for our kids to have the opportunities in education no matter your income. We deserve better paying jobs that support families."
Meet the candidates
Rhonda Schandevel
Rhonda Cole Schandevel, 54, was born and raised in Canton. A product of local public schools, Schandevel graduated from Asheville-Buncombe Technical College's dental hygiene program in 1984, and has practiced in Haywood County ever since.
This is Schandevel's second consecutive run for this office, but she did win a four-year term to the Haywood Board of Education in 2012, two years after finishing fourth of seven in the Democratic primary for Haywood County Board of Commissioners.
Michele Presnell
Small business owner Michele Presnell is a former Yancey County commissioner, former president of the Yancey County Chamber of Commerce and life member of the NRA. Presnell was first elected to the N.C. House in 2012, when she knocked off Democratic incumbent Ray Rapp by a 51.3 to 48.7 percent margin. In 2014, she defeated another Democrat, Dean Hicks, by the exact same spread, and in 2016 defeated current opponent Rhonda Cole Schandevel by almost 10 points. Presnell currently serves on the House's agriculture, appropriations, commerce, transportation and wildlife resources committees, as well as the transportation appropriations committee, of which she is chair. Presnell did not respond to multiple interview requests for this story.