Archived Arts & Entertainment
Blue collar dreams: Balsam Range wins big at IBMAs
Wednesday, October 03, 2018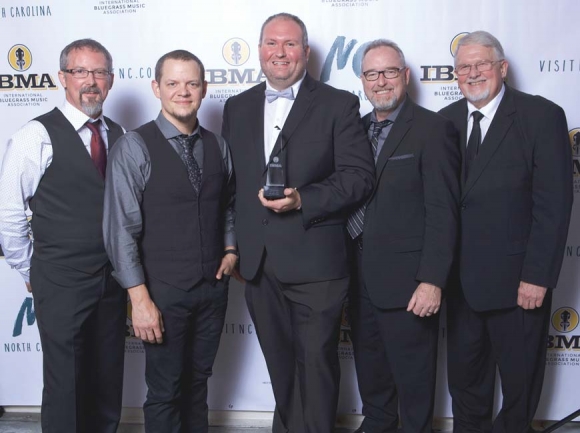 Haywood County bluegrass act Balsam Range won the International Bluegrass Music Association's biggest award, 'Entertainer of the Year,' at the IBMA award show last Thursday in Raleigh. The band previously received the honor in 2014. Photo courtesy of IBMA
Sitting on a bench in the lobby of the Raleigh Memorial Auditorium last Thursday evening, Marc Pruett waits quietly for the rest of his band, Balsam Range, to arrive for the International Bluegrass Music Association award show.
"Bluegrass is just a lifelong passion for me, it's something I heard early in my life with Flatt & Scruggs," the banjo legend said upon joining him on the bench. "It spoke to me in ways that have changed my life, and it has given my life a quality that few things have."
Arguably one of the biggest, most popular acts in bluegrass over the last decade, Balsam Range has won seemingly every award at the IBMAs, the governing body of the genre.
In recent years, the Haywood County-based band has taken home "Album of the Year" (twice), "Song of the Year," Vocal Group of the Year" (twice), "Male Vocalist of the Year" (Buddy Melton) and "Bass Player of the Year" (Tim Surrett), among other honors. And in 2014, the quintet received the industry's highest honor — "Entertainer of the Year."
Coming into 2018, Balsam Range found itself once again nominated, this time for four awards: "Entertainer of the Year," "Vocal Group of the Year," "Male Vocalist of the Year" and "Bass Player of the Year." And for the last three years, the Jerry Douglas-led act The Earls of Leicester had taken home "Entertainer of the Year" (2015-2017).
"It's just wonderful to still be able to work, to still be in the ring," Pruett modestly said. "But, the biggest award for me, is to get back out there on the stage with my buddies, pick some tunes again, and leave folks with a warm smile and some good music — that's the only award I need."
Lining up on the red carpet, the members of Balsam Range are just as in awe of the awards their nominated for as they are to be part of the annual celebration, their longtime heroes all around them — a feeling now reciprocated toward Balsam Range from younger, up-and-coming acts.
"These award shows never get old for us, especially," Surrett said. "And we never expected to win a doggone thing when we started, so everything is just really surprising. When they call Balsam Range or my name, it's shocking."
"You work hard all year long and hope people recognize something you're doing and like it, and to be here, and if you get picked to win it means a lot," added Melton. "In general, there's a lot of talented youth coming up. This tells you that the music is growing in many directions, and being embraced by many different people — diversity is a big part of our community, and bluegrass is making great waves across our nation."
Walking the floors of the auditorium (aka: Duke Energy Center for the Performing Arts), a "who's who" of the bluegrass world is within arm's reach. To the left, Molly Tuttle, Jerry Douglas, Becky Buller and The Del McCoury Band. To the right, The Gibson Brothers, Sierra Hull, Hot Rize, Rhonda Vincent, and so on.
And, in recent years, the big story on most folks' mind is the mere fact of how many barriers have been broken down by incredibly talented female acts in the IBMA nominations and award recipients.
"The fact that we have so many young females coming along making great music is really exciting to see," said Hull, who went on to win "Mandolin Player of the Year" that evening, her third honor in-a-row (no female had won the award previously). "Most of the young women I'm seeing are really just trying to do what feels true and honest, and that's what I try to look to. Rather than thinking so much about genre, thinking about the music itself — what music feels right to play and really feels like it's coming from me as an individual."
"Bluegrass is really opening up to everyone right now," said Tuttle, who retained her title that night as "Guitar Player of the Year" (no female had won the award previously). "It's always been a really close-knit community, which is awesome, but I think there's a movement to make it more welcoming to different types of music and everybody who wants to play bluegrass."
When asked about the symbolic importance of these rapidly rising female acts, Douglas and McCoury — both pillars of the industry — were wholeheartedly supportive of these long overdue shifts in the bluegrass world.
"I think that means we're moving ahead. And we're evolving, we're evolving naturally," Douglas said. "No one was forced to vote for Molly [Tuttle] or Becky [Buller] or Missy [Raines]. My category still, and it bothers me that there's no woman nominated in the dobro category. It does bother me, because I know really great women that play the dobro. Sooner or later it's going to happen, but not soon enough for me."
"That proves that the music is growing. It used to be it was mainly a 'male music.' But, that proves that a lot of the younger ladies like this style of music enough to learn to play it and sing it — you've got to have variety, and it's great," added McCoury. "And I always tell the younger acts, 'just be yourself, just go with what you've got, then you don't have to depend on learning something else that somebody did' — that has given us the variety of sounds we hear today in bluegrass."
Right out of the gate of the nationally broadcasted show, Surrett won the first award of the evening, "Bass Player of the Year," his second time receiving the honor. Not to be outdone, Melton then won "Male Vocalist of the Year," also his second.
"Life, it sends you down paths you don't see coming. It has a way of directing the way it wants to go — and here I am. I love every minute of it," Melton said. "And I realize there's more than one footprint on that path, and that belongs to my best friend, my wife, Carla. She was there the very first time I had the courage to sing in front of people in my college days, and she's been there ever since."
Inducted into the IBMA Hall of Fame later in the award show, Paul Williams, a bluegrass legend known best for his work with the late Jimmy Martin, was humbled by the honor, more so a life immersed in bluegrass.
"I never dreamed this would come to, but, from my heart, I appreciate it, quite an honor for an old Virginia boy that loves this music," Williams marveled in his induction speech. "I've sung this music since I was a child and they called it 'mountain music.' Later on, it got another title, 'hillbilly music.' But, I've loved it then, and I love it yet — it has been a big part of my life."
And as the tension in the room wore on leading up the announcement of "Entertainer of the Year," the final award of the evening, Balsam Range took the stage and performed its latest single, "The Girl Who Invented the Wheel." Just as the band got offstage, the envelope was ripped open, a raucous audience roaring in cheers and shouts when the new "Entertainer of the Year" was crowned — "And the winner is…Balsam Range."
"Eleven years we've been together, and we are like family. This is the best group of guys, I love playing music with them," said Balsam Range mandolinist Darren Nicholson upon receiving the award. "This has been an incredible ride, but they're better people. They've been there when it hasn't been great and they've been there when it has been great — and that's what family does."
Immediately following the award show, the auditorium emptied out into the streets of downtown Raleigh, many with honors in hand, ready to burn the midnight oil in celebration of their accomplishments. And standing by himself near the front of the stage was Paul Williams.
"This music always has been what it says — lyric and notes," he said. "And this music has always been about life, in some form or fashion. And most people that listen to it can relate to it. It may be something they've experienced in their life — this music is about life."