Archived News
WCU resumes chancellor search
Wednesday, October 03, 2018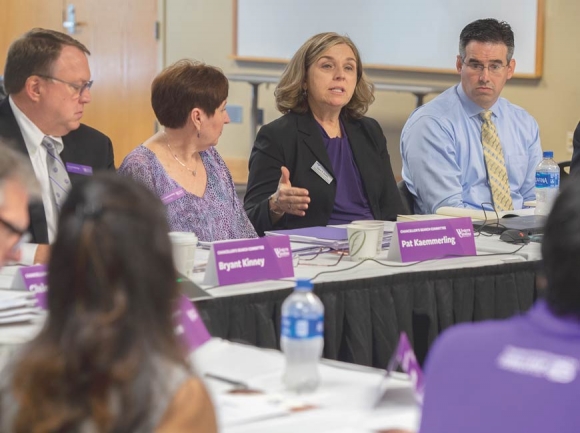 Lynn Duffy (second from right), the UNC System's senior associate vice president for leadership and talent, speaks about WCU's chancellor search at the Sept. 21 meeting. WCU photo
After more than two months in limbo, the search for Western Carolina University's next leader has re-launched with the goal of naming a new chancellor by the end of the academic year.
The 20-member search committee met Friday, Sept. 21, to approve a timeline for the rebooted search and to hear from University of North Carolina System President Margaret Spellings.
"I know that it has been a lengthy journey," Spellings said via videoconference. "It's been a time commitment. You all are showing your commitment to Western by agreeing to continue this journey together, and I am most grateful to you. Really, there's nothing more important in governance and in management and executive leadership than getting the right people to do the job. If you get that right, you get lots of other things right."
The search will draw on the candidate criteria established through a slew of public input forums held last year during the initial search and use the same process employed during that first go-around. The recruitment process will officially begin after the committee's next meeting, slated for Oct. 22, with applications and nominations due in early January. The committee will conduct off-campus interviews in late January and early February and then invite a narrowed field of candidates for on-campus visits in mid-February.
The committee will then choose three finalists to submit to the WCU Board of Trustees at its March meeting. If approved, the list will go to Spellings, who will recommend one finalist to the UNC Board of Governors for final approval.
This is take two for the search committee, which originally formed in December 2017 following former Chancellor David O. Belcher's announcement that he would go on medical leave due to an ongoing battle with cancer. Belcher passed away in June.
The committee met throughout the first half of 2018 and recommended three finalists for trustees' approval in June. Spellings selected one of the three, asking the Board of Governors to approve the pick at its July meeting.
That's where the plan broke down. According to a July 13 story from the Carolina Journal, the board held a two-hour closed session meeting July 12 to discuss the nominee, with "raised voices" emanating from the room. Board members did not vote on the nominee, and the candidate ultimately withdrew from consideration.
Later reports revealed that board member Tom Fetzer had asked a private firm to check out the candidate's résumé, emailing information about supposed discrepancies to board members July 11. The chancellor search process was supposed to be strictly confidential, with only board members knowing candidates' names.
After the July meeting, Board President Harry Smith sent out a statement that the board would be completing an "expedited review of the chancellor search process in an effort to refine and improve it," with that process expected to be complete in September. Changes to the search process would allow the system to "identify the most capable and talented candidates to lead our remarkable institutions," he said.
However, Hurricane Florence caused the Board of Governors to cancel its September meeting, and WCU was instructed to resume its search under the process initially laid out in January. Upcoming changes to the UNC System search process will not apply to chancellor searches currently underway at WCU or Elizabeth City State University.
"Whatever policy changes are approved would be for searches going forward. That's the way we practice other policy changes. We would not want to disrupt the current search process," said Lynn Duffy, UNC senior associate vice president for leadership and talent.
It is not clear what kinds of changes the Board of Governors wants to see in the chancellor search process, or why WCU is being asked to reboot its search given that the university had recommended not just one but three candidates fit for the job. When asked why the UNC System had WCU restart the application and interview process rather than considering one of the other two candidates after the initial pick withdrew, a UNC System spokesperson would say only that he could not "discuss confidential personnel matters regarding candidates."
"We are not starting anew, but rather continuing with the search process. Ultimately, the three candidates our committee submitted previously either withdrew or were not selected by President Spellings to go forward," said Pat Kaemmerling and Bryant Kinney, co-chairs of the search committee, in a joint statement. "Because our process is continuing, as opposed to this being a new search, we will be using not only the experience we gained, but we also will continue to use the input we already received from the university and local community forums and the leadership statement (or job description) that we have in place."