2018 Midterm Elections
Two Republicans vie for district judge seat
Wednesday, October 03, 2018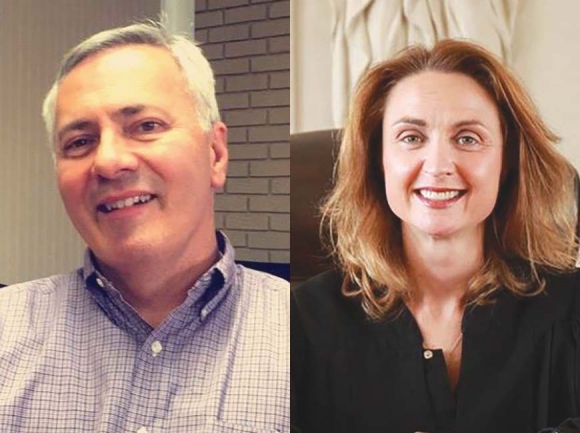 Leo Phillips (left) and Kristina Earwood.
One of 43 spread across the state, North Carolina's 30th Judicial District covers Cherokee, Clay, Graham, Haywood, Jackson, Macon and Swain counties and is where many people have their first interaction with the court system.
District courts preside over civil, criminal and juvenile matters; juvenile cases can range from delinquency to abuse and criminal cases involve mostly misdemeanors. Civil cases can be heard by a jury, but some cases are always decided from the bench, like child custody matters.
It's that sort of ground-level justice that comes from district court, which is why the person wearing the black robe is perhaps more pivotal than in some other courts. As with those other courts though, it's not just about swinging a gavel; weighing in on administrative issues regarding the way courts are funded and run is an important part of the job as well.
Judge Kristina Earwood is seeking her third consecutive four-year term.
"Between domestic work, my work on the reservation and the eight years I've spent on the bench, I've spent the last 15 years serving my community," she said. "I don't see it as an opportunity for power or a stepping stone to anything. All I ever wanted was to be a district court judge."
A growing trend across the country has been the rise of specialty courts, for defendants who may be dealing with underlying issues relating to their status as veterans, or teens. If you support the idea, how do we get them here?
Earwood: I am very supportive of specialty courts. I desperately want a teen court. We have always been very supportive of family courts, drug courts — the bench as a whole, myself included. The problem is, the N.C. Administrative Office of Courts [a constitutionally-chartered entity that serves state courts as a centralized budgeting and administration service] has to approve it and they have to fund it. In Western North Carolina, we don't have services in each and every county. It wouldn't be fair to be born in Macon County and get to participate in that, but if you're born in Robbinsville, you don't get participate. So we have been told repeatedly by AOC that until we could make it happen every single county, that they will not fund it and they will not agree to it.
Phillips: I do support them. I think veterans court is an excellent opportunity to give the folks that have given so much to our country a second chance. We're talking about misdemeanors, small amounts of possession, we're not talking about trafficking cases or possession of the large amounts of controlled substances.
A new pretrial release pilot program under the stewardship of Superior Court Judge Brad Letts will soon begin in Haywood and Jackson counties, with the goal of reducing jail populations, recidivism and backlogged court dockets. What else can be done?
Phillips: First of all, I don't think the suggestions by Judge Letts go far enough. I don't think there is a requirement for pretrial release — which is before any action is taken on the offense that one is charged with. The pretrial release requirement, which is what they do on the Boundary, is they require an assessment and require as terms of your suspended release prior to a hearing compliance with treatment recommendations.
Number two is with continuances. I just came from a long week in Cherokee County Superior Court. There were 400 margins, which means there were 400 separate charges and there might be subparts in the indictment that includes additional charges in that one margin. With a two-day session, it took half of the first day just to continue most of the cases. That's the problem. When you look at that court file and see five, six, seven continuances, how is that justice? How's that speedy resolution, when you have a victim or even the defendant — because remember, the defendant's life is on hold too, along with the victim, who wants justice, and the taxpayers, who want this moved along as quickly as possible.
Earwood: From the district court perspective, a lot of the people that I see that are in jail are there for child support. I think it's about having some programs with people that come into the jails that are willing to [hire] people in jail, and to release them on work release and things like that. Judge Letts has done a lot of work on that. He's bringing ideas from bigger cities and people that have done things differently. We certainly need to figure out a way to make sure that the community is safe if we release people, but also that they don't just sit in jail indefinitely until we can handle the volume of cases.
Aside from specialty courts, how can you, as a district court judge, have an impact on the opioid crisis?
Earwood: We often have kids as young as 13 and 14 testing positive for heroin. The other night I stayed until six o'clock on a Friday, working with juvenile justice and DSS to try to get one of our juveniles into that new facility in Asheville. I stayed there with that kid, called the place myself, and said, "Hey, I know you have precious few beds, but we really need one." If we don't start fighting this problem on the juvenile level right now, we'll be dealing with it for the next 35 years. We weren't equipped to deal with heroin when it popped back up again. I mean, we didn't even have substance abuse treatment for our kids five years ago up here. It was an unknown element.
Phillips: If there's a substance abuse issue, they need to get the treatment that's required. How else are we going to stop the spiral at this point? Jail does not work for many people. When you look at criminal records and see repetitively the same types of crime — simple possession of drugs, DWIs, felonies related to property crimes which many times go hand-in-hand with drug use, what we've been doing is not working. And it's the same group of people. That's why you limit the continuances and make it a condition of pretrial release that they get an assessment and then make sure they stay in treatment. Now, the legislature might look at increasing the sentence so there's additional pressure on these individuals, but that's the province of the legislature, not the bench.
It's safe to say there's a fair degree of outrage from nearly all quarters regarding the confirmation hearings of Judge Brett Kavanaugh. Regardless of that outcome, how does a judge at your level maintain and bolster the dignity and integrity of our nation's court system?
Earwood: I think especially in small communities like the one we live in, what makes a very good district judge is being involved in your community, not just on the bench. Being out there coaching teams and going to festivals and being seen at the Ingles is being part of your community. I think the fact that people see we are vested, that we care about it — that allows people, especially in Western North Carolina, to feel confident about the choice they make every time they go to the polls. I think it's very important that the public has access to us, and feels confident that we are going to do the right thing, that we're going to follow the law, and we're going to do it with integrity and treat people with compassion and kindness.
Phillips: I would handle everything in a manner that's within the discretion of the law, following the law, not making the law, and uphold myself with dignity and respect on the bench, and off the bench.
Why should voters choose you over your opponent?
Phillips: I strive to be the person that is not part of the system. I want to give the appearance to everyone that my court is a place where they can receive fair and equal justice under the law. I have 30 years of experience, which is twice as much as my opponent has — that includes the time she was in private practice and her time on the bench. I worked with family services or DSS in Graham County for about eight years as their attorney. I've also worked on the other side as the parents' attorney for over 20 years. I've seen some of the successes and failures with programs on the Qualla Boundary and also programs in state court. As I like to say to some people, I was around when the earth was cooling. I've spent over half of my life practicing law.
Earwood: I want to serve my community. I want it to be a better place when I leave, and I think that my opponent's experience has not been conducive to being a district court judge. I don't believe that he has the qualifications or the temperament to be a district court judge. There's a lot of support in our community for me right now including law enforcement, court personnel, court counselors, and I'm proud of that. I think it's a reflection of the judge that I am.
Meet the candidates
Kristina Earwood
Kristina Earwood, 40, has for 15 years called Western North Carolina home, but that wasn't the Victoria, Virginia, native's first foray into the area. After graduating from Virginia Tech where she majored in English, Earwood met her future husband, Nathan, at Regent University School of Law in Virginia Beach. His Fairview roots may have played a role in bringing them both to intern with the district attorney's office here, and upon graduation in 2003, they returned permanently. She subsequently entered private practice and served a stint as a prosecutor on the Qualla Boundary until prevailing in a five-way primary and eventually defeating David Sutton to win her first term in 2010. Earwood ran unopposed in 2014.
"I believe that your community is only as strong as your public servants," Earwood said. "Every day that I put that robe on, I strive to serve them and our community the best I can."
Leo Phillips
Leo Phillips, 54, was born on Long Island and raised in Suffolk County, New York. After studying political science at Belmont Abbey College near Charlotte, Phillips graduated from Samford University's Cumberland School of Law in Birmingham, practiced in Winston-Salem for a year, and then found his way to one of the state's poorest communities — Robbinsville. He left for Franklin in 1994, and then for Murphy in 2013. Phillips recently stepped aside as the chairman of the Cherokee County Republican Party to focus on his run for judge.
"I'm running because I think there is more attention needed on children, more attention to orders that are appropriate," he said. "But most important of all, to bring respect and dignity back to the court. I'm concerned with the way many times parties react inside the courtroom, and the appearance of the court not being as fair and unbiased as it should be."