2018 Midterm Elections
Two Dems in high-profile superior court race
Wednesday, October 03, 2018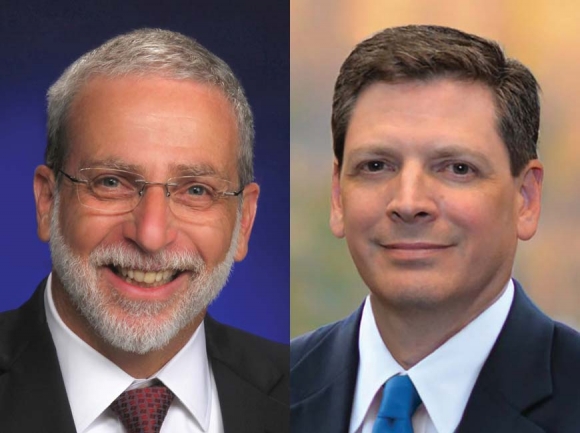 Mark Melrose (left) and Brad Letts.
You've probably seen the billboards by now, if not for months. Or, you've seen the candidates out campaigning in person — incumbent Superior Court Judge Brad Letts and well-known Waynesville attorney Mark Melrose.
Both are vying for an eight-year term as a superior court judge in what's known as Judicial District 30B, which covers Haywood and Jackson County.
That seat has been held by Letts since 2011, but his involvement in shaping the future of the region goes back much further.
In 1995, Letts was one of the original five members on the Eastern Band of Cherokee Indians Tribal Council Gaming Enterprise. The TCGE helped negotiate the initial contact with Harrah's, which led to the casino opening in Cherokee in November 1997. Nearly untold benefit to enrolled members of the Eastern Band of Cherokee Indians has followed — and will follow — as a result.
Around that same time, EBCI Principal Chief Joyce Dugan brought the legal work of the tribe back in-house, and Letts not only became the tribe's first attorney general, he also set up the tribe's legal division, which today remains nearly identical to the way he envisioned it.
None of that would have been possible had Letts — a UNC Chapel Hill alum and Ole Miss law school grad who studied abroad and probably could have settled anywhere he wanted — not felt the pull to return to Cherokee.
"At the time we really didn't have that many folks that were enrolled members that were attorneys," he said. "In fact, I think there was less than eight."
Perhaps Letts' greatest impact has been in bucking the generational dearth of opportunity available to tribal members of his generation.
"Not a lot of families had been to school, and maybe didn't know that those opportunities were out there," he said. "Also, just sort of the history of the tribe, and all tribes around the United States, there wasn't a lot of economic opportunity for a lot of folks. Even if they got an education, they might not go back home, because they may not have a job that would be commensurate with their education, or their potential salary. So I decided to come back home, and that's why."
Specialty courts have become more and more widespread of late — veterans courts, drug courts or teen courts, for example. Should we, and could we, see more of that here?
Brad Letts: I actually tried to start a veterans court two, maybe three years ago. We made some progress and tried to lay the foundation, but I was contacted by Judge Marion Warren, the director of AOC [the North Carolina Administrative Office of Courts, a centralized budgeting and administrative service for the courts] and AOC would not approve a veterans court. I was told one of the policies Judge Warren wants is more uniformity in the North Carolina court system.
Now that's specific to veterans court. I'm a huge supporter of mental health court, substance-abuse court, drug court. I do believe that those are better situated in the district court, not the superior court, because the district court judges are dealing more with children and families because they're doing DSS cases, child custody cases. I'm also big fan of family court, but of course that's also district court. While I do support those, I'm not sure that today that's an opportunity or possibility in our district because of geography. If you look at your districts that have had success, they tend to be your smaller districts, which of course have a higher population.
Mark Melrose: I'm passionate about it and I've been speaking about the specialty courts since very near the beginning of this campaign. They're changing lives, they're saving lives, they're creating second chances for people not only with drunk driving cases but also with veterans and also with adult drug problems. These specialty courts have been wildly successful, in my opinion, in Buncombe County. The reason is because there's been leadership over there from the bench, both district court and superior court. We need the same kind of leadership here.
The primary motivation I have for running is not just to do the job as a judge but to expand what can be done in the court. The reason we don't have it is, it's not been a priority. You have to have somebody in the role of judge, with the authority that it has, with the influence that it has, to lead the charge. Right now there's no charge at all. If my opponent is hopefully at some point going to start talking about this, it's only because I'm running.
In January, a unique pretrial release pilot program will come to Haywood and Jackson counties, designed to decrease recidivism and drive down the costs associated with incarceration. How is this a step in the right direction – or is it?
Melrose: Pretrial release issues have been a problem for a long time. On the low end, you've got cash bonds being set for people that can't even go to jail if they're convicted. So you have poor people serving pretrial confinement for offenses that if they had just gone in and pled guilty the next day, they'd be let out. That is just ridiculous. It cost taxpayers $75 or $80 a day to keep somebody in a local jail, and so you have these poor people who have to pay the bail cost, they have to pay the fine, they have to pay the court costs, so that now they're in the hole all this money, and they can't pay it and then they violate the terms of their punishment. Cash bond for low-level nonviolent misdemeanors makes no sense.
On the high-end, there are people that are serious risks to the community. They're dangerous. They're predators. In that circumstance bond needs to be substantial to protect the public. With the higher bonds, magistrates who are supervised by the superior court judge need to be permitted to use their independent judgment. Judge Letts is the one who is and has been responsible for the situation we find ourselves in now. I'm glad to see he's finally taking affirmative steps to address these problems, but these problems have persisted for years.
Letts: Again, Judge Marion Warner, who I know from new district court judges school back in 2000, contacted me about whether I'd be interested in doing a pilot project for pretrial release in our district and my response was absolutely yes. So I was sent as a representative of North Carolina with two other district court justices from down east to a southeastern summit on pretrial release in Lexington, Kentucky, in October of last year. And what we're finding from an evidence-based analysis is that folks that are held pretrial tend to face worse outcomes. They tend to have a higher rate of conviction. They tend to serve more active sentences than those that are released pretrial. Their active sentences tend to be twice as long, and there tends to be a higher rate of recidivism.
The benefit to our community is if we can identify those folks and do it in a thoughtful way that is also mindful of public safety we can bend the cost curve that we're seeing at the jails. I'm pleased to report to the community that we are leading a pilot project and it might be one of the very first in the United States that's in a rural setting.
We're just in the process of reworking the bond schedule. What we have, and you can pull it off our website, we have a chart and it sort of correlates. A Class A felony is the most serious, and Class I is the lowest, so Class I is maybe $2,000, Class G is $5,000, Class B1 is $50,000. Starting Jan. 1, that chart would go away. We would no longer be looking at a correlation between a money bond and a crime. We'll look instead using a flow chart, where you'll ask questions. Is this an A-through-E serious felony? If yes, secured bond. If no, then you go over to ask other questions — was the offense committed while the defendant was on pretrial release? Was a weapon involved? And you work your way down through that. If there's a yes, secured. If there's a no, written promise to appear, unsecured.
What we're really doing is changing the culture of how we look at establishing terms and conditions of pretrial release, which is going to be very novel and very new. We're very excited about that, and I'm hoping it's going to be successful, but time will tell.
Other counties, though, have entire pretrial services departments.
Letts: We used to, but all that funding got taken away when the recession hit. One of the things we're looking at in this program is do we have the ability or do we have to need to have some type of pretrial release? Some jurisdictions have like a day reporting center, where you have to show up and you may get drug tested, or whatever. Others have electronic monitoring, which maybe feasible for some folks, it may not, because you have to purchase those monitors, and someone has to monitor the monitor. We just don't have those funds, and the only way I can get those funds would be from either the Haywood or Jackson County commissioners.
Melrose: The people that are seeing the addiction problem and seeing the mental health problems, I'm sure that they would be supportive of identifying people that can get to services rather than just incarceration. Incarceration is terribly expensive, and not generally effective for very low-level crimes. It's absolutely appropriate for violent crime, sexual offenses, repeat offenders. I've been practicing for 28 years and I can tell the difference between somebody charged with shoplifting and somebody charged with manslaughter. What we need to start doing is exercising some individualized judgment about what kind of pretrial release these people need.
As we speak, contemptuous hearings in Washington about Supreme Court nominee Brett Kavanaugh are taking place. Independent of that outcome, how can a judge like you cultivate confidence and trust in the legal system?
Melrose: The politicization of the court system is just so disappointing. Lawyers like me who have dedicated their entire career to dancing the integrity of our justice system, to see it perverted by one side or the other is just disgusting. And so as I campaign, people ask me about politics all the time. What I've said in my campaign literature is, politics has to be kept outside the courthouse at all costs. The politics of the judge, the politics of the litigants, the politics of the lawyers, the jurors, the district attorney — none of it should have any bearing on the outcome of the case. The only thing that should affect the outcome of the case are the facts, the law and what the jury says. You look at my campaign literature, my campaign website, I don't mention anything about my political affiliation. The only reason that both Judge Letts and I appear on the ballot with a "D" next to our names is because the legislature commanded that.
Letts: What I was told when I was young, by my mother, was that if you could find a job that you found rewarding that was also working in service of others, that could be a rewarding career. My career's been in public service, and I'm proud of that. I've tried to prove integrity and professionalism through conduct and action. I would say one way to have confidence in and evaluate someone is what they've done for their community and how they've conducted themselves.
Meet the candidates
Brad Letts
Born in Colorado the son of schoolteachers, Brad Letts, 51, returned to his mother's native Cherokee every summer until they all relocated there permanently when he was 10. A double major in philosophy and economics at UNC-Chapel Hill, Letts enjoyed his junior year abroad so much that after graduation, he returned to England before attending law school at Ole Miss in Oxford, Mississippi.
"I was sort of toying with doing something international, but being from Cherokee and having family and friends there, I just felt like the tribe could use someone that was an attorney," said Letts of his return to Western North Carolina.
After a year of private practice in Sylva and two years with the district attorney's office, he played an integral role in establishing Harrah's partnership with the tribe, and then became its first attorney general while also setting up its current legal system. A Gov. Jim Hunt appointment in 2000 put Letts in a newly created district court judge seat; he ran unopposed in 2002 and 2006. In 2009, Letts was appointed by Gov. Bev Perdue to fill the seat of a retiring superior court judge in 2009, and ran unopposed for the eight-year term in 2010.
Mark Melrose
Mark Melrose, 55, grew up coming to the area from his South Florida home each summer. He said he fell in love with kayaking, and attended Western Carolina University specifically "because it was the closest university to the Nantahala River." Accordingly, Melrose majored in parks and recreation management, and worked a variety of jobs including copier sales, debt collection and pizza delivery until deciding to go to law school at UNC-Chapel Hill. Admitted to the bar in 1990, Melrose joined a practice in Sylva until hanging out his own shingle there in 1992. After a 14-year stint with another firm, he in 2005 made the move to Waynesville, where he practiced solo until joined by his son Adam.
"If you're electing a judge, I think who that person is, what they've done with their life — I've been married 32 years, have four wonderful children, and have been an active member of the community and of my church and everything else — I think that's important too, because of how you look at people," said Melrose. "Judges aren't robots. And if you look at people as human beings, imperfect human beings, I think how you view the world and how you view your place in the world makes a really big difference in how justice is served."