Archived News
Economic development agency defunded; longtime director retires, earns state's highest honor
Wednesday, October 03, 2018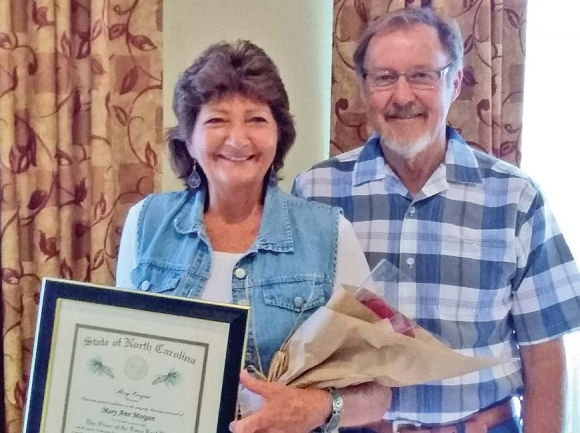 Mary Ann and her husband Gary Morgan pose after Mary Ann was awarded the Order of the Long Leaf Pine. Donated photo
Mary Ann Morgan was a one-woman show with a shoestring budget for more than 40 years but still, she managed to change the lives of hundreds of people who walked into her office without much hope for their future.
Brandy Nigh was a career waitress at 30 years old with two children. Tired of just scraping by, she wanted to go back to school to be a CNA (Certified Nursing Assistant) but couldn't qualify for more financial aid.
"I was in default on my last PELL Grant — I couldn't get approved for more so Haywood Community College sent me to Mary Ann," Nigh said. "She said she had no problem funding my certification because she knew I'd succeed. Just having that one person to believe in me made all the difference."
Until this summer, Morgan was the executive director of a little-known Limited Purpose Agency based in Haywood County called Western Economic Development Organization. The organization was overseen by a 15-member board and operated on an annual budget of about $140,000 a year.
The agency's mission and programming changed a couple of times since its inception in 1975 to meet the changing needs in the community, but it was long funded by a state Community Service Block grant through the Office of Economic Development. However, the state reallocated that pot of money earlier this year, leaving WEDO without funding.
"There were only seven agencies in North Carolina when I started and over the years it got down to four, including us, but now all of them are gone," Morgan said. "It's a shame to see because we weren't a hands-out agency — we were a hands-up agency giving people the training they needed to move on with their lives."
WEDO provided funding for students at regional community colleges to get a number of different certifications, including CNA 1 and CNA 2, Basic Law Enforcement Training, medication aid, phlebotomy, medical assistant and other vocational trades that are in high demand in our area. The organization could also help those students with the cost of tuition, books, fees, equipment, uniforms and tools needed during their program.
"After the first year of doing this program, we found out some students didn't have gas money to get to school, so we put that in there too," Morgan said. "We'd help pay for their state board testing, which could be $100 for the CNA certificate."
The organization could only help students who fell below the federal poverty guidelines, but Morgan always went above and beyond to help people who would otherwise fall between the cracks. She went after donations from other nonprofit organizations like Women of Waynesville or Grace of the Mountains Episcopal Church to provide assistance to students who were just above the funding guidelines.
She still had about $2,400 in unrestricted funds when WEDO dissolved that she handed over the HCC staff to use toward students in need.
"Sandy Fisher is an instructor there and she knows the people who need the help — so now she's taking that on instead of sending them to me like she used to," Morgan said. "All the other money I had to send back to the state."
Nigh said she hates to see such a successful program with such a caring director go by the wayside, especially since Morgan helped change her life for the better. Nigh recently invited Morgan to attend her pinning ceremony to speak to her graduating class, but little did Morgan know she was also there for Nigh to express her appreciation for all she's done.
Mary Ann Morgan, former executive director of the Western Economic Development Organization, is pictured with one of the many students she helped Brandy Nigh. Donated photo
"She's a great person — we formed a friendship. I'd go to sign a paper in her office and we'd talk for an hour," Nigh said. "She's so easy to talk to and she genuinely cares — whatever I wanted to do she'd say, 'let's make it happen.'"
Instead of worrying about how much tip money she'd make on a shift or relying on food stamps and Medicaid to take care of her children, Nigh now works a full-time job with health care benefits and just purchased her dream car — a 2012 BMW.
"Just having Mary Ann in my ear telling me I'd succeed — we all need that one person to say I know you can do this. It gave me the confidence even on bad days," she said. "Now I'm going on to get my nursing degree. I feel like Mary Ann was put in my life for a reason — to better myself and my kids and help other people."
For all these reasons, it's no surprise that upon her retirement Morgan was presented with the state's highest civilian honor — the Order of the Long Leaf Pine Award. Yet she still remains humble about the impact she had over her long career.
"To me it didn't seem like a job — it felt like family. Just like my kids, I'd tell them, 'I'll kick your butt if you don't do it,'" she joked. "Some of these girls just needed guidance. At some point they got into the wrong place at the wrong time and then at some point decide they need to change their life and they want to do it for their kids."
Even though Morgan went to Raleigh to fight to keep the organization's funding, she said it wasn't enough. Perhaps helping 300 people doesn't seem like a lot to legislators looking at the big picture. But the ripple effect of helping those people succeed can't be calculated, she added.
"We probably helped over 300 people get certifications — could be more — but I'm about faces and people, not numbers, but that's what they wanted to see," she said.
She said Melvin Williams, director of the Office of Economic Opportunity in Raleigh, wasn't helpful and wouldn't even accept any letters of support from the agency.
"I was fighting for the funding, but he wouldn't even look at me. I had stacks of letters from the people who wrote them," Morgan said.
Brittany Maney Pless, 23, was one person who tried to share her WEDO success story.
"I was a single person, on drugs, depressed, homeless, and ended up in jail. When I found out I was pregnant, things started to change. I knew I could not take care of a baby; I couldn't even take care of myself," she wrote. "During this time I was trying to find a job, but nobody would hire me because I had no education and my previous background did not look good on a resume."
She signed up to take the CNA class at HCC, which is how she found Morgan and assistance through WEDO. Morgan helped her with the application process and funded the CNA class tuition, her scrubs, supplies and books.
"After completing the course I signed up to take the N.C. state certification board for Nursing Assistants and I passed. I am now employed with a local nursing home, which I dearly love to take care of people, what a difference my life is now. This organization helped me when I thought all hope and help was lost. I was at my lowest point — ready to make something of myself and this agency helped me achieve my lifelong goals."
Morgan isn't exactly sure how she'll handle retirement yet since she's never been good at taking it easy. Even after a recent surgery that required her to stay at Silver Bluff for rehabilitation, she had her husband bring her work computer to her to set up appointments with some of the girls who were working there and wanted to go back to school. She had already helped some of the employees working there earn their certifications — it felt like her work had come full circle with them now happy to care for her.
"I don't know if it's really hit yet — I do miss it already and there's such a need for it here," she said. "I'll miss the people. It's been a blessing for me as much as it has for all the people I helped."