Archived Arts & Entertainment
Lost out here on the wind: Greensky Bluegrass returns to Asheville
Tuesday, October 02, 2018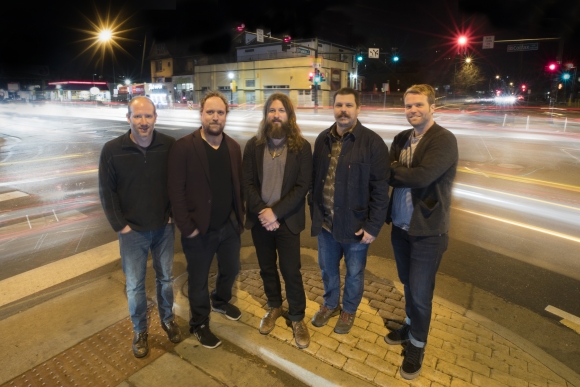 Greensky Bluegrass will play the Salvage Station in Asheville on Oct. 4.
Dylan Langille/OnTheDL Photo
For over 15 years, Michigan-based string act Greensky Bluegrass has been blurring the lines between bluegrass, rock-n-roll and jazz music. Whether it be the use of certain pedals, an elaborate lighting rig or simply a nod every performance to the likes of genre-bending bands like the Grateful Dead, New Grass Revival, Phish or Old & In The Way, what remains is a quintet at the top of its game — day-in-and-day-out.
It's not that Greensky Bluegrass is doing something completely different, they're just doing something all their own — a musical bridge where the old traditions of songwriting and a keen lyrical aptitude are paired with a modern take on what string instruments are capable of, more so now free to do in their own right, never once constricted by the confines of "what is" and "what should be," stale rules that often fog up the windows of creativity and possibility in acoustic music. The group definitely beats to its own drum, a sentiment deeply felt in the solidarity and camaraderie by those enormous troves of music freaks, fans, friends and family that happily follow Greensky Bluegrass further and farther into the unknowns of the 21st century.
The Smoky Mountain News once again caught up with Greensky Bluegrass standup bassist Mike Devol. He spoke of the band's rise into the top tiers of touring acts in the country, what it means to once again sellout the famed Red Rocks Amphitheater, and how his band is a little bit country, a little bit rock-n-roll. It's a melodic formula that is at the core of not only the group's signature sound, but also its sheer power of bringing the multitudes together in a live setting, a place where the true force and longterm focus of the band comes to the forefront.
(Editor's Note: The audio conversation above is a two-part interview. Following "Part #1" make sure to click on "Part #2.")

Want to go?
Greensky Bluegrass will hit the stage on Thursday, Oct. 4, at the Salvage Station in Asheville. Tickets are $25 in advance, $30 day of show. Doors open at 5 p.m. Opening act The Lil' Smokies will kick things off at 6 p.m. with Greensky Bluegrass to follow at 7 p.m. For more information and/or to purchase tickets, click on www.salvagestation.com.