Archived Reading Room
A slow, beautiful tale told through letters
Wednesday, September 26, 2018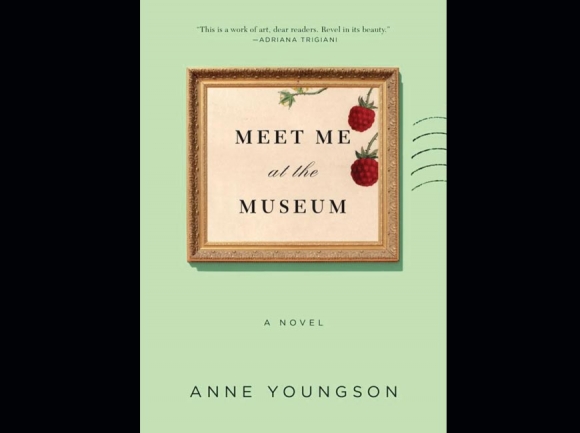 English farmwife and mother Tina Hopgood writes to Professor P.V. Glob. The professor had long ago dedicated his book, The Bog People, to a group of schoolgirls, including Tina, who had written him questions about his discovery of the remains of the prehistoric Tollund Man. Though 40 years have passed since Professor Glob published his book, Tina writes to him on the off chance that he may yet be alive. Behind the words of her letter, self-confessedly incoherent, lie large questions: Have I lived a life worth living? What is my connection to the past? Have I buried myself in a bog?
Anders Larsen, a curator at Denmark's Silkeborg Museum, responds to Tina, informing her that Professor Glob has passed away and encouraging her to pay the museum a visit.
And so begins Anne Youngson's Meet Me at the Museum (Flatiron Books, 2018, 272 pages), a tender tale of two people — a woman wondering if she has wasted her days and a strait-laced widower in the throes of grief over the death of his wife. Ever so slowly, their past, their present circumstances, their thoughts and dreams unfold one to the other through letters and emails.
Here we learn of Tina's life in East Anglia, her work as a farmer's wife, her joys and sorrows regarding her husband, a hard-working man who has little use for poetry or music, and their three grown children, the two boys similar to their father, and her daughter Mary, a taciturn accountant who eventually weds a Lithuanian emigrant.
In Tina, Youngson gives readers a woman who in the autumn of her years is questioning all that she has done, marrying because of pregnancy at the age of 20, spending her days in the kitchen and with farm chores, and leading what she sometimes thinks of as a backwater life. Tina and Bella, her best friend, one of the other girls who had written to Professor Glob and who is now dead from cancer, had long planned to visit the museum and the remains of Tollund Man. With Bella deceased, Tina believes she has missed yet another opportunity to make good on a promise made in the past.
Anders Larsen is man whose "business is facts. I collect and catalog facts and artifacts, from which the facts are deduced, relating to the life and times of Iron Age man." This self-description may sound barebones and dry, but Anders soon shows himself as a man capable of loving others deeply. Long married to a mentally ill woman who has recently died, Anders Larsen has two children, a lawyer and an architect, who bring him great happiness. Despite that comfort, he spends most of his days outside of work alone, following a routine, still grieving his deceased wife.
One other character who figures large in this novel is the Tollund Man. Having died violently 2,000 years ago, his remains preserved by the bog in which he was buried, the Tolland Man serves as a sort of touchstone for Tina, a standard by which she takes the measure of her own life. The tranquil, timeless beauty of the Tollund Man's face, which Tina has seen only in pictures, prompt her again and again to look to him, and to Anders, for answers to her questions about the meaning of the past and its impact on her present.
As letters flow back and forth between Tina and Anders, the two draw closer, able to read the other's mood by a turn of a phrase, granted happiness by some bit of good news, offering advice. As their friendship grows, their affection for each other becomes tangled by boundaries and confused emotions.
This marvelous book owes much of its charm to Youngson's magical use of language. The correspondence of Tina and Anders has an old-fashioned ring to it, a formality almost Victorian, that lends a beauty to the prose, and yet we feel at the same time that Meet Me at the Museum is planted squarely in the 21st century. Moreover, Youngson creates in Tina Hopgood and Anders Larsen two people who, by the time we have finished their story, seem as real as the wind and soil of Tina's East Anglian farm. In Tina particularly, Youngson gives a woman who, with quiet determination and a few false steps, faces and overcomes the challenges, some of them tough indeed, which come her way.
In our world of rush-and-spin, some readers may find Meet Me at the Museum a slow read. Through their letters, Tina and Anders, with the wisdom of their years and experience, take the time to get to know each other, sometimes withdrawing, sometimes exerting great tact, careful always about sharing their emotions, trying, like the good people they are, to avoid hurting the other. For me, however, Meet Me at the Museum is precisely the sort of novel I need these days, a story for adults about friendship, love, kindness, and courage.
At the end of Meet Me at the Museum, Anders writes to Tina, "I have listened to everything you have told me and to the silences where I have heard the things you did not say."
Thank you, Anne Youngson, for this gift. You have allowed us to listen as well.
(Jeff Minick is a writer and teacher. This email address is being protected from spambots. You need JavaScript enabled to view it.)