Archived News
Cherokee widens window 
for election law changes
Wednesday, September 26, 2018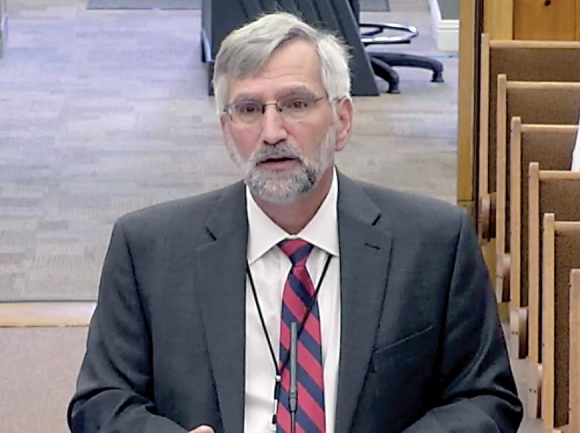 Attorney General Mike McConnell discusses the election ordinance with Tribal Council during an Aug. 27 work session. EBCI image
Tribal Council extended its deadline to complete a slew of amendments to its election ordinance with a unanimous vote during its Sept. 6 meeting.
Previously, the law prohibited any changes to it during an election year, defined as Oct. 1 to Sept. 30 in a year containing elections for tribal offices. Because tribal elections occur every two years, this meant that the election ordinance was untouchable half the time. While the amendment did not change the definition of "election year," it did add language narrowing the window when the ordinance is off-limits to the time between Jan. 1 and Sept. 30 of an election year.
"One thing I observe is that with the restriction on amendments to the chapter the way it's currently written, it says you can't change this during an election year, so that's October to the end of September," Attorney General Mike McConnell said to Tribal Council during an Aug. 27 work session. "So that cuts out one year and then when the following year comes there's always a lag of several months, three maybe five months. People get out of the election, they relax, they get into their positions. Then you're looking at maybe six months out of a two-year period in which you can make changes."
That narrow window makes it difficult to get anything substantive accomplished, McConnell said. If Tribal Council votes to extend the window, he told them, he believes his office can recommend some "very good pointed changes" before Jan. 1 but isn't confident that could be accomplished before Sept. 30.
Tribal Council has been working though the election ordinance for much of the past year following a rocky 2017 election year that included a contested election result in Birdtown and the subsequent revelation that ballots there had likely been tampered with. Tribal government is still trying to find out who might have done the tampering, with a $100,000 reward on the line for information leading to a conviction.
The investigation into election irregularities that led to the conclusion tampering had likely occurred included other disconcerting findings as well, pointing to an extreme lack of security procedures, training and written policies at the Board of Elections.
Proposed changes to the tribe's elections law include campaign finance laws — including reporting requirements, of which there are currently zero — residency requirements for candidates and rules making it clear that unethical practices like vote buying are illegal, among others.
However, as McConnell told Tribal Council, "the devil's in the details," and the short window to enact changes has made it difficult to get those details right.
"Everyone has ideas for these changes," he said. "They have to get them into this relatively small window, so it makes the document cumbersome that we bring to you. We're not able to bring in periodic changes that would reduce the need for a comprehensive change."
Councilmember Richard French, of Big Cove, said that it's important the council act to restore faith in the elections process, because that faith is currently at a low in the community.
"The alcohol referendum, that showed that the people felt that their votes didn't matter anymore when only that many came out and voted," he said during the work session. "We have a big election coming up next year, and I want the people of the boundary to know that your vote does mean something."
In May, the tribe held a referendum vote asking members to approve a tribally owned beer, wine and liquor store. The referendum results required a 30 percent turnout to be considered valid, but only 25.6 percent of voters cast a ballot. In 2019, the Eastern Band of Cherokee Indians will elect all 12 Tribal Council positions, a new chief and vice chief, and three of six school board positions.
Councilmember Tommye Saunooke, of Painttown, agreed with French but added that the draft ordinance as a whole is not ready for adoption.
"I don't think this document's ready, and today I can't support any of it," she said.
That seemed to be the general sentiment around the horseshoe Aug. 27, and when Tribal Council was held Sept. 6 the only election ordinance change up for a vote was an amendment narrowing the time when the ordinance is off-limits to changes to the period from Jan. 1 to Sept. 30 of an election year.
Tribal Council passed the amendment unanimously.