Archived News
Jackson schools see gains and losses in school performance
Wednesday, September 26, 2018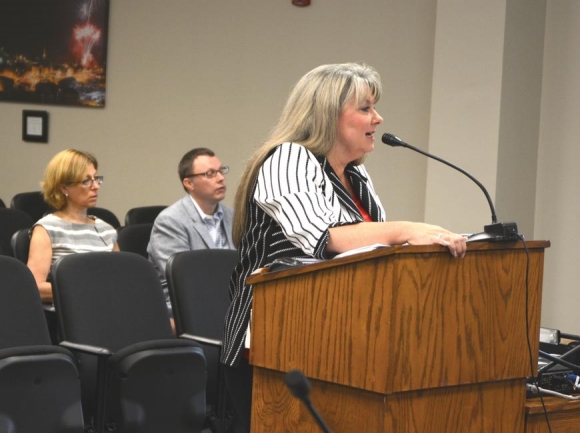 Jackson County Schools Superintendent Kim Elliott presents her 2018-19 budget needs to Jackson County commissioners in May. Holly Kays photo
Jackson County Schools showed mostly level performance over last year with the release of statewide school performance data for 2017-18 this month.
The scores are composed of 80 percent student achievement and 20 percent student growth, with each school receiving an A-F letter grade and 1 to 100 scores based on those results. All Jackson County schools returned the same letter grade in 2017-18 as they did in 2016-17, though numerical scores did shift some. Of the eight schools receiving scores, five earned a C, and one each received an A, B and D.
Jackson County ranked 75 out of 115 schools districts in North Carolina for the 2017-18 school year, an improvement over a ranking of 77 out of 115 in the previous year. The school system is 11 out of 115 school districts for its four-year cohort graduation rate.
"Students maintained scores for the most part, and of course we are always looking to improve student academics in Jackson County," said Superintendent Kim Elliott, Ph.D. "I'm extremely, extremely proud of our school growth, because most of them met or exceeded growth."
The results
School performance results look at whether or not each school's score grew over the past year as it was expected to. Of the eight schools, two met growth requirements (Blue Ridge School and Blue Ridge Early College), three exceeded them (Cullowhee Valley Elementary School, Scotts Creek Elementary School and Smoky Mountain High School) and two did not meet them (Fairview Elementary School and Smokey Mountain Elementary School). A ninth school, the Jackson County School of Alternatives, was judged to be maintaining its performance based on the alternative accountability model by which that school is monitored.
Smokey Mountain Elementary School's score plummeted eight points from 51 in 2016-17 to 43 in 2017-18, the lowest score the school has had since the first time school performance grades were calculated in 2013-14, when Smokey Mountain also scored a 43. The school has remained in the D range throughout the past five years. While it is the only Jackson County school with a D this time around, Blue Ridge Early College, Blue Ridge School and Scotts Creek Elementary School have all earned a D at least once in the past five years. No Jackson County school has received an F in that time, however.
Fairview's score fell from 61 in 2016-17 to 58 for 2017-18, its lowest score in the five years the state has provided school performance grades. While numerical scores have declined over the past five years, however, Fairview has always landed squarely in the C range.
On the positive side, four schools received their highest numerical scores since school performance grades were implemented. Jackson County Early College received a 94, Smoky Mountain High School an 81, Cullowhee Valley Elementary School a 65 and Blue Ridge School a 62.
"I think what is working is those small group student interventions," said Elliott. "I believe that helping the students in a small group builds their esteem so that then they're able to perform. It also helps with repeating, relearning and reaching mastery on certain components. Also what is working and what we hope to improve upon is the fact that we are being extremely deliberate in our teaching of the standards and ensuring that our standards are aligned with each lesson so that we are using our time wisely."
Correcting low scores
Regarding the low scores at Smokey Mountain Elementary, Elliott believes that teacher turnover was a contributing factor. Of the 26 teachers at the school, five were new at the beginning of the 2017-18 school year. This year, the school has only three new teachers.
"We are going to reap the benefits of low teacher turnover in the next year," she said. "I think on the next test you will see that we will benefit from a stable turnover or lack thereof."
Socioeconomic factors could also play a role in Smokey Mountain Elementary's consistently lower scores. The school is one of four in Jackson County — the others are the School of Alternatives, Blue Ridge Early College and Blue Ridge School — that provides free lunch for all students under the Community Eligibility Provision. During the last year the traditional free/reduced lunch program was used, 2015-16, 86.7 percent of Smokey Mountain Elementary students were eligible for free or reduced lunch, a figure on par with Blue Ridge Early College and Blue Ridge School and just half a percentage point lower than the Jackson County School of Alternatives.
To support students at that school, Elliott said, the school system has hired a math intervention specialist for Smokey Mountain Elementary School as well as an instructional coach who will work with schools across the district but be headquartered at Smokey Mountain Elementary.
Elliott also has ideas about how to counteract performance score losses at Fairview and Blue Ridge Early College.
"We need to increase the number of student intervention groups, and we also need to focus on being sure that our lesson plans are aligned with the state curriculum," she said. "That is what we are honing in on to improve and to constantly look at our performance."
Gains in graduation
In addition to school letter grades, the performance data includes other metrics as well, such as graduation rates. Jackson's rate increased to a robust 92 percent from 86.7 percent last year, with three of the four schools that graduate students holding a graduation rate north of 91 percent. That places Jackson in the top 10 percent of all North Carolina districts and third in the western region for graduation rate.
According to Elliott, increased graduation success at the Jackson County School of Alternatives is a big piece of that high rate.
"We had the highest number of graduates from the School of Alternatives this year than we have had in probably 10 years," she said. "I attribute that to all of our staff in each school working hand-in-hand with students and parents to ensure that students graduate. I also credit Smoky Mountain High School's freshman academy."
In 2016-17 and 2017-18, graduation numbers at the School of Alternatives were double what they were in 2015-16, when 24 students out of 107 enrolled high schoolers graduated. In 2016-17, 47 out of 132 students graduated and in 2017-18 48 out of 133 graduated.
David Dalton, bookkeeper and student data manager for the school, said that earlier intervention has greatly contributed to that success. The School of Alternatives is a school of choice — some students are referred there for behavioral reasons, but many others choose to go there because they need something other than what's available at a traditional high school if they are to graduate.
"Last year both Smoky Mountain High School and the School of Alternatives had drop-out numbers about eight or nine, no more than 10 or 11," said Dalton. "Three years ago we were over 30 and they were in the upper 20s. We didn't know some of these kids' names because they were gone before anybody could get a handle on it."
Better collaboration between the schools has helped the district to identify kids at risk of dropping out before they disappear, he said. And because the state now allows students to graduate with 22 credits instead of 28, the School of Alternatives can focus on getting kids caught up on core subjects rather than worrying about finding elective credits to bring them toward graduation.
"I'm very proud of this school system, and I don't always agree that we can measure students on one day in time," said Elliott. "I do want to say that there are a lot of great things going on in Jackson County Public Schools and we do try very hard to teach the whole child."
School performance scores in Jackson
School name 2016-17 scores 2017-18 scores Change
Blue Ridge Early College C (61) C (57) -4
Blue Ridge School C (61) C (62) +1
Cullowhee Valley Elementary C (61) C (65) +4
Fairview Elementary C (61) C (58) -3
Jackson County Early College A (90) A (94) +4
Scotts Creek Elementary C (59) C (60) +1
Smokey Mountain Elementary D (51) D (43) -8
Smoky Mountain High B (77) B (81) +4