Archived News
District Attorney under fire for 'mishandling' cases
Wednesday, September 26, 2018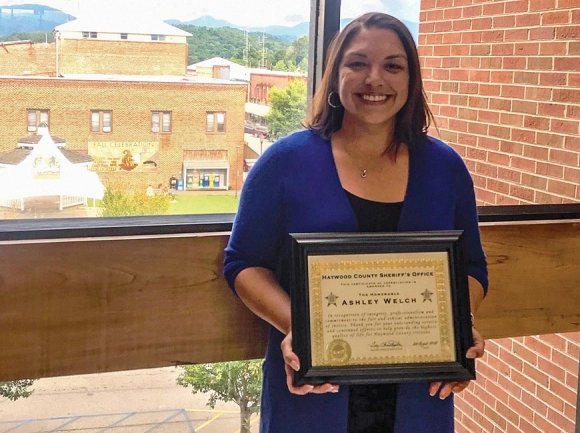 Amid criticism from some constituents, District Attorney Ashley Welch was presented with recognition from the Haywood County Sheriff's Office for her integrity and cooperation with law enforcement.
Jessi Stone photo
District Attorney Ashley Welch doesn't have an opponent in the 2018 election, but an online petition to remove her from office had 237 signatures as of Monday afternoon.
Though the young Republican prosecutor won her first term with 60 percent of the vote throughout the seven-county 30th Judicial District, she's recently been criticized for the way she's handled — or didn't handle — a couple of cases. Welch's morals and ethics have been called into question after a video surfaced exposing a romantic relationship she had with her former Assistant District Attorney Eric Bellas. Though Welch has denied that the relationship had any negative impact on her job performance, it hasn't stopped some constituents from claiming she's no longer fit for office.
Christopher Green of Franklin started the petition on Change.org two weeks ago, stating that Welch has failed to prosecute cases and is using political bias and gross misuse of power to affect the personal life of a political candidate.
"We the citizens of North Carolina judicial district 30 deserve a District Attorney who is just, fair and unbiased. In light of recent events Ashley H. Welch has shown to be none of these traits."
It continues, "The D.A. should be held to a higher moral conduct code than your everyday citizen given the nature of there (sic) job."
Welch openly admits that a case Bellas reviewed and chose not to prosecute was recently reopened after it was brought to her attention and she was able to review the case file for herself. The case involved a 2016 shooting incident between neighbors Joe Shaffer and James Smith in Graham County.
The two men apparently shot at each other and Shaffer, a retired Iraqi War veteran, nearly died from a gunshot wound to his eye.
No charges were filed against either man at the time of the incident, which Welch said was Bellas' call.
"I was given very specific information about what evidence in that case showed," Welch said. "I was also told law enforcement agreed there was not enough evidence to prosecute, but I've since learned that was not accurate. I've met with law enforcement and talked with the victims. I believe looking at it, it could be open to interpretation but not the way I saw it when I looked at the file."
But Welch probably had a clearer picture of the incident and Smith's background by the time she reviewed the case again in August because Smith had recently been charged with shooting his wife. The DA then filed attempted first-degree murder and deadly assault charges against Smith. While Shaffer has forgiven Welch and has said he's thankful justice is now being served, many people in the community are not willing to forgive.
"I was trying to do the right thing and I felt like I could make it right, and I was very honest about that and very open with the media," Welch said. "When you make a mistake you admit it and say I'm sorry, but I feel like I'm being punished for it."
But the issue is a bit more complicated than that because Welch had a romantic relationship with Bellas while he worked for her office. The relationship was recently made public by a regional crime blog Trappalachia.
Trappalchia reporter Davin Eldridge released a video showing Welch and Bellas hugging and kissing at a rest stop in Alamance County and also a clip of the two coming out of a hotel in Raleigh in February 2017. It's unknown who took the video footage but many regional media outlets — including The Smoky Mountain News — received the video at their offices in mid-January 2018. Welch confirmed that she also received the anonymous envelope at her office in Macon County.
The Smoky Mountain News interviewed Welch at the time about the video and questioned whether the relationship with Bellas broke any law or created a conflict of interest.
"My personal life is my personal life — I've done nothing illegal or unethical," she said at the time.
Welch's office falls under the jurisdiction of the N.C. Judicial Standards Commission, which has no policy concerning employee fraternization. Welch said she was not having a relationship with Bellas before she hired him in 2015 shortly after she was elected.
His high salary of $122,700 a year — only about $5,000 less than Welch's salary — was also questioned. Welch said that's what he was making before being hired at her office and she didn't choose to lower his pay because of his extensive experience as a prosecutor.
"He had worked for the 25th District as an ADA and is a very experienced trial lawyer — that's what the office needed at the time," she said.
Bellas was named Chief ADA over the five most western counties and handled serious cases including homicides, robberies and drug trafficking.
When asked why she and Bellas were spotted together in Raleigh and Alamance, Welch said they were visiting legislators and lobbying for state funding for two more prosecutors in the 30th Judicial District, which they were successful in securing.
Welch was newly divorced at the time the video was taken and Bellas marital status was unknown. With no evidence that the brief affair caused any favoritism or disruption in the prosecuting of cases, SMN ultimately decided the DA's personal life was not worth reporting.
Then the video was made public by other news outlets in August and constituents began questioning how cases were handled under Welch's watch. Bellas did review the Shaffer/Smith case and declined to prosecute, but Welch said that wasn't a special privilege — all her ADAs have the authority to review and make calls on cases. In a spread-out seven-county district, Welch said it's nearly impossible for her to review every case that comes to her office.
"I have to put 100 percent trust in my people. It's seven counties — I can't review every single case and I didn't have a reason to. I was misled in law enforcement's agreement on the evidence — I was not misled in the facts," Welch said.
Additionally, Welch said a call from Graham County Sheriff Danny Millsaps might have prevented the miscommunication between her office and law enforcement.
Millsaps has been vocal in the media about his disagreements with Welch, specifically her decision not to immediately prosecute a suspect in the murder case of Lora Orr.
"It's different in Graham County. Had this happened in any other county in the district the sheriff would have called me directly and let me know," Welch said. "It's frustrating but it is what it is. Luckily we can fix it and I'm grateful we can and that's what I tried to do."
In the Lora Orr case, it's been reported Welch had to also reopen this case because of Bellas' poor decision making, but that's not what happened. The case was never closed.
"The investigation had been ongoing — we didn't reopen it — we just got the investigative report and met with SBI and proceeded with indictments," Welch said. "That's pretty normal — it's been a while but it's not uncommon for the SBI report to take that long."
The Graham County woman was found shot to death in February. Less than 24 hours later, Welch said, Sheriff Millsaps wanted Bellas to charge Garrel Alva Orr with Lora's murder, but Welch said her office refused. She said Bellas disagreed with Millsaps on the timing of when charges should be filed — and she agreed with Bellas that charges should wait.
"It was the same night — the crime scene hadn't been processed yet," she said.
In hindsight, Welch would have reached out to the SBI sooner to expedite the investigation process, but she said "mishandled" is a strong word to use in this case. Garrel Alva Orr was still indicted in Lora's death.
Bellas is no longer working with the DA's office. His last day was June 11, but Welch would not comment on whether he resigned or was terminated from the position, saying it was a private personnel issue. The Cherokee Scout reported that Bellas' last day was the same day Maria De Los Angeles Brickman was acquitted of murder in Cherokee County — a case Bellas had prosecuted.
The ruling definitely wasn't what the DA's office was hoping for, but Welch said she didn't feel Bellas mishandled that case.
"I don't feel that case was mishandled. They had a self-defense argument. Obviously we didn't agree with her defense, but I don't have an inclination it wasn't handled properly," she said.
Welch said she has gone back and looked at every big case that Bellas handled to ensure everything was handled properly and she's found no other cases that need to be readdressed.
Welch promoted ADA John Hindsman to handle the heavy-hitting cases in the five most western counties — though he won't hold the title of Chief ADA. Welch said she'd learned her lesson when it comes to handing out that title because it has led to confusion about who is truly in charge.
"At the end of the day, I'm the DA and I'm the one that makes the decisions. I don't take away titles so Jeff Jones is still my chief ADA in Haywood and Jackson, but I'm not naming another chief," she said.
Welch also recently hired a new ADA since Hindsman was promoted — Caleb Decker was recently sworn in. He has 15 years of experience as a defense lawyer.
Despite the critics calling for her removal, Welch maintains she and her staff have done a lot of good for the district in the last four years and will continue to do so during her second term in office. She said her goals would continue to be prosecuting violent offenders and those who prey upon children.
As the district continues to battle the opioid epidemic and overcrowded jails, Welch said she is excited and hopeful about new programs rolling out in Haywood, especially the LEAD jail diversion program and a new pretrial release program being implemented next year that will hopefully relieve the jail capacity and the overloaded court dockets.
"You don't expect people to get better if they're suffering from drug addiction by throwing them in jail," she said. "What's great about Haywood is we're seeing these resources in the community coming together."
As a DA, she knows criticism comes with the job. With complaints that she is over charging and complaints she offers too many plea deals, Welch says she evaluates every case individually to make the right call.
"We're definitely trying more cases — when you see a Superior Court session you'll see we're trying like crazy. Numbers are going up and that's the nature of the beast, but we only have so much time in the day," she said. "Some numbers are increasing and I attribute it to us being aggressive on particular crimes and not pleading down things we shouldn't, but also you can't run a system without plea deals."