Archived News
Waynesville mayor takes plea deal in forgery case
Wednesday, September 26, 2018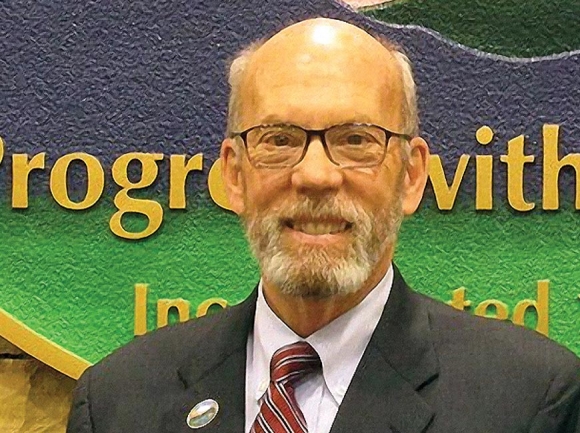 Gavin Brown will serve 24 months of supervised probation.
Town of Waynesville photo
Waynesville attorney Gavin Brown pled guilty Sept. 18 to two felony counts stemming from an incident in which he forged a notary's signature and seal on a deed in 2016. The charges were unrelated to his service as Waynesville's mayor.
Brown's attorney, his nephew David Brown, told the court that his client had accepted full responsibility since being indicted in January.
"Since we first met on this case, he's been nothing but forthright with what's happened," David Brown said. "He has admitted to me from the very beginning that he made a mistake. It was a dumb mistake and he wishes he could take it back. He's not denied it at any step of the way to anyone involved."
But Gavin Brown wanted to be clear that it wasn't simply a mistake in the sense of being an error or an omission.
"I want the court to fully understand, I made a conscious decision to do something that was wrong, so I ask you no leeway in that respect," Brown said. "It was stupid and wrong and I accept the consequences for that."
Background
According to statements presented in court by Assistant District Attorney Jeff Jones, Brown, an attorney licensed in North Carolina since 1972, had among his clients for decades James Patrick Bennett, owner of a real estate development firm.
The business, said Jones, has been winding down as the principals are retiring. Each year, for tax purposes, company assets in the form of real property are conveyed out of the company to the principals individually; Brown would assist Bennett with those transfers.
"He would do this on a yearly basis for tax reasons," said Jones. "Mr. Brown and Mr. Bennett had an understanding that for these intercompany transfers, Mr. Brown had a signed signature page of a deed, and he would put the appropriate parties and the property description when necessary and then would take care of the deed."
In 1998, Bennett sold a piece of property to Kathleen Curl. Brown prepared the deed, but it had an error in the description, which went unnoticed for almost two decades; in 2016, Curl tried to sell the property, but the buyer's attorney, Michael Jordan, noticed that the description was incorrect during the title search. Jordan contacted Brown, who was to prepare a corrected deed.
That deed was dated March 23, 2016, from Bennett to Curl. Using one of those previously signed pages, Brown presented the deed to Jordan.
Jordan's legal assistant saw that it wasn't notarized, and contacted Brown's legal assistant Kendra Smathers, who is also a licensed notary public. Smathers was not in the office, and did not get the voicemail until the next day.
Brown did, however, and brought the deed back bearing a notary stamp and the signature of Smathers. The next day, Smathers listened to her voicemail, and when the deed became available online, she saw that it was not her signature on it.
Smathers then made a report to the North Carolina State Bar.
Additionally, Jordan happened to see Bennett at the gym, and thanked him for issuing the corrected deed. Bennett had no idea what he was talking about.
On Oct. 16, 2017, the N.C. State Bar Association filed a complaint against Brown; a few weeks later, he filed his response, admitting almost everything. In early January, Brown was indicted by a Grand Jury.
Proceedings
During Brown's hearing, Jones acknowledged that Brown's service as Waynesville's mayor had sparked increased interest in the case, despite the charges being unrelated to those duties. Similar rumors arose regarding Brown's Democratic Party affiliation, and District Attorney Ashley Welch's Republican status.
"After speaking with District Attorney Welch, the only way to handle this case was to treat Mr. Brown as we would anybody else," he said. "There's been a lot of attention on this case due to the fact that he's the mayor of Waynesville, but these crimes have nothing to do with him being mayor. These occurred as a private lawyer."
Jones said he'd subpoenaed both of the victims in the case, Smathers and Bennett.
Bennett said he'd probably not attend the hearing and if he did, it would be in support of Brown. Smathers likewise said she'd not appear, and did not wish to see Brown prosecuted.
After speaking with the victims in the case and based on Brown's clean record, Jones asked Judge Marvin Pope to accept the plea agreement.
Brown's attorney David Brown then asked the judge to do the same.
"He is the mayor of Waynesville, he's winding down his law practice and now enjoys being the mayor. He's got a strong support unit here in Waynesville. I think a few of the Browns are here in the audience," he said, nodding to a small crowd of friends, family and even fellow city officials — like Waynesville Mayor Pro Tem Gary Caldwell, Alderman LeRoy Roberson and Town Attorney Bill Cannon — who showed up to support Brown.
Roberson told the judge how the city had flourished under Brown's leadership.
"I've served with him for around for 11 years now, and found him to be very beneficial, very helpful and a good leader for the town. Waynesville has grown under his counsel in many ways," he said. "He's been not just a good mayor, but a very good mayor."
Finally, Brown himself addressed the court.
"I would like to thank the District Attorney's Office for allowing me to enter this plea, and I would like to thank your Honor for allowing me to enter the plea before you," he said. "I accept whatever punishment the court gives me in this matter, and I would like to thank my friends and family for supporting me. Most of all I'd like to thank my wife for standing by me. Hopefully, your Honor, this will be a chapter in my life that I can turn the corner on, and at some point in time, at my funeral, I hope people will say, 'That Gavin Brown, he was OK.'"
Given that Brown, 71, has no criminal record, did not benefit financially from the crime and is unlikely to reoffend, he was offered in a plea deal what's known as a conditional discharge.
Without entering a judgment of guilt, Pope ordered that further proceedings be deferred and placed Brown on supervised probation for a period of 24 months. He'll also perform 50 hours of community service within 180 days. If that goes well, not only will Brown not face prison — he could have seen a sentence of up to 17 months on the two counts — that judgment won't be entered, and Brown could even petition to have the entire matter expunged from his record.
Per article VI of the North Carolina Constitution, "any person who has been adjudged guilty of treason or any other felony against this State" is disqualified from office. However, as Brown hasn't technically been convicted, he doesn't have to resign, and he could run again when his term expires in 2019, if so inclined.
Brown's cooperation with both the bar association and the district attorney's office left few unanswered questions as to the facts of the case; on Sept. 20, he answered the last two.
"Why I did it, or why my admission? The Greek word 'hubris' probably answers both," he said.