Archived News
Workforce housing coming to Sylva
Wednesday, September 26, 2018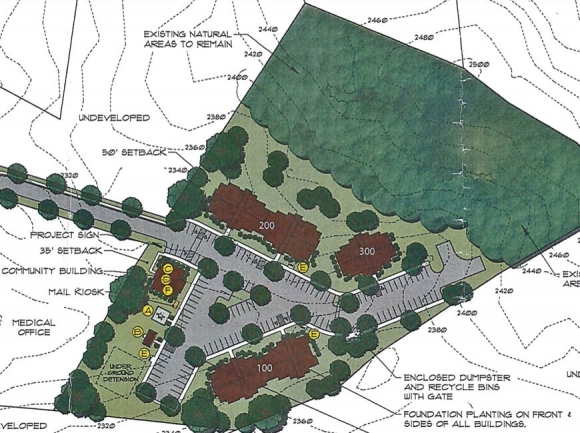 The planned workforce housing complex would have 60 apartments housed 
in three buildings, in addition to a community clubhouse. Donated graphic
Work will begin next year on a new apartment complex in Sylva aimed at providing housing rates affordable to working-class people.
The Village Overlook Apartments, to be built on an 8.1-acre tract across from Harris Regional Hospital and behind the property that used to house Nick and Nate's Pizza and Smoky Mountain Obstetrics and Gynecology, will include 60 units of varying size and is set to open for leasing in the late winter or early spring of 2020.
"We are excited to get to become a part of the Sylva community and provide such needed affordable housing," said Karen Perry, owner of the developer KRP Investments, based in Clemmons.
The development has been a long time coming, with Perry first approaching the Sylva Town Board in April 2016 with plans to open the complex by March 2018.
However, the plan was dependent on low-income tax credits being awarded from the N.C. Housing Finance Agency, and for two years in a row Perry applied for funding but was denied. However, when the NCHFA announced awards in August, the Village Overlook Apartments project was on the list. KRP will sell those tax credits to a bank, decreasing its debt on the building and therefore making lower rent rates possible.
"It's a competitive application process," Perry said when asked what contributed to the application's success this time around. "The difference is simply the other properties competing, and this year's Qualified Allocation Plan included a bonus point that each developer could assign to one applicant of their choice. That extra point could have been a contributing factor to receiving the award this year."
The development is expected to cost $8.5 million to build, with plans calling for 60 units with one, two or three bedrooms contained in three three-story buildings. The complex would also feature a clubhouse with an exercise room, laundry room, computer room and multi-purpose room where a variety of classes and community events could be held.
About 76 percent of the construction costs will come from equity derived from the awarded tax credits. In addition, 11 percent of the cost will come from a Rural Development Section 538 Permanent Loan, 11 percent from the N.C. Workforce Housing Loan Program and 2 percent from deferred developer fees.
Rents will be set based on the resident's income and area median income data, with some apartments open to people making at or below 40 percent of the area median income and others open to those making 60 percent or less. However, the income thresholds will come into play only when someone is applying to live there — residents will be allowed to stay in their homes should their incomes rise above the threshold after move-in.
Affordable housing is a rare commodity in Sylva, and town leaders have been in staunch support of the plan since Perry first floated it in 2016.
"I think this will be great for Sylva," said Commissioner David Nestler when the board discussed the plan in March. "If you're below that income threshold, there's a shortage of quality housing in this town, so I think this is a great solution."