Archived Arts & Entertainment
This must be the place: I couldn't tell where heaven stopped 
and the earth began
Wednesday, September 26, 2018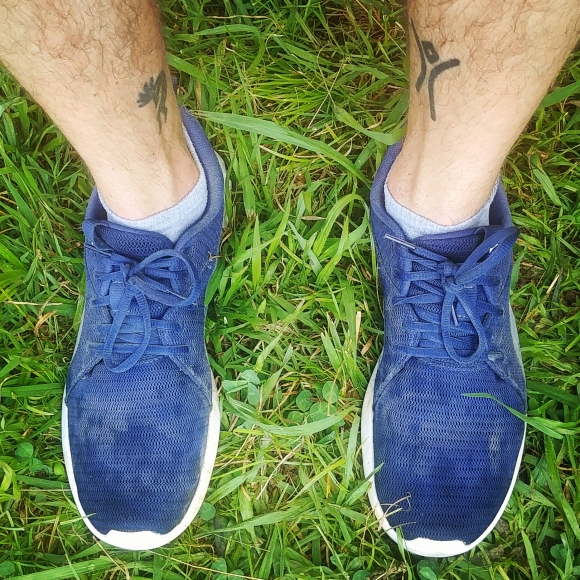 It will mark 1,000 days straight.
This past Tuesday, I will have gone for a run 1,000 days in-a-row. "The Streak," as it is known to myself and close friends/family, has overtaken my subconscious for the better part of the last three years. Not in bad way, more so as that one thing I do, and look forward to doing, each day, even if it's a whirlwind in finding the time and place to lace up my shoes and head out the door.
"The Streak" wasn't planned. It happened by chance. Just before New Year's Eve 2015, I found myself in New York City, spending the days leading up to the ball drop in Times Square at an apartment in Brooklyn, staying with my best buddy from college and his fiancé. Prior to "The Streak," I would run one day, then do something else the next day (hiking, mountain biking, weightlifting), only to run again the following day (one day on, one day off).
But, while in Brooklyn, far from mountains and without a bike, I figured the only way I would be able to get a workout in the whole time I was there was to just run every day. Day One was Dec. 31, 2015, which was a 6-mile run from Franklin Street in Greenpoint to Flushing Avenue and back. Day Three was a memorable trek, a 6.5-mile run from Franklin Street in Greenpoint over the Brooklyn Bridge to the Financial District in Manhattan, where I stopped and looked up at the Freedom Tower in awe and remembrance before ducking down into the subway back to Brooklyn.
Once I returned to Western North Carolina, my legs were feeling pretty good, so I kept running. Jan. 9, 2016: "Three-mile trail run up and down Midnight Hole trail in Big Creek in the Great Smoky Mountains National Park. Late afternoon. Got dark and slight drizzle up the trail. Threw some fresh mountain water on my face at the waterfall. Muddy. Alone. Silence. River flowing. Mud puddles and breathing. Zen. Dreamlike."
Somewhere around the second week in "The Streak," I figured, "Well, I'll run every day until my birthday," which is Feb. 5. Once that date rolled around, I figured why not run 100 days in-a-row? Even as a lifelong runner, and someone who ran competitively for a D-1 college, I was now entering unknown territory, wondering if it could all lead to getting burned out, or worse — an injury. To curb that possibility, I would somewhat try to run up and down in mileage as the days went along: 1, 2, 3, 4, 3, 2, 1.
But, as "The Streak" went along, I didn't go crazy, rather it was the contrary. I found a new level of a "Zen zone," where running has, and will forever remain, my escape from daily distractions and reactions. It is just me and my breathing in sync with my feet hitting the ground.
Yes, there were rough days where I had very little time and/or still hadn't figured out a place to go for a run, mostly days I was traveling, which are numerous. On a road trip to Texas in January 2017, I found myself in rural Arkansas without having gone for a run yet. So, I found a random Walmart parking lot to camp out in the back of my truck for the evening, and threw on my running shoes somewhere around 10 p.m. (have to get the run in before midnight to count) to go for a jog down a desolate road, a thunderstorm quickly approaching from the west. There were always obstacles like that. But, like anything in life, if you really want to do it or achieve it, you will.
And yet, when I think of all of those 1,000 days within "The Streak," what immediately comes to mind are all of those incredible sunrises and sunsets, whether it be on the warm sandy beaches of the Gulf Coast or in 20-below-zero weather during Christmas back home in my native North Country of Upstate New York.
It was also all of those quiet moments of solitude running down dirt trails in the backwoods of Vermont, Tennessee, Maine, Alabama, Florida, etc. It was those days I really didn't feel good or was sick, but still mustered up the energy to head out where the rubber meets the road, or the days I couldn't wait to go for a run, out of excitement for whatever was going on in my life on a particular day, my mindset full and ready to put my legs into overdrive.
But, mainly, all of those runs during (and before) "The Streak" were a way for me to clear my mind, to cleanse my soul, and find balance in my thoughts and emotions. Running will always be my outlet for clarity amid the chaos of the cosmos.
With each stride, I thought of people I missed, some still alive, others not. Runs before my aunt and uncle's funerals where I gave a eulogy at both. Runs in the weeks following a breakup where I felt as lost as I was lonely. And runs where I would try to figuratively find my way out of the fog in my mind, once again finding footing and a sense of self only found in the depths of a sweaty, glorious jog down the road.
Life is beautiful, grasp for it, y'all.
Hot picks
1. Western Carolina University's Mountain Heritage Day, a festival celebrating Southern Appalachian culture through concerts, living-history demonstrations and competitions, will be held from 10 a.m. to 5 p.m. Saturday, Sept. 29, on the campus in Cullowhee.
2. Swing/rock act The Squirrel Nut Zippers will perform at 7:30 p.m. Saturday, Sept. 28, at the Smoky Mountain Center for the Performing Arts in Franklin.
3. The Women of Waynesville invites the public to come celebrate the release of its 2019 charity calendar from 6 to 9 p.m. Saturday, Sept. 29, at Frog Level Brewing in Waynesville.
4. The annual fundraiser for the Jackson County Genealogical Society's Annual Fundraiser, the "Rebel Cruise-In" will take place from 2 to 4 p.m. Sunday, Sept. 30, at Mark Watson Park in Sylva.
5. The "Art After Dark" season will continue from 6 to 9 p.m. Friday, Oct. 5, in downtown Waynesville.