Archived Arts & Entertainment
In my life, I've loved them all
Wednesday, September 19, 2018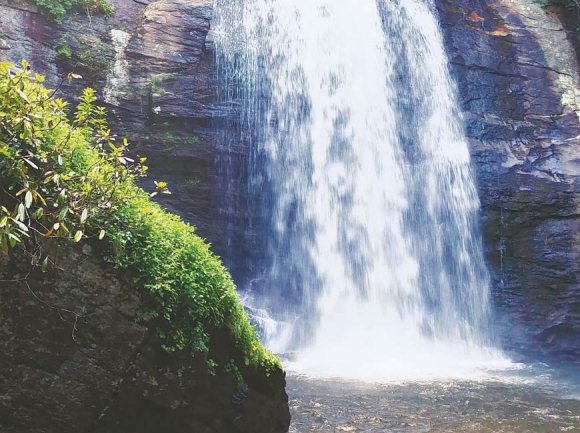 Looking Glass Falls. Garret K. Woodward photo
With the massive rainfall from Tropical Storm Florence on Sunday, my truck carefully navigated its way through deep puddles and down slick backroads, the windshield wipers barely able to keep up.
The church was just off the Great Smoky Mountains Expressway, tucked above Barber Orchards in Balsam. It's had been awhile since I stepped foot in a church. Raised in a Catholic family, I'd go to church sometimes twice a week (Thursday for school, Sunday for family). Though a deeply spiritual person, I hadn't crossed the threshold of a house of worship in some time.
But, there I was, scanning the large congregation room and seeing so many beloved faces in my existence. We were all there to pay respects to our dear friend's late mother, Debbi, a face which held a smile, a body which held a soul, that will never be replaced.
When I moved to the mountains of Western North Carolina in 2012, I came here alone, where my closest family members or things familiar to me were over 1,100 miles away. My brother-from-another, Joey Fortner, and his incredible wife, Meghan, were two of the first people I met. We've been thick as thieves ever since, people I've turned to and said on occasion, "You know, we're supposed to be friends." And I mean that.
Joey and Meghan's friendship led to meeting his mother, Debbi, and her husband, Terry, folks who have always made me feel welcomed and loved since day one. And I think of all these Southern Appalachian families who have taken in this Yankee stray dog over the years, I'm talking The Fortners, The Waldrops, The McLeods, The Wagners, The Rowlands, The Allens, and so on.
These people aren't blood related, but I'll be damned if they weren't, you know? The love and kindness showed by these people is something I'll never be able to repay, but I'll forever spend my days reciprocating the sincere feeling and emotion of those gestures, whether physical or emotional.
Sitting in the memorial service, I was able to keep it together through the incredibly poignant eulogy, and through the tributes. But, right at the end, Debbi had requested that the immortal song "In My Life" by The Beatles (her favorite band and melodic philosophical directional marker) be played over the speakers. I could feel goosebumps on my arms, the hair raising on the back of my neck, and a few teardrops filling my field-of-vision.
I'm an incredibly sentimental person, something that's been part of my DNA and character since I was a kid. Maybe it's because I'm "my mother's son," and how sentimental she is about family, friends, perhaps stranger soon-to-become fast friends over a jovial conversation. Maybe I'm just an old soul, a vessel by which I'll always have room to carry the hopes, dreams and fears of others around me I care about. Who knows? I just will always wear my heart on my sleeve, no matter the outcome.
Though "In My Life" is only two minutes and 26 seconds long, it felt like it went on for much longer than that. As the song echoed throughout the church, a flood of images filled my thoughts. It was the faces of my deceased grandparents, memories of my childhood spent on a lake I used to call home, former lovers who I think of once-in-a-while and wonder how they're doing, and if things turned out the way they had hoped: "There are places I'll remember / All my life, though some have changed / Some forever, not for better / Some have gone and some remain / All these places have their moments / With lovers and friends I still can recall / Some are dead and some are living / In my life, I've loved them all…"
This past summer has been one of reflection and contemplation for me. I've been dealing with "what was," "what is," and "what will be," sentiments and realities that can sometimes be hard to accept, especially with a mind that never ceases to stop pondering and wondering in thought.
And when "In My Life" concluded, there was a momentary silence — a hauntingly, beautiful quiet — right before folks got up and walked out the door, back into the pouring rain, back into their daily lives.
Following the memorial service, a group of us who attended, fully dressed in our Sunday's best, slid into a booth at a nearby sports bar, for some wings, beer and football — something light, comfortable and familiar to offset the heaviness of the day. And we sat there, laughing, smiling, making a cheers to Debbi, and also saluting each other, faces I'm so damn proud of, more so proud to call friends, more so to call family, if you really want to get down to it.
No matter what happens in your life, the true measurement of a life well-lived is by the company you keep, and by the legacy you leave behind. And Debbi had a life well-lived. I looked around that booth with one thought in mind: "Damn, I'm a lucky man."
Life is beautiful, grasp for it, y'all.
Hot picks
1 Writer/poet Thomas Rain Crowe will present his book Starting From San Francisco at 6:30 p.m. Friday. Sept. 21, at City Lights Bookstore in Sylva.
2 Iconic bluegrass act The Seldom Scene will perform on Sunday, Sept. 23, at Cataloochee Ranch in Maggie Valley.
3 Boojum Brewing Company (Waynesville) will Grayson Jenkins & The Resolutions (Americana/ alt-country) at 9 p.m. Friday, Sept. 21.
4 A county fair style festival, the Swain County Agricultural Fair will be held from 10 a.m. to 8 p.m. Saturday, Sept. 22, at the Swain County Event Park in Bryson City.
5 Lazy Hiker Brewing (Franklin) will host Formula 5 (jam/rock) 9 p.m. Saturday, Sept. 21.