Archived Opinion
Acknowledging differences and embracing brotherhood
Wednesday, September 19, 2018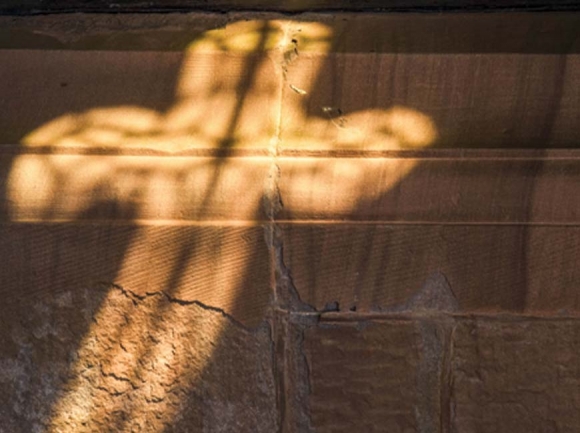 For many years, I thought of myself as one of Flannery O'Connor's "Christ-haunted" characters, living my life in a kind of perpetual spiritual limbo, unable to turn my back on religion altogether, equally unable to fully embrace it. I sometimes felt that Christ was chasing me back to church, and Christians were chasing me right back out of it.
When I met my wife, she informed me that it was important to her that we find a church, because she wanted our children to know Jesus as something other than a mysterious bedtime deity who would take their souls if they died in their sleep.
Before she came along, my idea of church" was listening to John Coltrane's "A Love Supreme" — or maybe Aretha Franklin or Doc Watson singing hymns — on Sunday morning, while reading a chapter or two out of the Gospels of Matthew or Luke, or a couple of the Psalms. Many weeks, I would just skip the scripture and read the Washington Post with my coffee and my Coltrane. God would surely understand, wouldn't He?
I agreed to participate in our quest to find the right church in good faith, so to speak, but I would abide no "cult of personality" churches in which the congregation seemed to worship the pastor as much or more than God, nor any church that felt more angry, fearful, or hateful, than loving and inclusive. Let me tell you, I was pretty self-righteous about it all, unaware that I had been using this criteria for years as an excuse to remain in limbo, to avoid a reckoning.
We tried — and ultimately rejected — at least half a dozen churches all over Haywood and Buncombe counties over the course of a year and a half before finding one that was almost literally in our backyard, right in the center of town. There, we found not only an exceptional children's program — a must for our two young children — but also a church that was truly inclusive. I still could not even call myself a Christian, and I had serious problems with various parts of the Bible, especially in the Old Testament and some of Paul's letters.
For several years, we attended this church and I felt mostly like an imposter, an insurgent, still in limbo, still unable to turn toward or away from God. Then, Tammy and I were talked into trying a Disciple class, 32 weeks of intensive study of the Bible. We would meet every Wednesday night from 6 pm until nearly 9 pm, discussing the chapters we had read for that week.
That is where I first met Mark Hopkins. There were about a dozen of us in the group initially, and it became apparent fairly quickly that the majority of people in the group were what you might call liberal, or "progressive," with views that eventually, inevitably became apparent in our interpretation of various portions of the scripture. After the first couple of meetings, we lost three members of the group, who very politely indicated that the general "direction" of the group wasn't to their taste. I was just relieved to be among people who did not think me a heretic for some of my views, which I let trickle out only in very small doses.
There were two things I found out about Mark fairly quickly. One, he was a huge baseball fan, specifically a fan of the Atlanta Braves. He almost always showed up on Wednesday nights wearing his well-worn Braves baseball cap. Two, he was most certainly not a liberal, not politically, and not in his interpretation of the Bible. There were many occasions when I could sense him squirming, trying valiantly to keep his composure when one of his deeply held beliefs was being challenged unwittingly by one of our group members. Sometimes he would speak his mind, pushing back just a bit, but always with respect and humility. Other times, he would keep his words in his mouth and just chew on them, shaking his head at the craziness being espoused around the table.
Some nights, after a particularly intense session, we would just talk baseball, a respite for us both. Would the Braves' pitching ever get back to the glory days of the 1990s? Would the Dodgers — my team — ever trade for a right-handed bat for the middle of their lineup? Mark and I could have talked baseball for days.
At the end of our 32 weeks together, whatever differences any of us in the group might have had at one time had given way to a bond that could not be explained and did not have to be. We had become a family. One Wednesday, after I had written a column in the newspaper attacking the theory of trickle-down economics, Mark sent me a message on Facebook that read: "We may not agree on politics, but we will always be brothers in Christ."
Not very long after our adventure in that Disciple group came to an end, Mark entered a period of serious decline in his health. Eventually, it became difficult for him to walk, or even to talk above a whisper. I would see him line for communion, hunched over, painfully inching along on his walker. It was heartbreaking. We still took every chance we could get to talk baseball, or to share the blessings in our lives.
When Mark passed away on Sunday, I thought back to those days when Tammy and I would sit and talk about the kind of church we wanted to find, an authentic community, a place where love prevails. Mark and I didn't agree about much — we didn't even like the same baseball team — but like he said, we were brothers in Christ. We were family.
If the Braves make the World Series this fall, I hope Mark has a seat behind the dugout down the third-base line. Rest easy, brother, and God bless.
(Chris Cox is a writer, teacher, father and husband who lives in Haywood County. This email address is being protected from spambots. You need JavaScript enabled to view it..)