Archived News
Allegations of fraud, failure haunt Ghost Town developer
Wednesday, September 19, 2018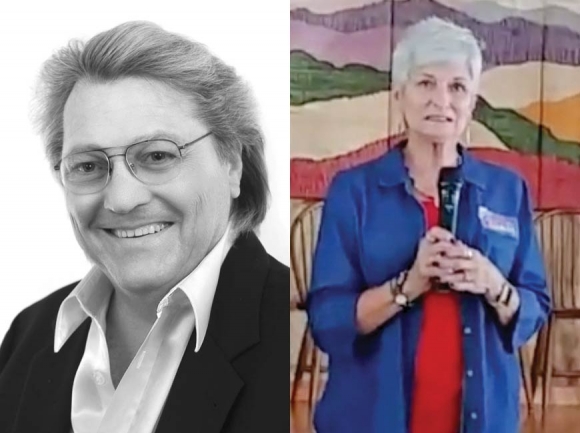 An undated photo of Lamar Berry appears on the website of his company, International Marketing Systems. Valerie Oberle (right) appears at a meeting of the Maggie Valley Civic Association Sept. 4. Facebook live video
For months, Valerie Oberle has been the public face of the three-person partnership supposedly taking shape at the long-shuttered Ghost Town amusement park in Maggie Valley. Along with husband Spencer, Oberle's had a frustrating summer marked by unmet promises and modest progress.
She's also repeatedly declined media interview requests and two weeks ago engaged in a rant at a Maggie Valley Civic Association event that resulted in her demanding the cessation of a live webcast. Recent revelations surrounding Oberle's low-profile third partner, a man named Lamar Berry, may shed some light on why.
After receiving not one but two anonymous letters in the mail last week, The Smoky Mountain News commenced an investigation into Berry's professional background utilizing freely available public records.
A current bio on the website of his company, International Marketing Systems, says he has "nearly four decades of senior management experience in marketing, advertising and the development of corporate cultures," including service as the chief marketing officer for the popular Popeye's fast food chain in the 1970s and 80s.
But it wasn't all about fried chicken and biscuits for Berry, who in 2005 was called upon to help start a new chain. Utilizing the likeness of the titular "Blondie" comic strip character's hen-pecked husband — known for his disdain of work, love of naps and ravenous appetite for enormous sandwiches — Dagwood's Sandwich Shoppe was created in conjunction with Dean Young, the son of strip creator Chic Young.
Dagwood's quickly began selling franchise territories to "market partners" and by late 2007 had grand plans for more than 1,300 units at up to $340,000 each.
A lawsuit filed in March 2008 alleged Berry and several others engaged in "repeated, naked and intentional fraud." Per a May 2008 story in Franchise Times, "Dagwood's Sandwich Shoppe founders are accused of going through the motions of franchising before filing for bankruptcy protection in April [2008]."
Berry said that suit was tossed, and that Dagwood's was instead a casualty of the Great Recession.
"We had built the company up to where we had a number of territory developers, and we were really geared and ready to roll and had the infrastructure built, and lo and behold the global economy torpedoed," he said. "Ultimately, I left the company and then about a year later the folks that were trying to sustain the company, they finally went out of business."
Another suit was filed in Indiana in 2010. That suit, No Baloney Marketing, LLC vs. Ryan et al, names Berry as one of six defendants and alleges among other things that Dagwood's was a sham from the very beginning.
"At the initial Clearwater, Florida, meeting, Plaintiffs raised specific questions about the financial condition of [Dagwood's]. In response, Hartford, Brown and Berry repeatedly assured Plaintiffs that the enterprise was financially sound," reads the suit. "According to the Complaint, at the time of these representations [Dagwood's] was insolvent. Plaintiffs allege that, had they been informed fully about the problems associated with the Bloomington Dagwood's and DSS's financing, they never would have proceeded toward entering into an agreement with Defendants."
Peter J. Tamulonis is both a named plaintiff in that case and the son of the lead plaintiff, Peter G. Tamulonis, who passed away last year. The younger Tamulonis said by phone Sept. 14 that although his father was an attorney, the family's dream was to get out of the corporate world.
"This was gonna be the family businesses," said Tamulonis, who with other family members negotiated the rights to a substantial territory focusing on Central Indiana.
"We bought the rights to 33 stores," he said. "Fortunately, Dagwood's fell apart financially very quickly before we were able to secure a small business loan."
That saved Tamulonis' family from suffering complete financial ruin; he said his suit against Berry and the others was settled in arbitration, but that he couldn't disclose the terms.
"When you think about the legal position for what we were saying, we were able to prove we were lied to and misled," he said.
Berry disputes that and believes Tamulonis may be referring to a bankruptcy suit that came later.
"No, that's not what's occurred on the record. We only had two lawsuits," said Berry. "There was one lawsuit that accused fraud, but that one was in Tampa and the judge summarily dismissed that. He said it was a frivolous lawsuit and threw it out. And then the other lawsuit was related to the bankruptcy, and that was settled out of court."
Tamulonis said in regard to his suit that many were culpable, "but at the end of the day Dean Young picked [Berry's] company to launch the franchise. He was the guy in charge."
Peter's brother Nathan Tamulonis, also a plaintiff in the suit, said he didn't have much involvement with the specifics of the situation, but remembers being disappointed with the outcome.
"I was fairly young at the time, maybe 19," he said, adding that he decided to forego an education at Flagler College in St. Augustine, Florida, to stay home and help run a family business that ultimately never materialized.
Around the same time that lawsuit was working its way through the courts, Berry became involved in another project meant to revive a formerly vibrant economic engine that, like Ghost Town, had since fallen on hard times.
Hurricane Rita devastated parts of the Gulf Coast in 2005, including the southwestern Louisiana city of Lake Charles; photos from CBS News taken shortly after the storm show Harrah's Lake Charles Hotel and Casino inundated with 6 to 8 feet of water.
Once the casino closed, another company called Pinnacle Entertainment bought the gaming licenses and then donated the 50-some acres of land to the city.
The Dagwood's lawsuits again popped up when Berry, part of a group called Lake Charles Mardi Gras Boardwalk LLC, proposed in 2010 a $30 million mixed retail/entertainment waterfront redevelopment modeled on successful examples in Baltimore, Chicago and Savannah.
A 22-page document found on the internet but not available on Berry's website shows LCMGB called the proposed Lake Charles Mardi Gras Boardwalk "the ultimate entertainment experience for the I-10 corridor."
The document speculates on the types of tenants desired for the development, including well-known national franchise brands like Jimmy Buffett's Margaritaville, Auntie Annie's Pretzels and Dickie Brennan's Steakhouse. It also boasts of "the Disney success formula," and includes a photo of Valerie Oberle.
Public records show that in October 2010, the Lake Charles City Council authorized the mayor to negotiate an option to lease a portion of the Pinnacle property to LCMGB, contingent on city council's approval of suitability, as well as the qualifications of the developer and design team, the construction and operational timeline and the site layout.
That ordinance also called upon Lake Charles' mayor, in consultation with the Downtown Development Authority, to review those submissions and present a report to the Lake Charles City Council.
In February 2011, the DDA issued its report. According to the information provided by the City of Lake Charles, the DDA found that "The Lake Charles Mardi Gras Boardwalk proposal is not sufficiently developed to warrant the City's entering in to a long term lease agreement as requested."
Discussions continued between the two groups; a special tax district was proposed and an acoustical study was authorized by the city, but after what the city called "a lengthy process of back and forth development discussions and many deadline extensions spanning several years," the Lake Charles City Council in 2014 ultimately decided to open the property back up to proposals from other developers.
That land remains vacant today, a testament to the volatile nature of development schemes and, to some extent, the ability of Berry's group to pull together the resources to make it happen.
"We pursued trying to do an entertainment development and we had looked at a number of areas around the country to try to do one," Berry said. "Ultimately, we just decided not to pursue it in Lake Charles."
An October 2016 report by KPLC-TV says the boardwalk project never bore fruit "because those behind it say they never could get the financing to pull it all together."
Berry and the Oberles first announced their intention to purchase Ghost Town from current park owner Alaska Presley earlier this summer. At a July 3 Maggie Valley Chamber of Commerce breakfast event, Oberle said they expected to close on the property at any moment, once a final investor's involvement had been secured.
To date, no land transaction has been recorded, no rides have been certified to operate and the fall opening she'd promised won't happen either.
When informed of Berry's involvement in a group of investors trying to revive Maggie Valley's Ghost Town amusement park, plaintiff in the Indiana lawsuit Peter J. Tamulonis remained circumspect, nearly eight years later.
"I would do everything possible to let people know to investigate this guy and be very leery," he said. "I would say I had a horrible experience and you should investigate this guy. I would be very concerned about letting him touch my money or any of my loved ones' money."
Berry, however, insists this time will be different.
"Lake Charles was a concept we were thinking of pursuing. Dagwood's was on its way to being a success and it got hit full-bore by global recession," he said. "I'm confident that this is different because of the nature of all of the pieces that are coming together."