Archived News
Cherokee from the heart: Beloved Woman reflects on a wandering life rooted in Cherokee language
Wednesday, September 19, 2018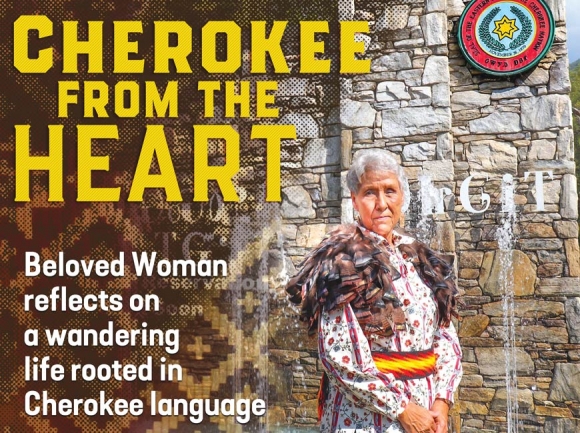 If anyone ever had an excuse to leave her hometown and never return, it would be Myrtle Driver Johnson.
Born May 21, 1944, to a mother who didn't want her, Johnson had a hard upbringing in the Big Cove community of the Qualla Boundary. While her younger siblings — one brother and four sisters — lived with her mother and their father, Johnson, who never knew which of two men her father was, was sent to live with her grandparents.
While Johnson was still a child, her grandmother grew too sick to care for her. Johnson was sent away to a boarding school east of Asheville — an all-white boarding school, since her mother had never gotten her enrolled as a tribal member eligible to attend schools for Indian children — and when she was 12, her grandmother died. Her grandfather remarried, abandoning the house and also Johnson, who still needed somewhere to stay during school breaks and holidays.
Myrtle Driver Johnson sits outside the Cherokee immersion school New Kituwah Academy, where she has volunteered as a translator since its inception. Holly Kays photo
The girl found herself adrift, dependent on the compassion of friends and neighbors who offered to take her in. She remembers living in about four or five different homes, total.
"There were times that I had no home," she said. "I had nowhere to go. It was oftentimes I slept in the house my grandparents owned. Of course it was abandoned at the time."
It wasn't a happy childhood, and the hardships took their toll.
"It made me meaner than hell," Johnson said of those early years. "It was a lot, but it made me strong."
Itchy feet
Decades later, the strength is apparent. Now 74, Johnson is a pillar of the Cherokee community, one of only three living people to hold the title of Cherokee Beloved Woman and a tireless advocate for preservation of the Cherokee language. It's the place she's found herself, but it's certainly not the place she started from.
With more than 60 years in the rearview mirror, Johnson now says that boarding school was "the best thing that ever happened to me," doubting that the transient nature of her life at home would have allowed her to finish school otherwise. But she did finish, and when her stepfather got her officially enrolled as a member of the Eastern Band of Cherokee Indians she was able to attend high school at Haskell Institute in Lawrence, Kansas, riding a bus with other Cherokee kids from North Carolina out to Oklahoma and from there to the final destination in Kansas.
Haskell began in 1884 as an agricultural education school for American Indian children in grades one through five, evolving over the years into a high school, then a combination high school and vocational/technical institution and then finally to what it is today — Haskell Indian Nations University, enrolling more than 1,000 students each semester from federally recognized tribes across the country in its junior college programs.
"That was a good school, a really good school, especially in business or secretarial, business administration," Johnson said. "Anybody that went to school at Haskell at that time, you were almost guaranteed a job."
Johnson met her husband at Haskell, and after graduating they moved to Long Beach, California, where he attended college and she did secretarial work through a temp agency. Then in 1974, she received a grant to study museum sciences at the Field Museum of Natural History in Chicago, spending two years gathering knowledge to bring back to Cherokee, which at the time was working to launch the Museum of the Cherokee Indian, built in 1976.
From there, she went to Albuquerque, New Mexico, to work as an administrative assistant to the school psychologist at the Albuquerque Indian School. Johnson was enjoying her time out west, but when the school closed in 1983 — the building had been condemned years prior, and eventually the government decided to shut the school down completely — she came home for the summer, intending to return to Albuquerque afterward to look for work elsewhere.
"I always had the itchy feet," she said.
But Johnson never left. She stayed in Cherokee, a decision she made to reconnect with her daughters, who hadn't been with her in New Mexico. The older one had been living with Johnson's stepfather while the younger one was in school in Kentucky. It was time for them all to come home.
Language of home
Ask most people in Western North Carolina why they've decided to make — or keep — their home in the mountains, and they'll likely say something about the beauty of the landscape or the friendliness of the people or family ties going back too many generations to leave behind.
For Johnson, home is in the language. The Cherokee language.
"When I speak English it's from here," she said, pointing at her lips. "When I speak Cherokee, it's from here."
With that, Johnson pointed at her heart.
Despite the hardships of her growing-up, Johnson never associated the language of her childhood with its trials. For her, it's always been the real language, the truest way to speak and to be. In Big Cove in the 1940s and '50s, everybody spoke Cherokee — English was for school only, especially in her grandparents' house, where no English was allowed. For the few neighbors who didn't speak the native language, meaningful communication required a bit of creativity.
Johnson specifically recalls a friend of hers named Pat, a neighbor girl who was her schoolmate and went to the same church, but didn't speak much Cherokee.
"But we communicated as we were playing and remembering back, it was like half English, half Cherokee, because I couldn't really speak English and she couldn't fluently speak Cherokee," Johnson recalled. "So we had our own language."
Johnson kept her language all the way through boarding school, despite the fact that the official rules at Haskell forbade students from speaking in their native tongue. Authorities at the school said that it was rude to speak in a language that only some of the people in any given room could understand, as the students came from a variety of different American Indian tribes. English was the common language.
Beloved Woman Shirley Oswalt, who passed away in 2017, reads the Cherokee syllabary version of Charlotte's Web that Johnson translated and gifted to her. Holly Kays photo
"We'd heard that speaking your language was discouraged, and that just made us speak it that much more," Johnson said. "I remember a girl from Big Cove. Her name was Sarah Jane Long. We were in the living room of the dorm speaking Cherokee and the house mother stopped and said, 'You know, it's kind of rude to be speaking where others can't understand.' So we stopped talking Cherokee and started talking English to each other. As soon as her back was turned we went right back to speaking Cherokee."
These days, Johnson is a prominent Cherokee speaker in the community, spending her efforts to teach and translate the language. But her first experience teaching Cherokee was in Chicago, of all places. Due to a governmental relocation program, the city had a large American Indian population, composed of many different tribes, and as part of the grant she was in town for Johnson was asked to teach Cherokee to kindergarten and special education students at a little school in the city.
"There weren't many Cherokees in Chicago at the time, but I was the only one available to teach the language and Cherokee was all I knew," Johnson said.
For Johnson, the question of English versus Cherokee isn't just about what you're most comfortable with, which language rolls off your tongue the most easily. Cherokee is just more real. It's more grounded in the relationships between words and the things they describe, and the ancient mountains and valleys where those words grew up. Insincere gibberish is harder to produce, somehow. There are more layers to the meanings.
You can even see that realness reflected in the children learning Cherokee at the tribe's immersion school New Kituwah Academy, Johnson said. If they say, "I love you" in Cherokee, they're expressing true feeling, but if they say the same in English, said Johnson, "they're probably smartasses."
Rescuing the language
Life in Cherokee as an adult in the 1980s was much different than Johnson's experience there as an underprivileged child in the 1940s and '50s. Times had changed, and Johnson herself was different. She was an educated woman with a career, a family.
And, perhaps more importantly, she was no longer an unwanted daughter living a constant quest to earn her mother's love. Her mother had passed away nine years earlier, in 1974, from kidney failure. Johnson had come home from Chicago for the summer to visit her mother, who ultimately passed away just two weeks after Johnson left. Johnson didn't know it would be the last time they'd see each other — nobody had told her just how sick her mother was.
"I came home one more time to try to get her to love me like she did my siblings," Johnson said. "I came home for the summer and she in her strange way tried to tell me she cared."
It wasn't a fairy tale ending. But it was a resolution. After that visit and her mother's death, Johnson saw that "meaner than hell" streak she'd developed early on subside, and her relationships with her siblings strengthen. They're very close to each other now, but that didn't happen until after 1974.
By the time she moved to Cherokee in 1983, Johnson had come to terms with much of her past. But returning to the Qualla Boundary was still an adjustment.
"In California you could sit on the hood of your car stark raving naked and people would go by saying, 'Look at the naked woman sitting on the car,' and one block down the road it was forgotten," said Johnson. "But here you did something weird, they were going to talk about it for the next 44 years. I think it's only been recently that things like that or everybody knowing your business didn't bother me."
Nevertheless, the years passed by and Johnson remained in Cherokee, among her people and amid her language.
What she didn't realize for a long time was that the language was slowly fading from the fabric of public life.
Johnson remembers quite clearly an exchange that occurred one day as she was working the desk at the Cherokee Indian Hospital. The Welch family arrived with their young son Hunter, who approached the sign-in window where Johnson was stationed and asked his parents, in Cherokee, whether she was the doctor he was going to see.
"I really didn't think nothing of it until people started talking about the Cherokee language is dying, and I kept thinking, 'No, it's not. That little boy was talking Cherokee at the hospital,'" said Johnson. "And then the next time I heard a small child speaking Cherokee was in Oklahoma. By then it had become common knowledge that we were losing our language."
Johnson was in Oklahoma to take a tour of the Cherokee language immersion school they had established there, before the Eastern Band had launched its immersion school New Kituwah in 2009. Johnson walked into a classroom where a little boy, about 4 years old, was reading Cherokee words on the board as he tapped them with a pointer.
"I had to walk out in the hallway and cry," said Johnson.
By then it had been years since she'd heard little Hunter Welch speaking Cherokee at the hospital. She knew there were far too few childish voices breathing life into the language that was so dear to her heart.
Johnson poses in traditional dress. Renissa McLaughlin photo
"It was common knowledge that we were losing our language, and here I am a Cherokee speaker," she said of her thoughts at the time. "I'm going to have to do something. I have to do something to save our language. So when I retired I went full-force, doing something to save our language."
At 74, Johnson's days are most definitely full of "doing something."
For the past 12 years, she's worked on translations for New Kituwah Academy, creating Cherokee-language versions of books and classroom materials for teachers to use in their lessons. She serves as the Cherokee translator for Tribal Council, offering Cherokee versions of any resolutions, ordinances or other materials requested, and occasionally opening the body's sessions with a Cherokee-language prayer. She's been part of the Cherokee Language Speakers Consortium, which meets quarterly to add new words to the Cherokee dictionary — words that are needed for the language to be relevant today but weren't necessary years ago when it was much more widely spoken.
Johnson has also produced Cherokee-language versions of Charlotte's Web by E.B. White and Thirteen Moons by Asheville novelist Charles Frazier. She's currently putting together a book on salamanders for use in New Kituwah's science classes.
In an effort to help Cherokee adults learn their language, she's also worked with her daughters Myrna Climbingbear and Renissa McLaughlin — who serves as youth and adult education director for the tribe — to offer Cherokee language classes out in the communities. That's been on hold for now, though, as the family has been grieving Climbingbear's recent death from cancer.
Johnson's been doing all this against the backdrop of the biggest honor her tribe has to give. In 2007, she was named a Cherokee Beloved Woman, a seldom-bestowed title given only to those whose contributions to and place in their tribe are seen as especially immense. Johnson is one of only three living people to hold the title of Beloved Woman — the others are Ella Bird, who received the honor in 2013, and Amanda Swimmer, given the title earlier this year. The EBCI has one living Beloved Man, Robert Youngdeer.
What Johnson hopes to see is a flip in the paradigm that was set up so many years ago when Cherokee children began receiving an English-only education, often with punishment or strong discouragement for speaking their native tongue. Even where the rules were more lax, there was incentive to speak English, Johnson said.
"(My stepfather) said when he was in boarding school, the Cherokee kids that spoke English were treated better. So that encouraged the students to learn to speak English so they would be treated better as well. And that makes sense to me," she said. "Now it's the other way around. Kids that are learning to speak Cherokee are treated better — those that really try are praised."
Johnson sees learning Cherokee as something much more than just learning an interesting cultural skill. It's about being able to see inside the culture you come from, and all the ways it continually makes you who you are.
"I feel like when I speak English it's almost like pretending to be me," she said. "But in speaking Cherokee and doing as a Cherokee, then that's me."
True Cherokee
Language is important. Johnson's whole life underscores that point.
But when asked what's at the heart of what it means to be Cherokee, language isn't what she talks about.
"It's so special," said Johnson. "Because — well, I'm just going to use my family for example. I think my family is a true Cherokee family. Because they act Cherokee. They act like true Cherokees, my family does."
What she means by that is the way the group bands together, casts aside gripes and squabbles to face hardship as a unit. Nothing displayed that more clearly than the illness of Johnson's oldest, Myrna Climbingbear, who passed away in June.
"When we learned that my oldest daughter had cancer they came, all of them came together to do for her, and if there was any animosity between family members — well, when we learned she had cancer that animosity went away," said Johnson. "It was gone."
Many other families, of all ethnicities, might do the same, but Johnson said the difference lies in the fact that it's not even a question as to whether those old hurts will be forgiven.
"There's no such thing as will you, can you forgive me when there is an issue, a crisis," she said. "You don't have to say it. You just make that eye contact."
Johnson grieves her daughter. But seeing that true Cherokeeness shine through the generations was a blessing.
"We were having that benefit for my daughter, and I looked around and even the little kids were trying to help," she said. "The young teenagers were helping. All the sisters were there. Nieces, nephews, grandchildren — they were all there helping in some way. They were helping. And I thought, 'I'm a member of a true Cherokee family.'"
The road to get there wasn't easy, but Johnson is grateful for the place where she's found herself.
"I think back on my life and it's been interesting," said Johnson. "It's been very interesting. And I should sit down and write it all down."