Archived News
State of emergency in Haywood, Canton, Maggie Valley
Friday, September 14, 2018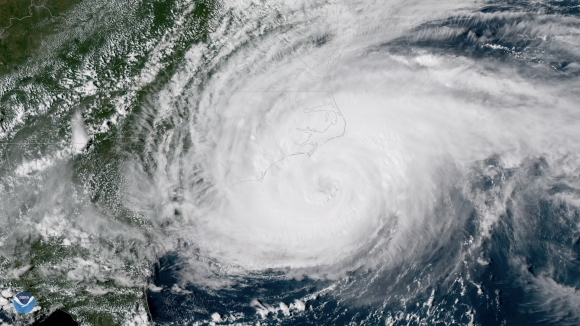 Hurricane Florence made landfall earlier today.
NOAA photo
Early on Sept. 14, a flurry of press releases from Haywood County, the Town of Maggie Valley and the Town of Canton declared states of emergency in each jurisdiction.
While no effect has yet been felt in Western North Carolina due to Hurricane Florence, the next 72 hours could bring heavy rain, downed limbs, gusty winds and localized flooding.
Here's the full text of the Haywood County declaration:
As a precautionary measure, Haywood County will declare a state of emergency effective noon today. The state of emergency allows the County to access critical resources, coordinate support and provide assistance in case conditions worsen. In order to receive FEMA reimbursement, a local state of emergency declaration is required.
Governor Roy Cooper declared a state of emergency for all 100 counties in North Carolina on September 7, 2018.
Haywood County Board of Commissioners Chairman Kirk Kirkpatrick stated, "Our emergency response teams and law enforcement have been monitoring and preparing for the storm all week. Haywood County is taking the necessary precautions with the uncertainty of the storm."
"We know the storm is coming. We don't know the impact the storm will have on our area," said Emergency Services Director, Greg Shuping. "A state of emergency alerts our citizens to monitor the rain, wind and landslide potential during the storm. Please take the time to make necessary preparations now."
Citizens should stay tuned to your local news stations and the latest updates from state and local authorities.
Haywood County Alerts was developed for these types of emergencies. This system provides emergency alerts for Haywood County and all municipalities within Haywood County. To receive emergency (emergency only) *text message* alerts, simply text your Haywood County zip code to the number 888-777.To receive additional information including road closures and utility interruptions, visit http://alerts.haywoodcountync.gov to choose the types of alerts you want to receive.